Amazon Music, one of the top music streaming services, offers a vast library of songs, albums, and playlists that subscribers can enjoy anytime, anywhere. Echo Dot, the smart speaker developed by Amazon, is designed to integrate with Amazon Music seamlessly. Echo Dot allows users to stream music from Amazon Music using voice commands, thus eliminating the need for any physical control.
Therefore, utilizing the advanced capabilities of Echo Dot, users can customize their listening experience by creating personalized playlists, receiving music recommendations based on listening history, and much more. Then how to play Amazon Music on Echo Dot? Here we will introduce two easy ways to achieve it.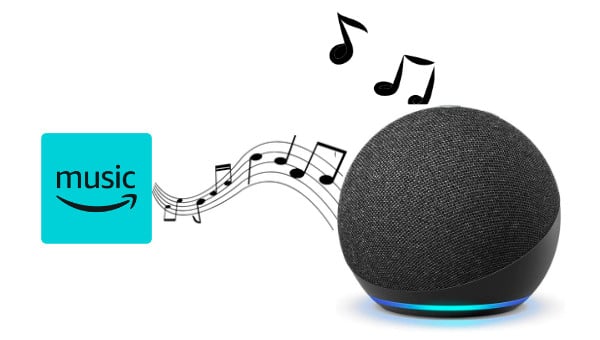 Part 1. What's Echo Dot
Amazon Echo Dot is a smart speaker developed by Amazon, an American multinational technology company. This miniature version of the Amazon Echo offers users a hands-free, voice-controlled device with access to a vast number of features and applications. Amazon Echo Dot comes with the Alexa voice assistant that uses natural language processing technology, allowing users to interact with the device and access various services through voice commands.
With its compact design and advanced capabilities, the Amazon Echo Dot has quickly become a popular household item for consumers looking to upgrade their home entertainment systems or looking for a convenient way to control their smart home devices. The Amazon Echo Dot provides users access to various third-party skills, such as music streaming services, weather updates, and news briefings, among others. In short, the Amazon Echo Dot provides users with a hands-free, intelligent, and interactive experience that can enhance their daily routine.
---
Part 2. Methods to Play Amazon Music On Echo Dot
Below we will introduce two methods that are suitable for different scenarios. If you have a smooth network and subscribe to Amazon Music, then you can choose the first method to connect directly. If you want to play some Amazon Music when you are offline, then You can consider the second method.
Method 1. Play Amazon Music On Echo Dot Via Alexa App
Before connecting, please make sure your network is smooth and you have downloaded the Alexa app on your phone.
✏️STEP 1️⃣ Open the Alexa app, click the More tab at the bottom right of the screen.
✏️STEP 2️⃣ Select Settings, drop down, and click Music & Podcasts.
✏️STEP 3️⃣ Then you can see that there are various music services to choose from, Tap on Link New Service and select Amazon Music. Then follow the instructions to log in to your Amazon Music account.
✏️STEP 4️⃣ If you want to always play Amazon Music, you can set it as your default music service. Go back to Music & Podcasts settings, select Default Services, then select Music>>Amazon Music.
✏️STEP 5️⃣ Finally, as long as you connect the Alexa app, you can easily play the Amazon music you want on the Echo Dot by voice commands.
Method 2. Play Amazon Music Offline On Echo Dot Via Bluetooth
If you plan to stream Amazon Music frequently, then you should be prepared for a long-term subscription. Once your Amazon Music subscription expires, you will no longer be able to listen to the music you love freely. Of course, there is another way to help you avoid subscription restrictions, which is to download your favorite Amazon music to your local computer. Then you'll be able to play through the Echo Dot's Bluetooth mode, so you don't have to worry about the network and subscriptions.
If you want to download Amazon Music, then you have to use some third-party tools. TuneBoto Amazon Music Converter will be your best choice. It is an Amazon music converter specially designed for Amazon Music Prime members and Unlimited members, which can help users quickly convert the desired Amazon music into various common formats, including MP3, WAV, AAC, FLAC, etc. With the help of TuneBoto, you will no longer be limited by subscriptions, and you can enjoy the highest quality Amazon music anytime, anywhere.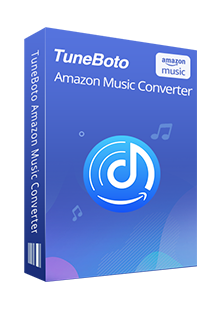 Amazon Music Converter
Download Amazon Music songs, albums, playlists & podcasts to local computer

Convert Amazon Music songs to MP3, AAC, WAV, FLAC, AIFF, ALAC

Keep ID3 tags; 100% original audio quality

10X download speed & batch download playlists/albums

Archive downloaded songs by album/artist/playlist
Next, we will introduce how to use TuneBoto to help you play Amazon Music on Echo Dot offline.
Step 1 Run TuneBoto On Your Computer
Open TuneBoto on your computer and you will see the interface below. You can download Amazon Music up to Ultra HD at 5X speed (1x for Mac) via Amazon Music App mode while downloading Amazon Music up to HD at 10X speed via Amazon Music Webplayer mode. Choose one mode as you like and then log in to your Amazon Music account by following the instruction.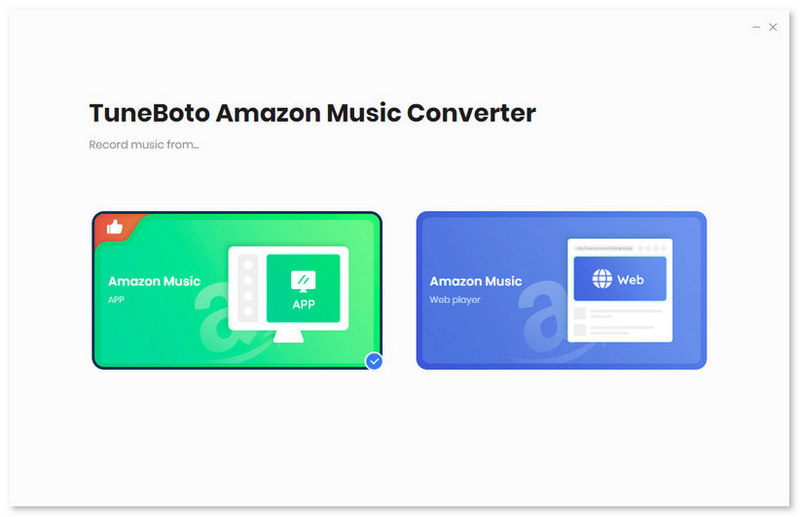 Step 2 Select Output Settings As Needed
Go to the Settings tab in the lower left corner of TuneBoto. Then you can select the output settings as needed here. There are some output parameters for you to choose from: output format, output quality, output folder, the organized way, etc. If you want to retain the original audio quality and format of Amazon Music, you can choose Auto as the output format.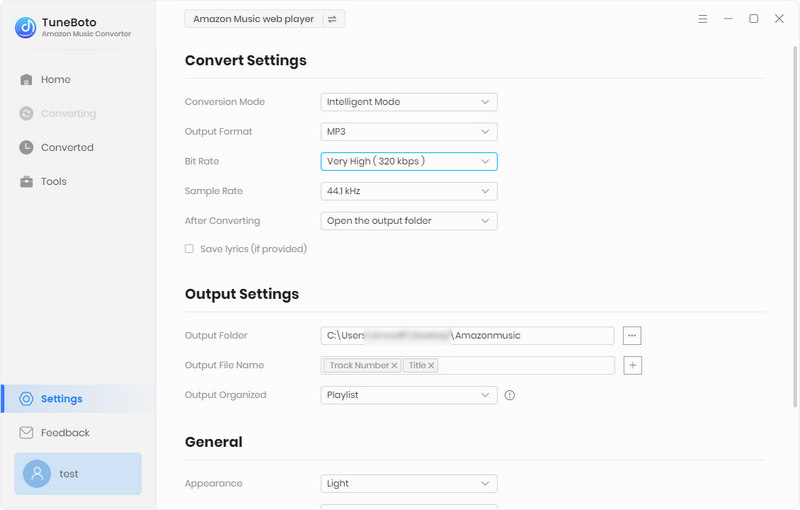 Step 3 Choose Amazon Music You Want
For App mode:
Go to the Amazon Music app, browse and select the playlist/album you want to download, then drag it to the main page of TuneBoto or copy the link into the parse box. TuneBoto will automatically read and list all songs in a new window. You just need to check the songs you want to download and click "Add".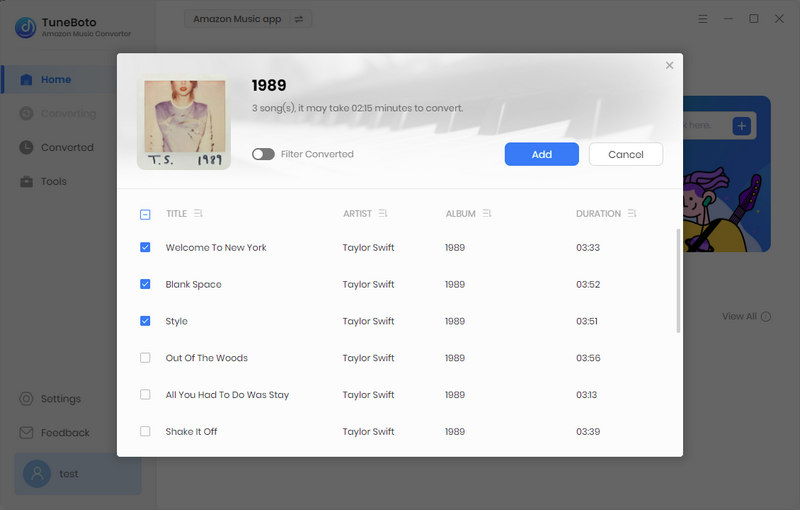 For Webplayer mode:
Select the playlist/album you want in the Amazon Music Web Player and click to open it. Then tap the "Click to add" button in the lower right corner. In the pop-up window, you can freely select the Amazon music you want to play in the Echo Dot, and then click "Add" to add them to the conversion page.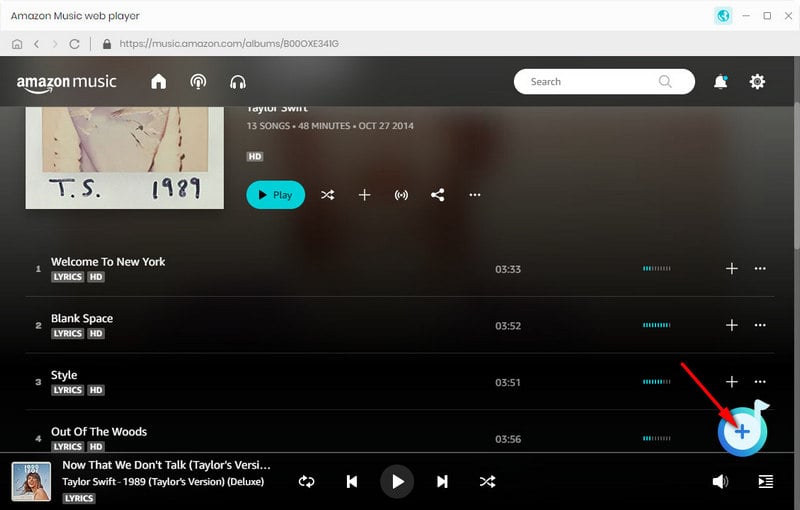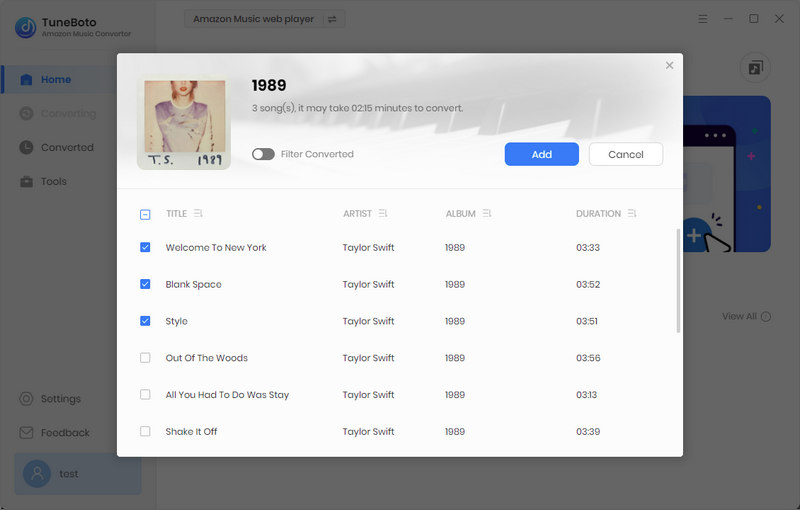 Step 4 Convert Amazon Music
In this step, you need to confirm that all songs are selected and click "Convert" to start the conversion. After a while, the conversion is complete, and you can find the downloaded songs in the previously set output folder. At this time, the downloaded songs have been saved on the local computer in the format you want, and will not be restricted by subscription expiration.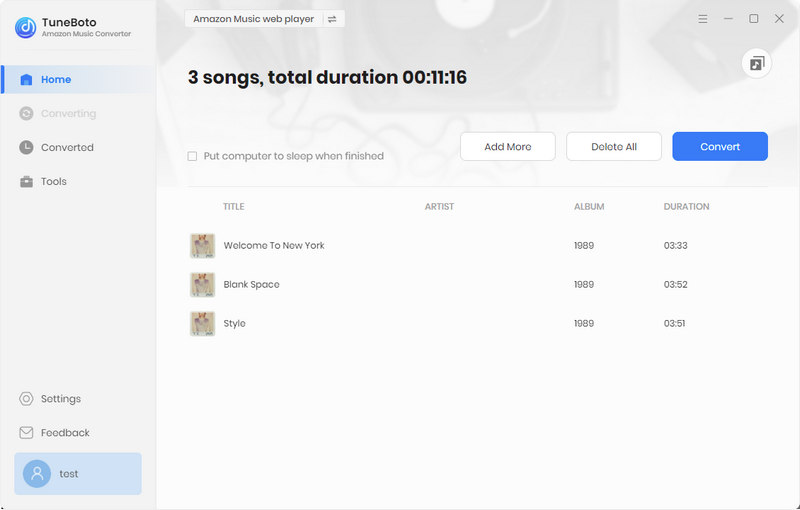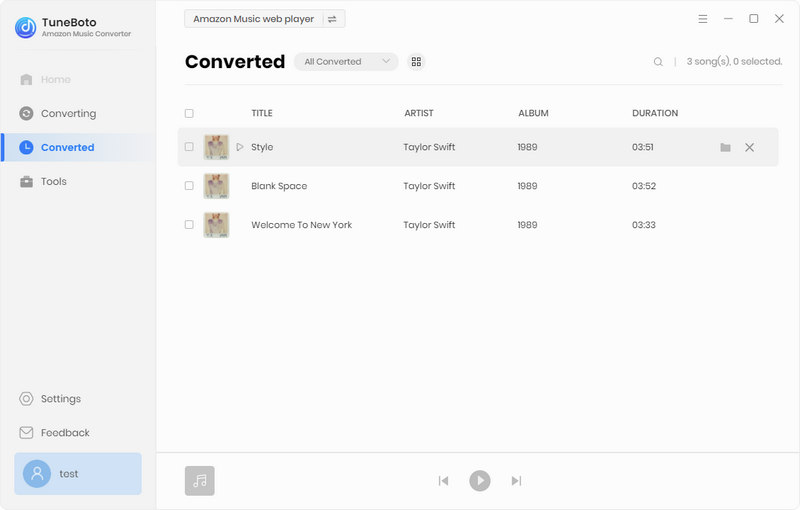 Step 5 Play Downloaded Amazon Music On Echo Dot
In the last step, you only need to upload the downloaded Amazon music to your Android mobile or iPhone. Then turn on Bluetooth, select your Amazon Echo Dot to pair from the listed devices on Bluetooth. After that, select a song and it will play on Amazon Echo. At this time, you can start enjoying offline listening.
---
Conclusion
As a smart speaker, Echo Dot brings a more convenient and comfortable experience for people to enjoy music. You can connect to play Amazon Music directly through Alexa or listen offline through Bluetooth. Amazon music downloaded through TuneBoto Amazon Music Converter will no longer be restricted by network and subscription, making it easier for you to play on Echo Dot anytime, anywhere.