"I have songs in my recent albums that constantly appear and play automatically. I wish to clear songs from the history list, but I can't seem to find a way to delete, appreciate some pointers."
"Why Amazon Music takes up so much space on my device? Sigh, how to clear its cache to free up space on my computer/phone?"
Featured with millions of tracks, as well as the online music store, Amazon Music gradually rose to be popular in the audio streaming industry. As members of Prime Music & Amazon Music Unlimited, most love listening to the single randomly, while discovering new songs and making a song recommendation process. But before tailor the playlist, it's better to clear song history on Amazon Music app first to make a more accurate favorite List. Let's see how to get it done.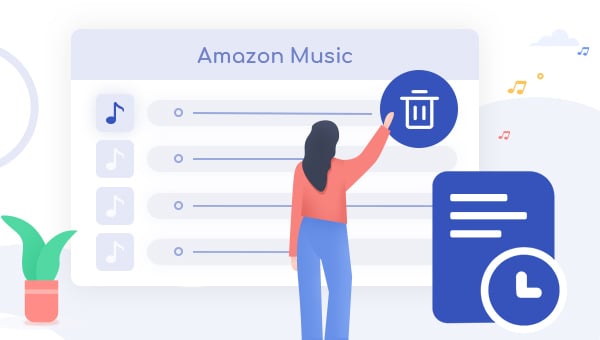 How to Clear Song History of Amazon Music?
Just like other on-demand music streaming services, Amazon Music also supports to delete the played titles from your history lists. Here're the detailed steps:
Step 1 Log in to the Amazon Music app on your phone or computer.
Step 2On the left side of the main interface, tap the "Played" list under the "Recent" section.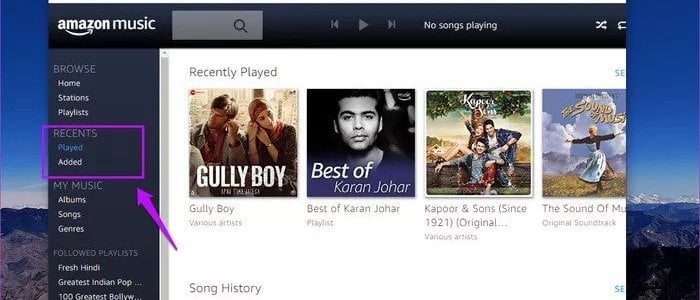 Step 3 In the pop-up window, check the box for the song that you want to clear, tap on the three-dot menu and select "Remove song from history".
Or you can also clear history by selecting the Album: On the top right of the page, tap the "See All" button, hover on top of the Album photo, tap on the three-dot menu and select "Remove from history".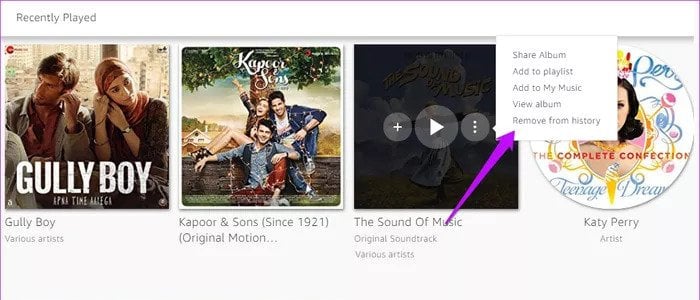 Now, your played history list has been deleted on Amazon Music app. Simple, right?
---
How to Delete Song Cache of Amazon Music?
Maybe only clearing song history is not enough to delete all original records on Amazon Music. So, why not have a try to delete the Amazon Music cache? And in this method, you can also delete your "downloaded" Amazon Music to free up space.
1. For Android Device Users
Step 1 Run the Amazon Music app on your device and log into your account.
Step 2 Tap the three-dot menu at the top-right corner, and select the "Settings" button.
Step 3 In the pop-up window, scroll down to the "Storage" section and directly tap "Clear Cache". Then your cache of Amazon Music has been deleted automatically.
2. For iOS Device Users
Terribly sorry that there's no way to directly delete the caches on Amazon Music app for iOS devices. But maybe you can clear the cached album art & lyrics to reduce the space issue.
Step 1 Directly open "music.amazon.com/showDebugOptions" from a web browser on your iOS device.
Step 2 Select "Clear Lyrics" to delete the cached lyric files.
Step 3 Select "Clear Image" to delete the cached playlist/album photos.
3. For PC and Mac Users
Step 1 Sign out and sign in on the Amazon Music app to enable the library to refresh data.
Step 2 Directly delete the cache on the Data folder. The default cached folder for Windows is "C:\Users\UserName\AppData\Local\Amazon Music\Data"; The default cached path for Mac is "UserName/Library/Application Support/Amazon Music/Data";
Tips: Here replace [USERNAME] with your current username.
Step 3 After removing cached offline downloads of Amazon Music, then go back to the Amazon Music app, negative to "Profile > Preferences > Advanced > Reload My Music?" and simply tap the "Start Reload".
Now, your Amazon Music "downloads" have been deleted on computer.
---
Extra Tips: How to Transfer Amazon Music Downloads to USB Drive for Saving Space
Now that you've learned about how to clear the history/cache of Amazon Music and as you can see all those downloaded files from Amazon Music are encoded and unreadable. Thus, if you would like to transfer the Amazon Music downloaded audios to USB stick for backup, then you will need to convert Amazon songs to MP3 first. Here we recommend a simple yet powerful music downloader, TuneBoto Amazon Music Converter.
What's TuneBoto Amazon Music Converter?
It's a professional Amazon Music helper, specially born to download any songs/playlists/albums/artists from both Amazon Music Unlimited and Prime Music to MP3, AAC, FLAC, WAV, AIFF at a high speed with 100% original audio quality kept. Built with the progressive music recording core, TuneBoto also allows preserving the ID3 meta tags after conversion, including title, artwork, artist, album, track number, etc. With Amazon Music app or the web player, you are able to get the readable Amazon Music downloads and enjoy your music collection without any restrictions.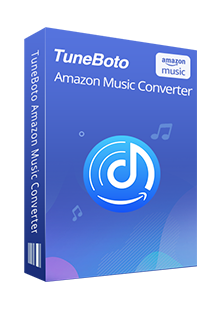 Amazon Music Converter
Convert Amazon Music songs & podcasts to MP3, AAC, WAV, FLAC, AIFF, ALAC

Works on Amazon Music Unlimited & Prime Music

Keep ID3 tags; Retain lossless quality up to HD & Ultra HD

Support both Amazon Music app and the web player

Free upgrade and technical support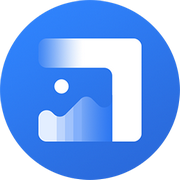 Still troubling with the unclear album cover and would like to improve it? Here we recommend the Album Cover Enhance AI to upscale album art in the best quality, make the old, blurred, or low-quality photos to high-definition.