Amazon Music is a music streaming platform and online music store that holds a larger share of the market. The user base of Amazon Music is also very large. As a music platform with such a large audience, Amazon Music also encountered great challenges in terms of operational support.
As a user of Amazon Music, you must have more or less encountered some problems that Amazon Music cannot work, such as the downloaded music suddenly fails, the song cannot be played, the music is suddenly interrupted, or your region is not supported, etc. Today's article is written to inspire readers who encounter Amazon Music not working properly. We will provide you with several simple and applicable solutions to help you solve the problem quickly.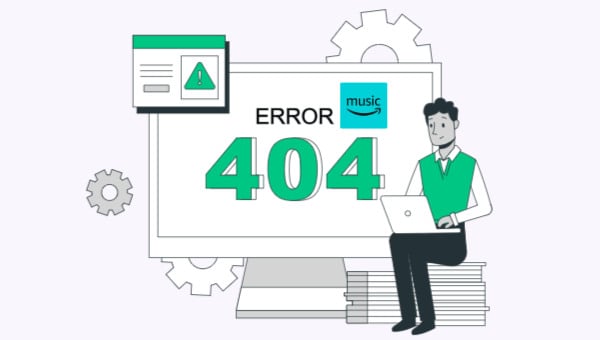 Part 1. Playback Issues
If you encounter problems during playback, such as playing freezes, pausing or suddenly changing songs, you can try to solve them by following the following methods:
✍Method 1: Make Sure Your Network is Stable
• Swipe down from the screen to open the menu, turn on the Airplane mode, and wait for a second to reconnect to the network.
• Turn off the originally connected network, switch to mobile data or other networks, and try to run Amazon Music again.
✍Method 2: Force close and restart Amazon Music
• For Android users: Settings>> Apps & Notifications>>Amazon Music>> Force Stop
• For iOS users: Double-click on the Home button or swipe up the app
✍Method 3: Clear Cache and Data from Amazon Music
• For Android devices, users can follow this path: Menu>>Settings>>Storage>>Clear Cache
• For iOS devices, users can refresh the music: Clear Icon>>Settings>>Refresh My Music
---
Part 2. Amazon Music Crashing Issues
If the program suddenly crashes when you are using Amazon Music, you can try to recover with the following steps:
▶ Make sure that your device software is up-to-date.
▶ Ensure that your Amazon Music app is up-to-date. You can uninstall the old version and go to the app store to download the latest version.
▶ Reinstall Amazon Music.You can exit the application interface, long-press the program icon, and then select Uninstall (Android) or Delete (iOS). After the uninstallation is complete, go to the App Store to search for Amazon Music to reinstall.
---
Part 3. Region Is not Supported
If you open Amazon Music and it shows that your region does not support it, you need to switch your account to another country or region. The following methods can help solve the problem:
✍Method 1: Use a VPN.
Download a reliable VPN, register your account, and then select the country or region supported by Amazon Music, so that your location will change, and then log back into your Amazon account to use it normally.
✍ Method 2: Use a Proxy Server.
Proxy server uses an intermediate server to change the direct connection between the user and the target network into a transit connection, acting as a middleman. It can break through geographical restrictions and improve network speed. In general, the proxy needs to be paid to use.
---
Part 4. No Sound Problems
If you can't hear the sound when you play Amazon Music normally, you can try to solve it with the following steps:
▶ Ensure the volume is up and the device is not muted.
▶ Check the Sound Output selected is correct.
▶ Make sure your sound drivers are up-to-date.
▶ Try playing the music on a different output.
▶ Try other streaming applications. Check if this problem happens with Amazon Music only.
---
Part 5. Download Failure Problem
If you find that your previously downloaded songs do not work, it may be because your subscription has expired. Songs downloaded on Amazon Music can only be valid during the subscription period. If the subscription expires, the downloaded songs will also be invalid. You can check your subscription status by:
▶ Open your Amazon Music, click on Profile>>Settings>>Account>> Manage Music Subscription.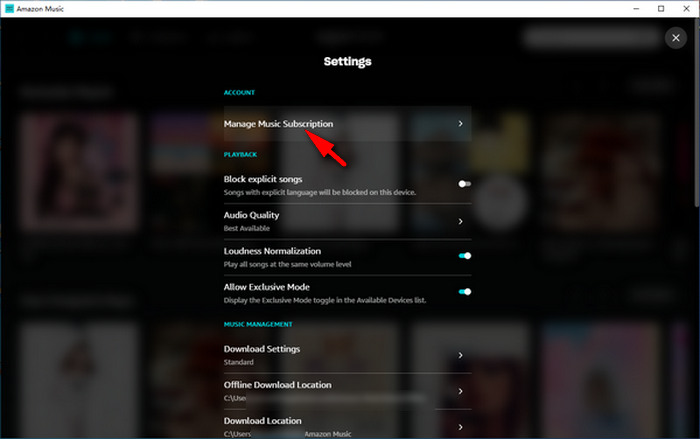 ---
Part 6. Avoid Amazon Music Issue - Download Songs for Offline Listening
If you want the downloaded songs to belong to you without being restricted by Amazon Music, or if you are worried that the program of Amazon Music is unstable and cannot guarantee your normal listening, then you can try to use TuneBoto Amazon Music Converter to download your songs locally. In this way, you don't have to worry about various unexpected effects.
TuneBoto Amazon Music Converter is a professional audio converter for Amazon users, capable of downloading songs, podcasts, playlists, and albums from Amazon Unlimited and Prime Music. It can convert Amazon Music to many popular formats, including MP3, AAC, WAV, AIFF, FLAC, and ALAC. At the same time, TuneBoto Amazon Music Converter can 100% preserve the original quality of Amazon audio, so that the output files saved on the user's computer have no loss in sound quality.
It works very stable and does not require an additional download of the Amazon Music app. The software is embedded with an Amazon music web player, which can directly browse and listen to Amazon music online in TuneBoto. At the same time, TuneBoto Amazon Music Converter can save the downloaded music locally, so it will not be affected by Amazon Music not working. It can be said that TuneBoto has fulfilled the wish of downloading Amazon music freely without being restricted by various problems.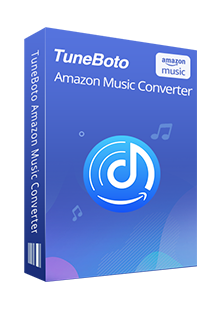 Amazon Music Converter
Download Amazon Music songs, albums, playlists & podcasts to local computer

Convert Amazon Music songs to MP3, AAC, WAV, FLAC, AIFF, ALAC

Keep ID3 tags; 100% original audio quality

10X download speed & batch download playlists/albums

Archive downloaded songs by album/artist/playlist
Step 1 Launch TuneBoto on the Computer
Double-click to open the downloaded TuneBoto on the computer. After running, you need to choose one download mode. Amazon Music App mode supports downloading Amazon Music up to Ultra HD at 5X speed(1X for Mac). Amazon Music Webplayer mode supports downloading Amazon Music up to HD at 10X speed. Follow the instructions to log in to your Amazon Music account.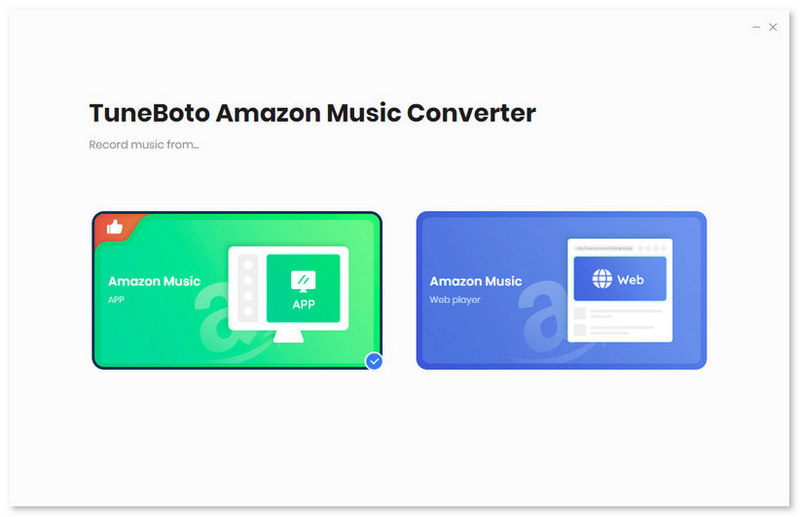 Step 2 Customize Output Settings
After logging in to your Amazon Music account, you don't need to close the web player. Go directly to the operation page of TuneBoto. Select the "Settings" section in the lower left corner, and you can see that there are many output parameters to choose from, including output format, bit rate, sample rate, output file name, output folder, etc. Adjust them to your needs.
*Tips: If you choose "Auto" as the output format, TuneBoto Amazon Music Converter will convert music into its original format.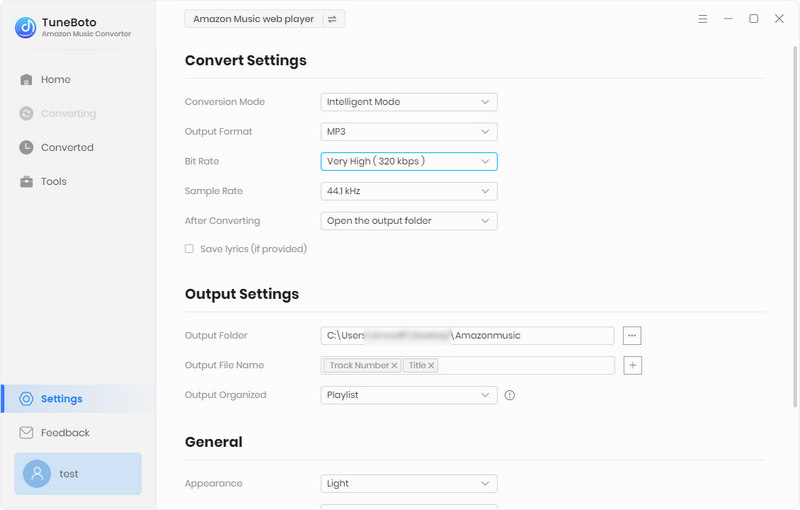 Step 3 Select Amazon Songs/Playlists/Albums/Podcasts
For App mode: Choose an album you want, drag it to TuneBoto's interface or copy its link into parse box, then pick up songs you want and then click "Add".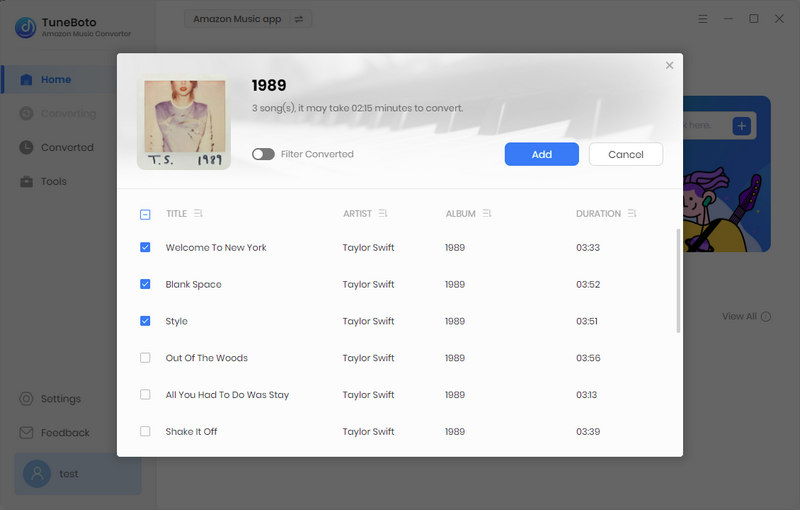 For Webplayer mode: Once setup is complete, you can go back to the Amazon Music web player and start selecting the song or album you want to download. Open an Amazon album, artist, or podcast, and tap the blue "Click to add" button suspended on the right side, and the program will list all songs immediately. Now all you need is to select the songs you want to convert and then click "Add" button. If you want to avoid downloading songs repeatedly, you can turn on the "Filter Converted" button.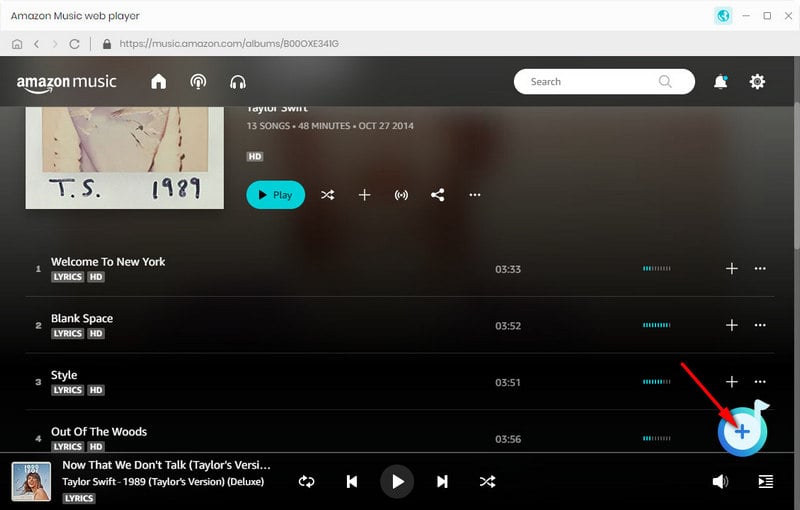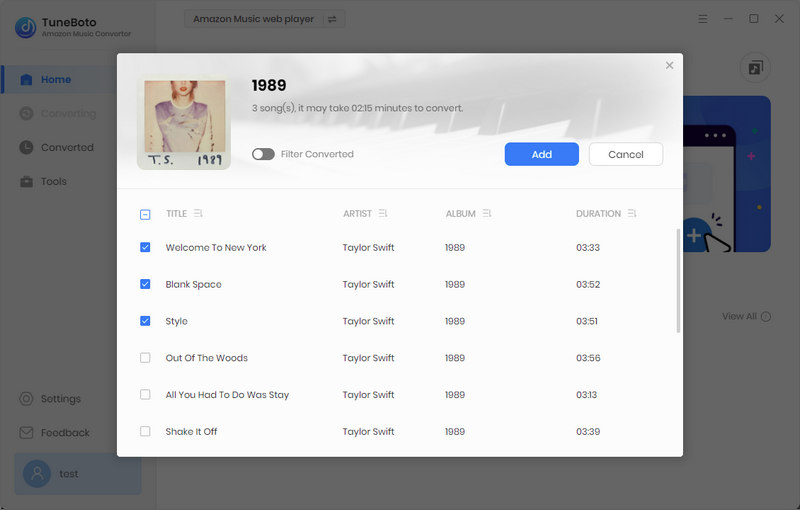 Step 4 Start Conversion
If you need to convert multiple playlists at once, click the "Add More" button or select the Amazon Music web player on the screen. Then browse other songs or playlists you want to add. Click on the "Click to add" button and pick more songs as you do in the previous step. After adding all your target songs, click the "Convert" button to start downloading songs. You can see the progress bar on the interface.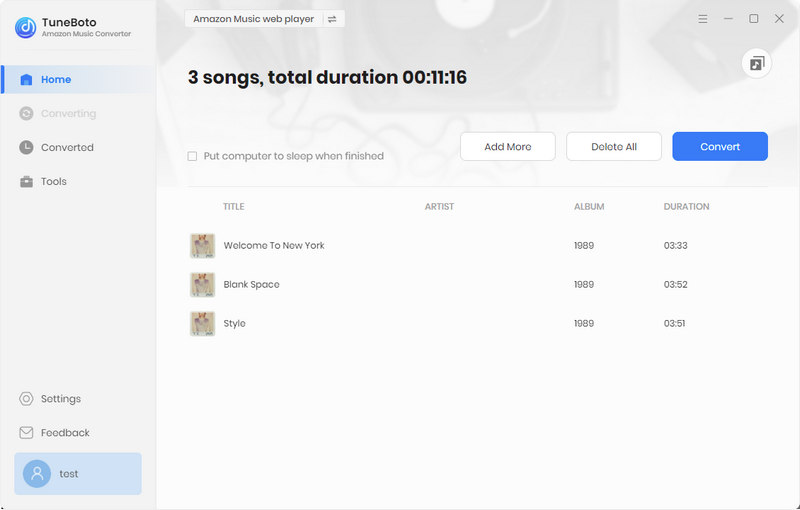 Step 5 Check Downloaded Songs
After the download is complete, you can see the downloaded songs in the "Converted" section. You can also open the output folder by clicking the Folder icon behind the song or just double-click the item to play within the TuneBoto program.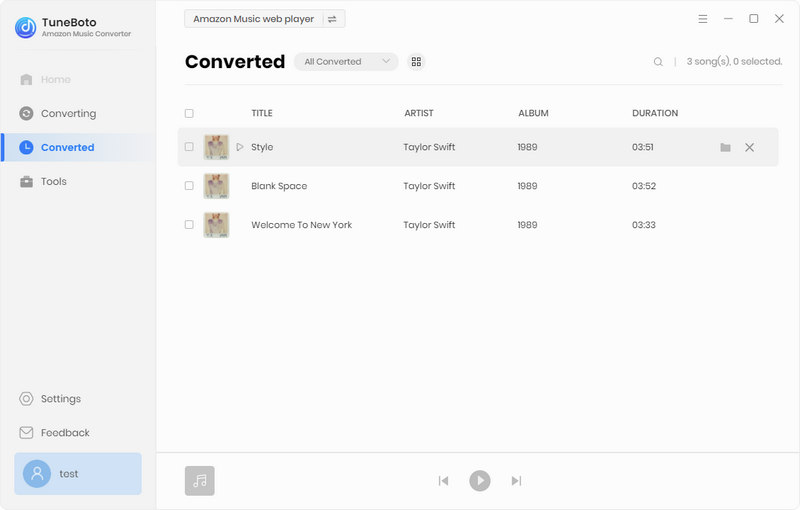 ---
Summary
Through the introduction, we believe that your problem has been able to find a solution. There may be various reasons for Amazon Music not working, but the methods mentioned in the article are more general, and you can try them all. Of course, if you are worried about not being able to download songs locally, or are worried that the sudden crash of the Amazon music program will cause your listening instability, you can consider using TuneBoto Amazon Music Converter to download songs or albums locally. In this way, you can listen anytime, anywhere without interference from any factors.