There're two options on Amazon Music: Amazon Prime Music & Amazon Unlimited Music. When using the Amazon Music app, we will find that both Prime Music & Unlimited Music account have the same basic features, like offering ads-free tracks or supporting to download songs for offline playback. But actually, they do have some distinctions in multiple aspects. If you simply think the DIFFERENCE between Prime Music and Amazon Unlimited Music is only in the Price, then you are quite wrong! Just read on and you will get the top answer here.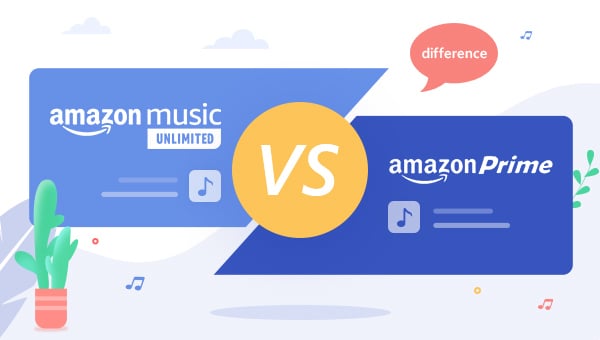 What is Amazon Prime Music?
Prime Music is a totally free music streaming service on Amazon Music, for those who already have a Prime account on Amazon. Without paying a binge, you'll be able to stream about 100 million songs, including thousands of stations and top playlists, in ads-free situation.
With Prime Music, you can listen to any song, anytime, anywhere, on any devices with Amazon Music app installed, including Amazon Fire TV, Amazon Fire Tablets, Amazon Echo, Android & iOS devices, etc. Also, you can easily enjoy Amazon playlists on its web player.
Note: Users on both Amazon Music Unlimited and Prime Music will use the same application in the same way. The main difference is the number of songs.

---
What is Amazon Music Unlimited?
Amazon Music Unlimited is an Unlimited Music Playing subscription service, featuring with 90 million songs and thousands of popular playlists and stations. You can stream any songs on all compatible devices, like Android & iOS devices, Amazon Echo, Amazon Fire TV, Fire tablet, etc.
Besides that, Music Unlimited offers 3 kinds of subscription for its member: Single Device Plan, Student Plan and Family Plan. And before making purchase, you can, of course, test its entire features with a 30-days free trial. After free tire runs out, the startup on the paid subscription pattern on Amazon Music Unlimited is automatic. If you choose to cancel Music Unlimited plan, your music subscription will continue until the end of your current billing cycle.
Related Article: How to Keep Amazon Music after Free Trial

---
What's the difference between Prime Music & Amazon Music Unlimited?
Contrast the difference between Amazon Prime Music & Amazon Music Unlimited, then choose the plan that best suits your needs.
Prime Music
Amazon Music Unlimited
Available Titles
100 million+
Thousands of playlists
Personalized streaming Stations
100 million+
Thousands of playlists
Personalized streaming Stations
Monthly Price
Free with Prime
$7.99 with Prime
$9.99 without Prime
Free Trial
30-Days
30-Days
Additional Plan Pricing
N/A
Single device: $3.99/month
Student: $4.99/month or $0.99/month with Prime
Family: $14.99/month
Music Quality
Up to 320 kbps
320 kbps standard
Up to 3730 for "Ultra HD" plan
Alexa Interaction
Yes
Yes
Supported Devices
All Amazon Music supported devices
All Amazon Music supported devices
Single-Device Plan: Echo devices Fire TV devices
Ad-free, Unlimited Plays
Yes
Yes
Offline Playback
Yes
Yes
Streaming Limits
One device at 1 time
Individual Plan: 1 device at time
Family Plan: 6 devices at a time
Single-Device Plan: 1 compatible device at a time
What's the merit and demerit on Prime Music & Amazon Music Unlimited?
1.Merit and Demerit on Prime Music
The most advantage of Prime Music must be its free subscription for Prime member. With no extra fee, users are able to listen to more than 100 million songs online & offline. Plus, different from Spotify Free, Prime Music is ads-free. Seems that it's a cost-effective plan, but its catalog is pretty limited and you always can't enjoy new playlist or alumb. What's more, you can not save songs from Prime Music to computer as local files for transferring & backup.
Related Article: How to Download Songs from Amazon Prime Music to PC
2.Merit and Demerit on Music Unlimited
When talking about Amazon Music Unlimited, we should love its expanded music lists: over 90 million songs, thousands of playlists and stations. As a member of Music Unlimited, you will be presented with curated and personalized playlist, or you can also pick pops over the world for playback. It offers multiple subscription plans for selection, but this exactly makes some members confused and buy a wrong plan. Besides, just like Prime Music, no songs on Music Unlimited can be downloaded to computer locally. Your alleged downloads are more like the cache on Amazon Music app.
Related Article: How to Download Amazon Music Unlimited Songs to Computer
To sum up, compared with Prime Music, Amazon Music Unlimited offers more songs/playlists/stations for users to enjoy over around the world. In addition, Amazon Music Unlimited also provides the family plan and Echo plan to satisfy customers' different needs. But if you just want to play songs casually to kill time off, then Prime Music must be your better choice at leisure.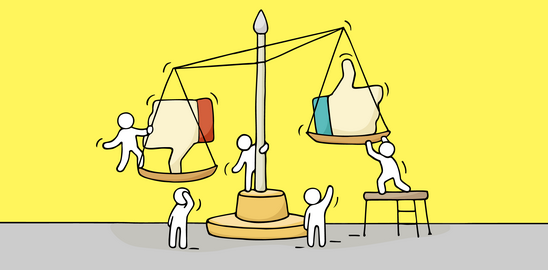 ---
Extra Tips: How to upgrade to Unlimited?
If you have an Alexa, just simply say: "Alexa, upgrade my Amazon Prime Music subscription." Or here's also how to upgrade to Music Unlimited for everyone else:
Step 1 Visit Amazon.com.
Step 2 Navigate to the top left corner and click the "Three-Bar" icon.
Step 3 A tab will appear. Click "Amazon Music".
Step 4 Hit the "Try Now" button.
Step 5 The prompt will ask you to create an account.
---
Recommend Program: TuneBoto Amazon Music Converter
Wanna enjoy your Amazon Music collections at anytime anywhere? Just try out TuneBoto Amazon Music Converter to make your Amazon playlists downloaded as plain MP3, AAC, FLAC, WAV, AIFF, ALAC files with ID3 tags & original audio quality kept. After conversion, you can transfer Amazon songs to all of your devices without any limitations.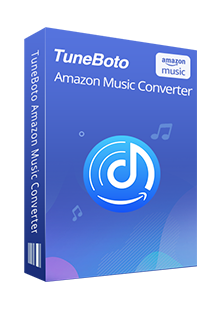 Amazon Music Converter
Convert Amazon Music songs & podcasts to MP3, AAC, WAV, FLAC, AIFF, ALAC

Works on Amazon Music Unlimited & Prime Music

Keep ID3 tags; Retain lossless quality up to HD & Ultra HD

Support both Amazon Music app and the web player

Free upgrade and technical support