Do you love listening to music but don't have the time to select each song? Are you looking for a more efficient way to enjoy your favorite tunes? If you have an Alexa device, then you can now listen to Amazon Music with ease! Alexa is the ultimate personal assistant who will help you play Amazon Music to your heart's content. With Alexa, you can play your favorite tunes with just a few simple commands. In this article, we'll be exploring two ways to play Amazon Music on Alexa. With these simple steps, you'll be playing Amazon Music in no time!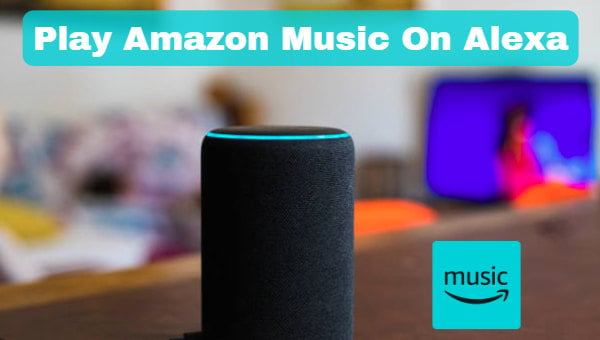 Part 1. What's Alexa
Alexa, the ultimate personal assistant, has taken the world by storm. With its sleek design and advanced features, Alexa has become a staple in many households. What exactly is Alexa and how does it work?
Alexa is an intelligent virtual assistant developed by Amazon. It is designed to respond to voice commands and perform various tasks, such as playing music, answering questions, setting alarms, and even controlling smart home devices. The introduction of Alexa has revolutionized the way we interact with technology. No longer do we need to physically press buttons or navigate through menus on our devices. With Alexa, all we need to do is simply speak, and our commands are understood and executed.
The technology behind Alexa is based on natural language processing and machine learning algorithms. This allows Alexa to understand and interpret spoken language, enabling it to carry out tasks and provide accurate responses. Alexa is constantly learning and improving, thanks to its cloud-based infrastructure. This means that the more you use Alexa, the better it becomes at understanding your preferences and needs.
---
Part 2. Play Amazon Music on Alexa Directly
Alexa itself does not have any music service, you need to connect to a specific music service provider to play. It is easy to play Amazon Music on Alexa directly. All you need is your Alexa device and a simple voice command.
Of course, before that, you first need to connect Amazon Music and Alexa. You can either connect Amazon Music on Alexa or connect your desired Alexa device on the Amazon Music app. The specific operation steps are as follows:
Connect Amazon Music to Alexa via Alexa app:
🔎STEP 1 Open the Alexa software on your phone, if not, you can go to the app store to download it for free.
🔎STEP 2 After opening, select Settings from the menu.
🔎STEP 3 Scroll down and select Music, then select Amazon Music in the list.
🔎STEP 4 Click on the right side of Amazon Music to enter, and log in to your account according to the instructions. After the setup is successful, you can play Amazon Music on Alexa.
Connect Alexa to the Amazon Music app via Amazon Music app:
🔎STEP 1 Open the Amazon Music app and log in to your account.
🔎STEP 2 Click the menu icon in the upper right corner.
🔎STEP 3 Select Connect to a device. The Amazon Music app will display a list of devices that can be connected.
🔎STEP 4 Select the Alexa device you want to play Amazon music on, and you can easily play your Amazon music on Alexa.
When you are successfully connected, the next operation is very simple. Just say "Alexa, play [song/artist/album/playlist] on Amazon Music" and Alexa will start playing your requested music in no time. You can also control the playback using voice commands such as "Alexa, skip", "Alexa, pause", or "Alexa, volume up/down". With Alexa's direct integration with Amazon Music, you can also explore and discover new music by simply asking.
Overall, playing Amazon Music on Alexa directly is a convenient and hands-free way to enjoy your favorite tunes. With just a simple voice command, you can access a vast library of music and control the playback with ease.
---
Part 3. Play Amazon Music Offline on Alexa
Picture this: you're on a road trip or in an area with spotty Wi-Fi, and you want to listen to your favorite Amazon Music on Alexa. But how can you do that without a stable internet connection? Well, If you have songs that are already downloaded locally, the annoyance will no longer exist.
If you want to download Amazon Music, there is one tool that you must not miss. It is TuneBoto Amazon Music Converter, a downloader specially designed to convert Amazon Music to various common formats. With TuneBoto, you can download the original Amazon music without being limited by subscription and enjoy them freely. Downloaded Amazon Music songs can also be played offline on any device at any time. A detailed operation guide is provided below: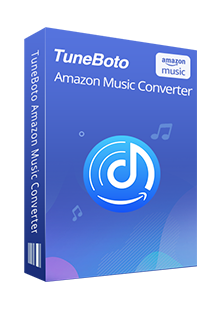 Amazon Music Converter
Download Amazon Music songs, albums, playlists & podcasts to local computer

Convert Amazon Music songs to MP3, AAC, WAV, FLAC, AIFF, ALAC

Keep ID3 tags; 100% original audio quality

10X download speed & batch download playlists/albums

Archive downloaded songs by album/artist/playlist
Step 1 Choose Download Mode in TuneBoto
When you run TuneBoto, there will be an interface as below. You need to choose one download mode first. Amazon Music App supports downloading Amazon Music up to Ultra HD at 5X the speed (1X for Mac). Amazon Music Webplayer supports downloading Amazon Music up to HD at 10X the speed. After you choose the mode, log in to your Amazon Music account in the following pop-up Amazon Music app or web player.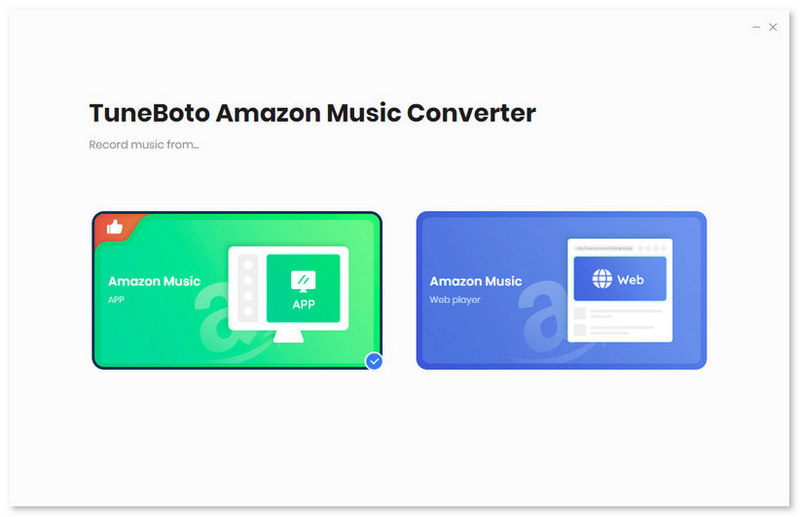 Step 2 Change Output Settings As You Like
Go to the Settings tab at the bottom left. Here you can change output settings freely, including Output Format, Output Folder, Output File Name, and so on. If you want to retain the original audio quality, choose "Auto" as Output Format.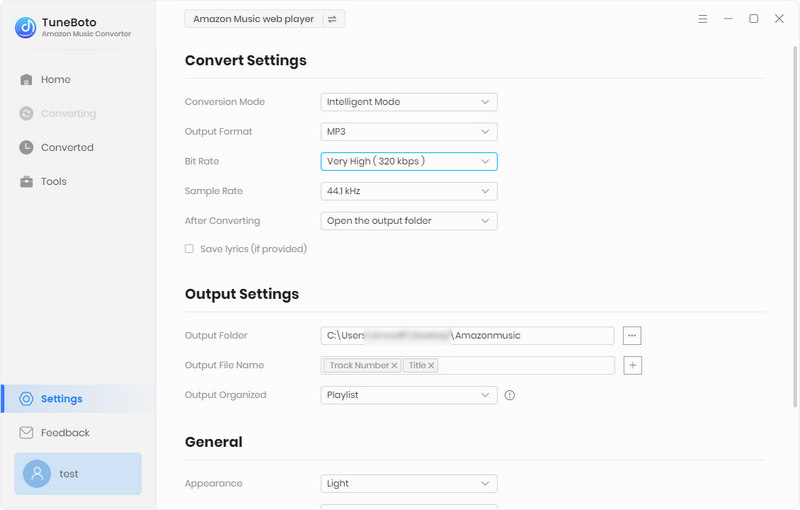 Step 3 Select Amazon Music You Want
For App mode:
Go to Amazon Music app and select the playlist you want. Drag it to TuneBoto's main interface or copy the link into the parse box. Then a new window will pop up. Select the songs you want to play on Alexa offline and then tap "Add".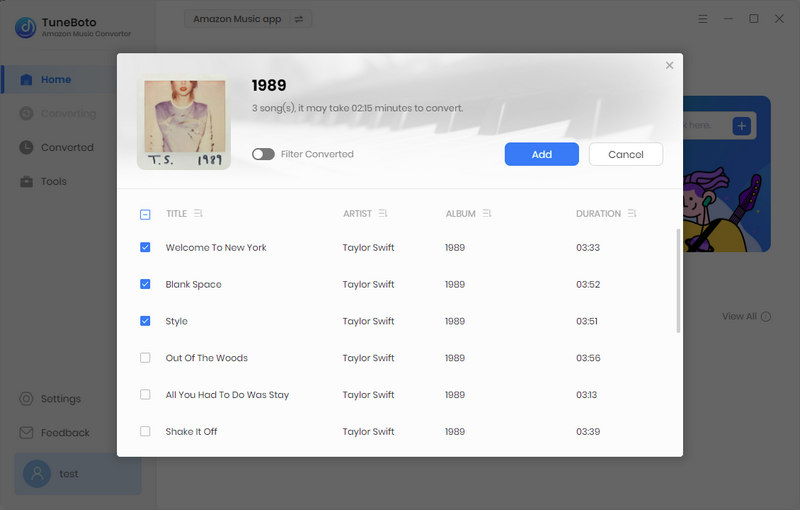 For Webplayer mode:
Go to Amazon Music web player and select the playlist you want. Then click "Click to add" button in the lower right corner. TuneBoto will read automatically. Then you can pick up specific songs you want and tap "Add" to add them to the download list.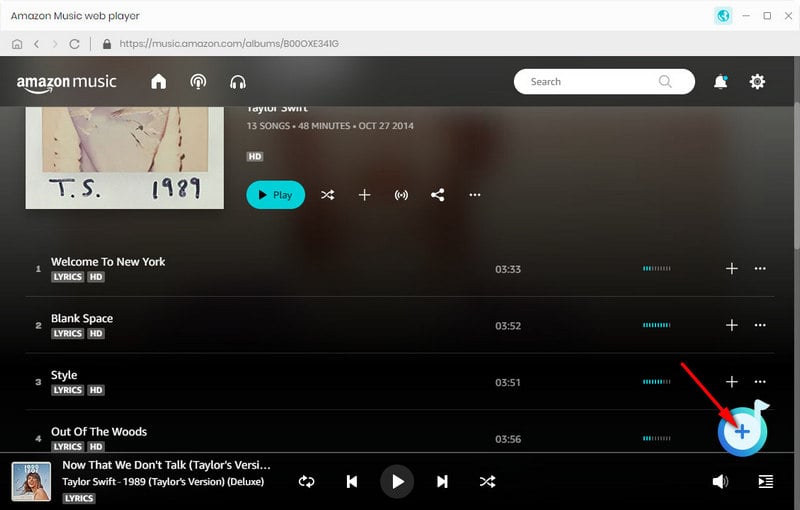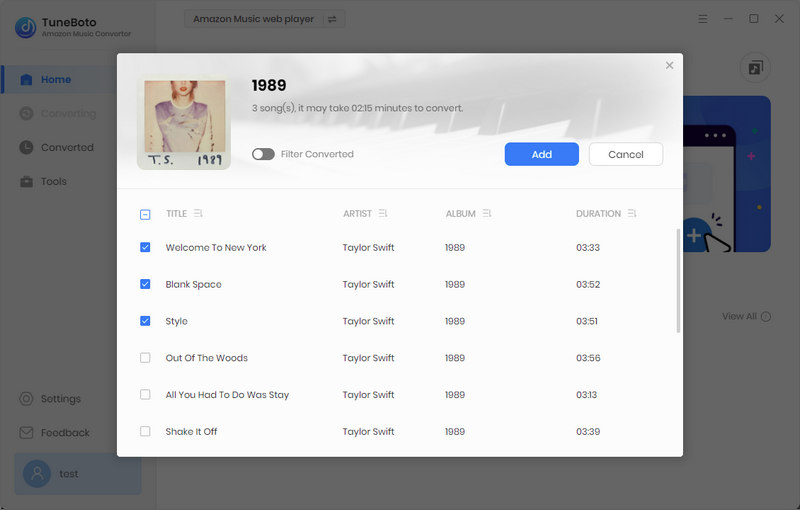 Step 4 Download Amazon Music You Want
In this step, you just need to click "Convert" to start conversion. And then wait patiently until the process is complete. You can find the downloaded Amazon Music in the Converted section.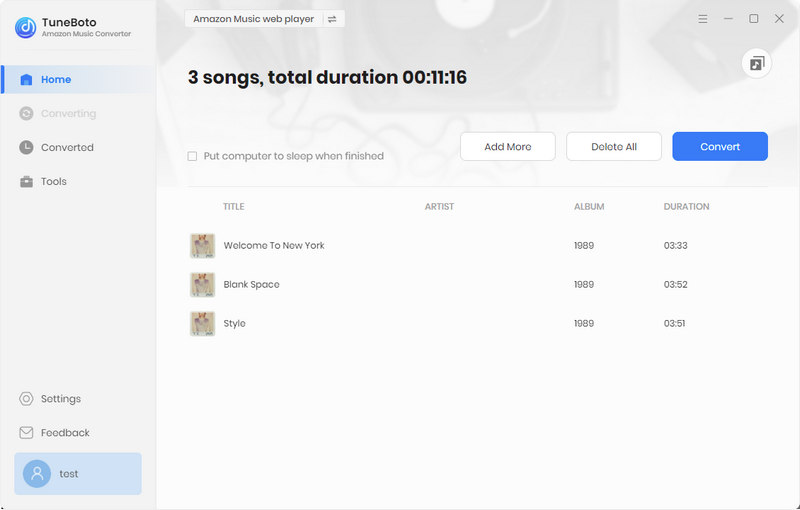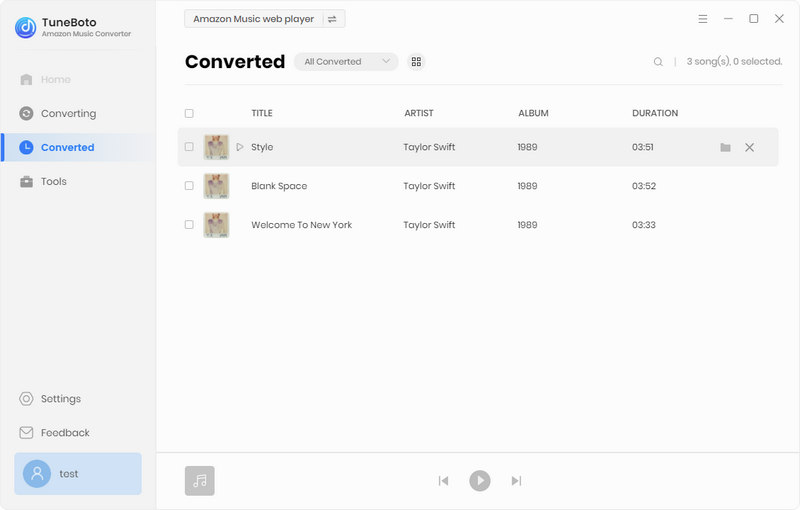 Step 5 Connect Downloaded Amazon Music to Alexa
Before you start to play Amazon Music offline on Alexa, you need to upload the downloaded songs to your phone or any device you want. After that, with your phone or tablet nearby, say "Alexa, pair," and the app goes into pairing mode. Open the Bluetooth on your device and tap your Alexa device when it shows up. Then you can play Amazon Music offline on Alexa.
---
Conclusion
With Alexa's seamless integration with Amazon Music, you can enjoy a hands-free music experience like never before. You will have two choices to play Amazon Music on Alexa. One is to play directly on Alexa by connecting the two apps. The other is to play Amazon Music offline on Alexa by using Bluetooth.
If you download Amazon Music by TuneBoto Amazon Music Converter, you can listen to them anytime, anywhere. Get the beat going and let the music fill your home with Alexa as your ultimate personal assistant. Say goodbye to the days of manually selecting songs and embrace the future of music with Alexa and Amazon Music.