"What happened to my Amazon Music? It won't play anything!" Many people may have various problems when using Amazon Music. It may be that the music cannot be played, or the program is stuck and unresponsive, or the automatic song switching fails, etc. Faced with these problems, you may not be able to find solutions at once. So please take a few minutes to read this article. We will introduce several general solutions to quickly solve the problem of the Amazon Music app not working.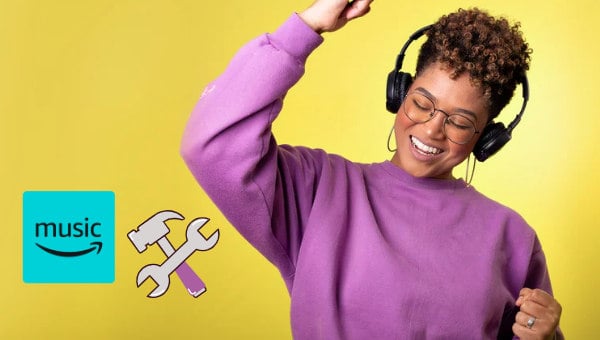 Part 1. Top Ways to Fix Amazon Music App Not Working
Next, in this section, we will introduce several general solutions to help you deal with some common Amazon Music app failure issues. You can choose one or more of them to try to repair according to your specific situation.
✅1. Check Your Network Connection
If your Amazon Music app suddenly stops playing songs, or the songs are interrupted, you can check your network. When the network is down, Amazon Music can no longer load songs.
Checking whether your network is available is easy. Just open your browser, and then choose to find a web page. If it can be loaded, then your network is normal. Otherwise, your network is disconnected. Also, if you choose to use cellular data, you'll want to make sure Amazon Music is allowed. You can go to settings to set it.
✅2. Check Your Amazon Music Subscription
If you can't play songs, your Amazon Prime or Amazon Unlimited subscription may have expired or been canceled. In this way, you will also not be able to enjoy most songs on Amazon Music. You can check it by following these steps:
Step 1: Open the Amazon Music app on your computer.
Step 2: Click the avatar button at the top right corner and choose Settings in the drop-down list.
Step 3: Select Manage Music Subscription in the new window and check your subscription status.
✅3. Update the Amazon Music App
Outdated Amazon Music apps can sometimes cause problems with the program, such as sudden crashes, lags, and more. The latest Amazon Music often resolves these bugs, so you need to make sure you update to the latest version of Amazon Music. The way to update the Amazon Music app is to go to the App Store to check if there is an Update reminder for your Amazon Music. If so, you can install the latest version to update the program.
✅4. Sign Out And Sign In Amazon Music App
If some authentication issues with your account prevent Amazon Music from working, you can try to resolve them by logging into your account again. The specific steps are as follows:
Step 1: Run Amazon Music app on your computer.
Step 2: Tap the avatar button on the top right corner and choose Sign Out in the drop-down list.
Step 3: Log into your account again on the new page.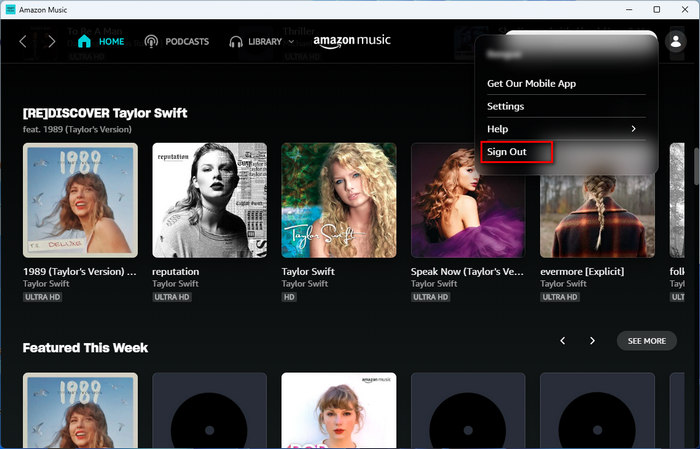 ✅5. Force Stop Amazon Music
If your Amazon Music suddenly crashes and becomes unusable, you can restart the app by force closing it. The specific steps are as follows:
Step 1: Open Settings on your device and then select Applications and Permissions.
Step 2: Choose App Manager to find the Amazon Music app and tap Force Stop.
Step 3: Go back and open the Amazon Music app again.
If you are an iOS device user, to force stop the Amazon Music app, you just need to double-click on the Home button or swipe up the app.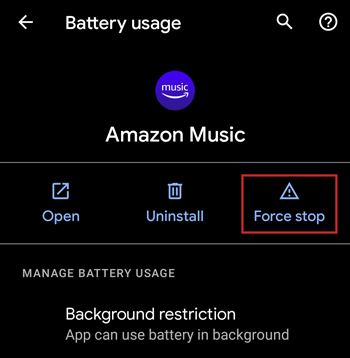 ✅6. Clear Amazon Music Cache
Sometimes Amazon Music cache files that are too large can also affect the running of the app, and if there are corrupted files, it can also cause your music to fail to play. So you can try clearing the cache of Amazon Music app to fix the problem.
Step 1: Open the Amazon Music app on your device and tap the gear icon.
Step 2: Choose Settings and scroll down to find the Clear Cache option.
Step 3: Click Clear Cache to clear the cache for freeing up the memory.
✅7. Change Audio Quality
Sometimes the selected sound quality level will also affect the normal playback of the song. If your network is not in good condition, playing high-quality Amazon music will be affected, and there may be continuous loading and lag. Therefore, you can solve this problem by changing the sound quality:
Step 1: Open the Amazon Music app.
Step 2: Choose Settings and scroll down to find the Audio Quality option under PLAYBACK.
Step 3: Click Audio Quality to select other options.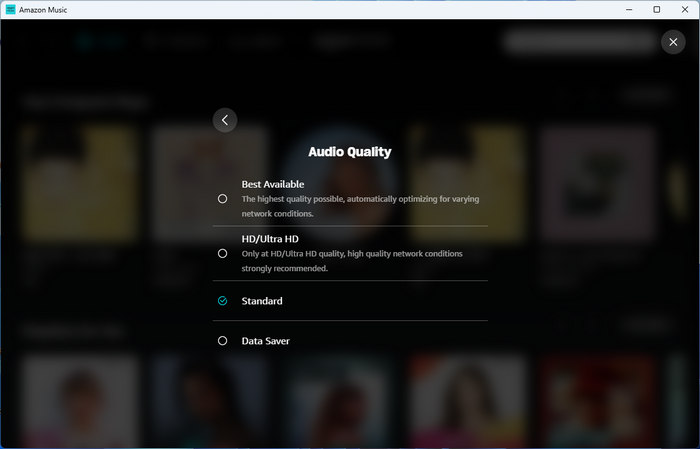 ✅8. Update System OS Of Your Device
If you fail to update your device system in time, it may also cause the device system to be incompatible with Amazon Music, thus affecting the normal operation of Amazon Music. You can follow the steps below to check whether your system needs to be updated:
Step 1: Go to the Settings app on your device.
Step 2: Select the About Phone option from the list.
Step 3: Click on the System Updates button to check the OS version of your device.
Step 4: Check if there is a new version that needs to be updated. If so, click to update.
✅9. Contact Amazon Music Customer Support
If none of the above methods solve your problem, then you may consider contacting Amazon Music customer service, describing your problem to them, and seeking a solution. This may take some time and may require your patience. You can find customer service in the app by following these steps:
Step 1: Open the Amazon Music App On Your Device.
Step 2: Click on the avatar in the upper right corner and select Help from the drop-down options.
Step 3: Tap on the Contact Us button to ask for help.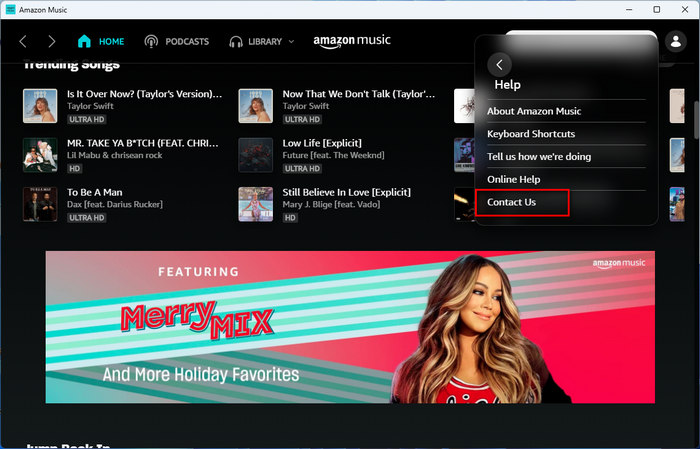 ---
Part 2. How to Play Amazon Music Without Any Issue
Although the above methods can help you solve some common problems encountered by the Amazon Music application, frequent troubles are also distressing. Is there a way to get rid of these troubles and listen to all your favorite Amazon music without any surprises? The answer is yes. You can download these music files locally so that you can enjoy them without any restrictions.
Here you need to use an Amazon Music Converter-TuneBoto Amazon Music Converter to help you save Amazon music to your computer permanently. This program can not only convert songs to common formats, such as MP3, WAV, FLAC, etc. but also retain the original sound quality of the songs. Next, we will introduce its operation steps in detail to you.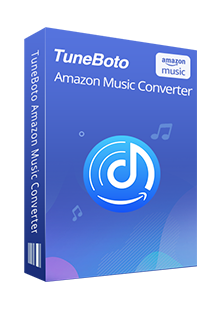 Amazon Music Converter
Download Amazon Music songs, albums, playlists & podcasts to local computer

Convert Amazon Music songs to MP3, AAC, WAV, FLAC, AIFF, ALAC

Keep ID3 tags and lyrics; 100% original audio quality up to Ultra HD & HD

10X download speed & batch download playlists/albums

Archive downloaded songs by album/artist/playlist

Handy tools: Format Converter, Tag Edit, Burn CD and Export to iTunes/Music
Step 1 Run TuneBoto and Choose One Mode You Like
Open TuneBoto on your computer and then you will see a page below. Amazon Music Web player mode can extract songs from the Amazon Music player and download them at 10x the speed, which is up to HD. Amazon Music App mode downloads songs by extracting them from the Amazon Music official app at 5x the speed, with the highest sound quality up to Ultra HD.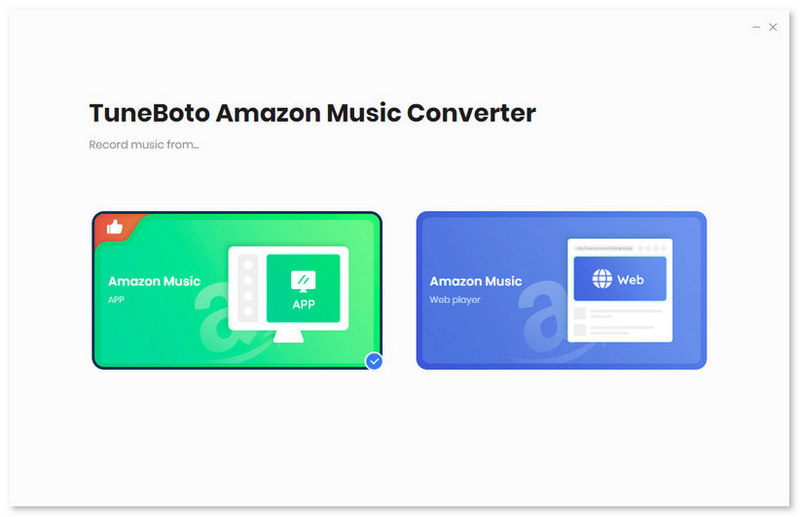 Step 2 Change Output Setting As Needed
You can adjust the output settings as needed on the Settings tab in the lower left corner, including output file name, output sound quality, output folder, output format, etc.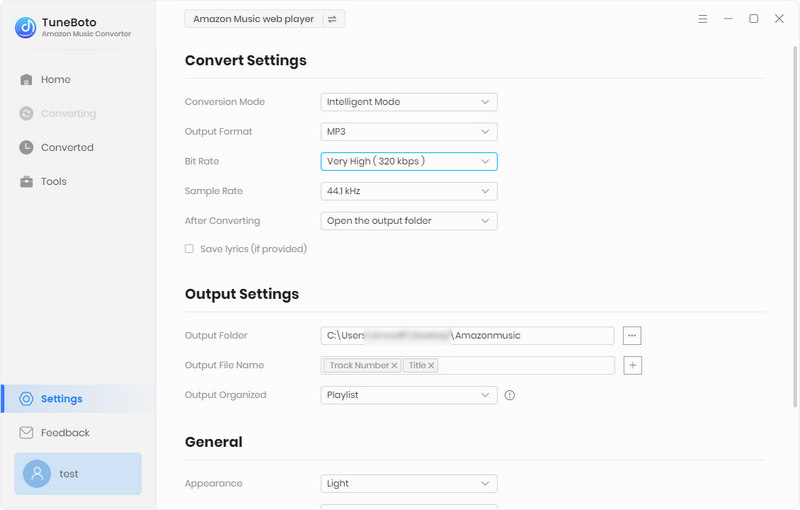 Step 3 Select Amazon Music You Want
For Amazon Music Web player: In the Amazon Music web player, open the playlist you want and select Click to add. Choose the required songs in the pop-up window and click Add to add them to the download list.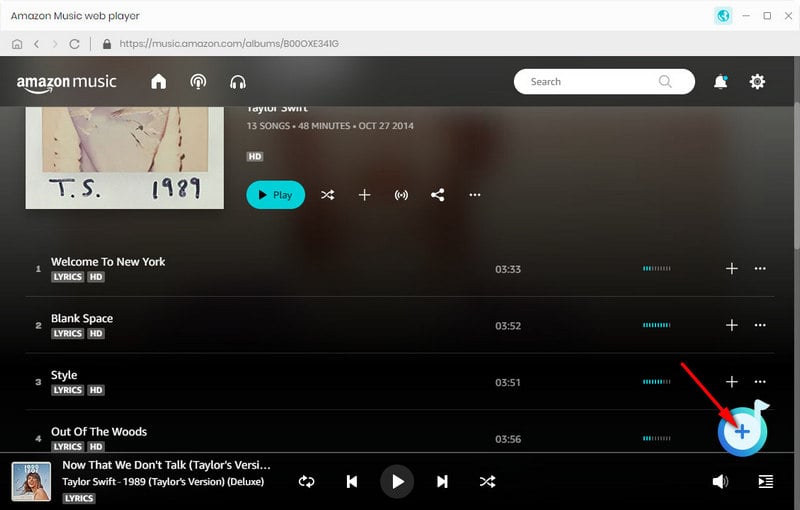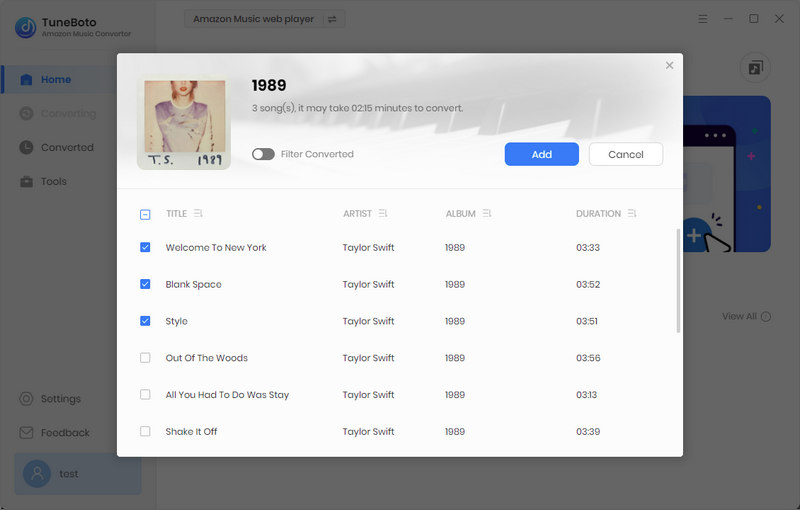 For Amazon Music App: In the Amazon Music app, drag the playlist you want to download to TuneBoto's homepage or copy the URL to the parsing box, then select the song and tap on the Add button.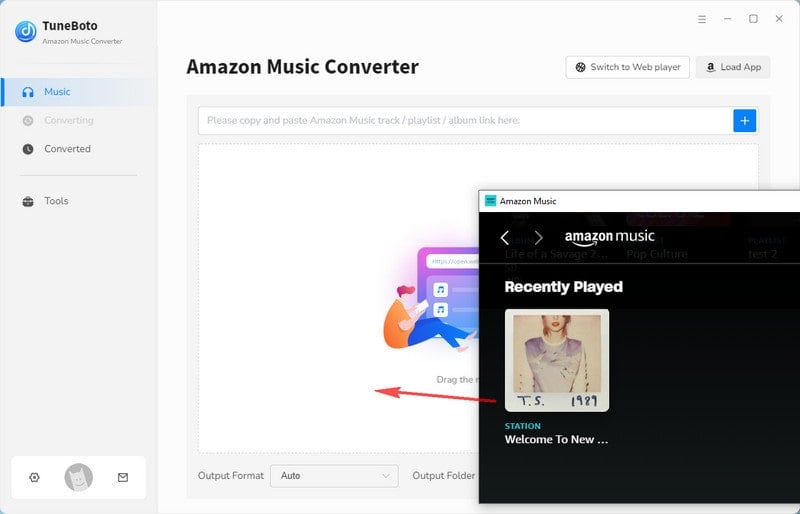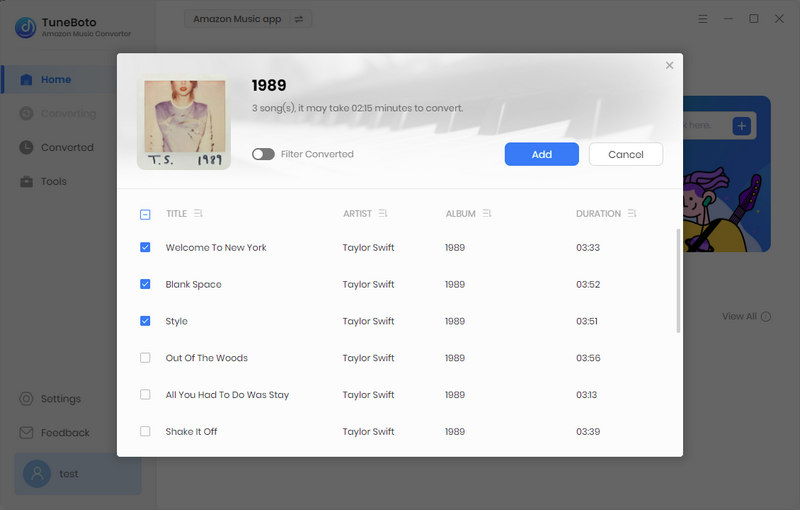 Step 4 Start to Convert
In this step, you just need to click the Convert button to download Amazon Music. After the conversion is completed, you can check the downloaded songs in the Converted module.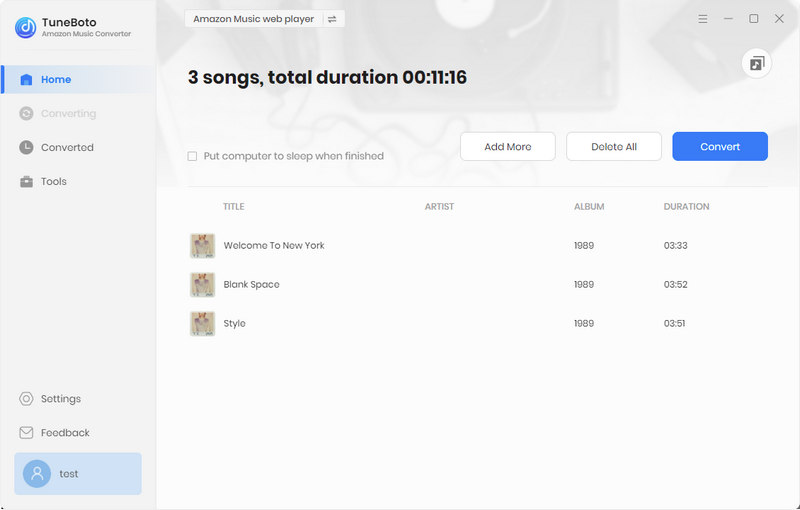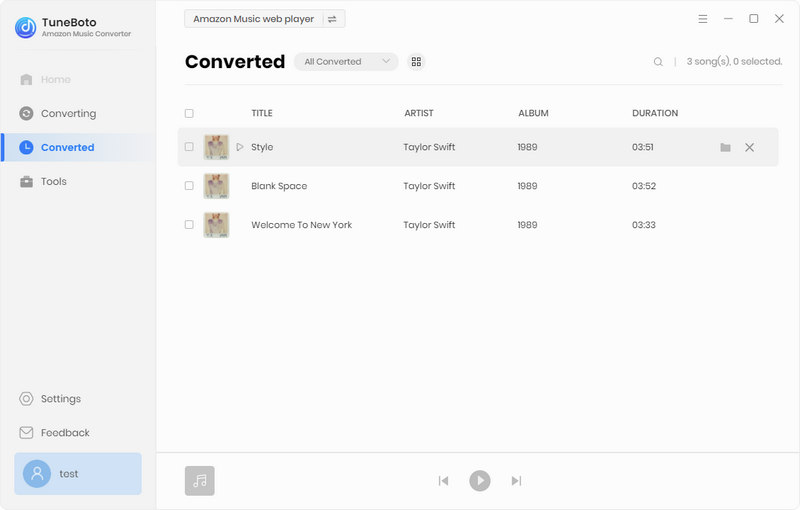 ---
Conclusion
In this article, we provide you with nine universal methods to deal with the issue of the Amazon Music program not working. You can choose the corresponding solution according to your own situation. But if you want to get rid of these problems completely, then it is best to download Amazon music through TuneBoto Amazon Music Converter. This way the songs can be permanently saved on your computer without restrictions so you can listen to them offline anytime, anywhere.