When it comes to MP3 players, you must have heard about Sony Walkman. It takes a position in the market. And many people do love this player. It has a good look, a big storage space, and high-quality music components. As Sony says, you can download or purchase music and transfer it to your Walkman player at Amazon MP3 Store. However, it costs you a huge fee to purchase every Amazon song in your enormous playlists. Thus, in this article, we will discuss a better way to download and transfer Amazon music to Sony Walkman at the lowest cost. We believe you will feel released to your huge playlists.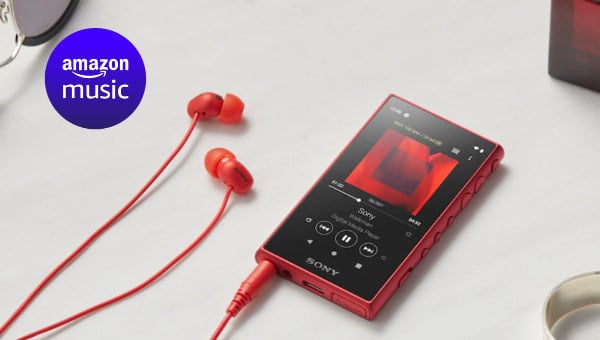 Part 1. Purchase Amazon Music to Sony Walkman
Sony first tells us one of the ways to save Amazon music to Sony Walkman, which is to purchase DRM-free Amazon music and then transfer them to the device.
Step 1 Go to the Amazon Music web player and sign in to your account.
Step 2 Navigate to Library and find the tracks you want.
Step 3 Open the song or album, and select the purchase option.

Step 4 Finish the payment, hit download, and transfer the song to your Walkman.
It is the official way to purchase or download Amazon music to Sony Walkman. But when you open Amazon, you can see an Amazon album costs a relatively high fee. You have to pay a lot if you want all of your Amazon playlists or albums to be downloaded to your Walkman in this way. Of course, there is a better way. Read on.
---
Part 2. Download Amazon Music to Sony Walkman (the Cheapest)
As we all know, except for the purchase option, Amazon offers a music streaming service, which you can access millions of high-quality tracks and enjoy offline mode with a paid account. But the offline mode is not a real download. It can come true with a tool.
Part 2.1 Download Amazon Music to Computer
TuneBoto Amazon Music Converter is such a powerful tool for Amazon Prime & Unlimited users to download Amazon music to their local computer. It is an independent program that works by accessing the official Amazon Music web player. With advanced technology applied, it converts Amazon Prime and Unlimited music to plain audio files and saves them to a designated folder on your Windows or Mac.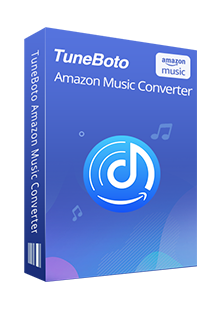 Amazon Music Converter
Download Amazon Music songs, albums, playlists & podcasts to local computer

Convert Amazon Music songs to MP3, AAC, WAV, FLAC, AIFF, ALAC

Keep ID3 tags; 100% original audio quality

10X download speed & batch download playlists/albums

Archive downloaded songs by album/artist
Step 1 Run TuneBoto to Sign Into Amazon Music
Double-click to launch TuneBoto Amazon Music Converter on your device after downloading and installing the program. Click "Open Amazon Music Web Player", and complete the account sign-in.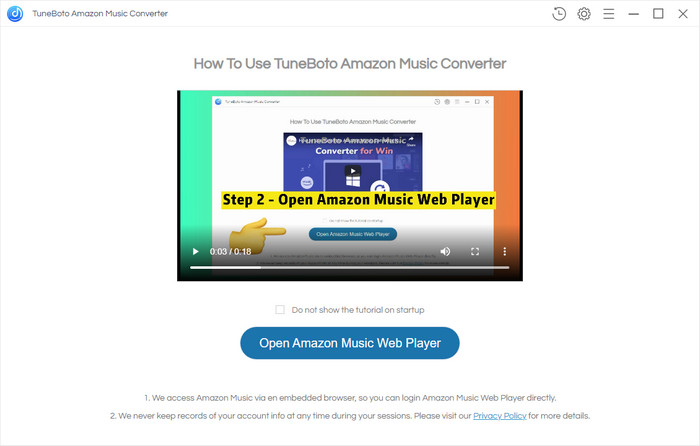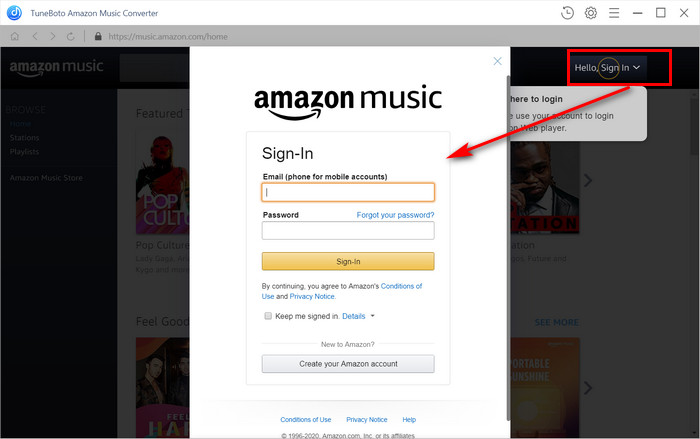 Step 2 Adjust Output Format and Other Parameters
When you are on the Amazon web player, do not act to find songs at once to download, if you want to output Amazon music with the output format you want. Instead, select the "Settings" icon in the upper right corner. Choose an output format, output path, bit rate, and sample rate, select output file name options, and designate an organization for the output files. Then close the pop-up window to apply all the settings. Here are the detailed parameters.
Output Format: MP3, AAC, WAV, AIFF, ALAC, FLAC, AUTO.
Bit Rate: 320kbps, 256kbps, 192kbps, 128kbps (Up to HD quality).
Sample Rate: 192KHz, 96KHz, 48KHz, 44.1KHz.
Output File Name: Track Number, Title, Artist, Album, Playlist Index, Year.
Output Organized: Playlist, Artist, Album, Artist/Album, Album/Artist, Playlist/Artist, Playlist/Album.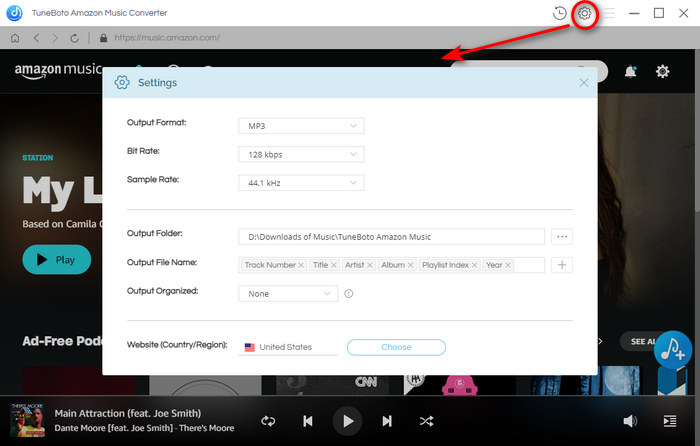 Step 3 Select Amazon Playlists to Download
Navigate to the Amazon songs, playlists, albums, or even podcasts you want to save. Click on the blue icon "Add+" on the right-hand side. Select the tracks you want and hit on "Convert Now". To download multiple playlists in a batch, select "Save to list" after picking, open another playlist and save the songs. Click on the "task list" and "Convert" to begin the conversion.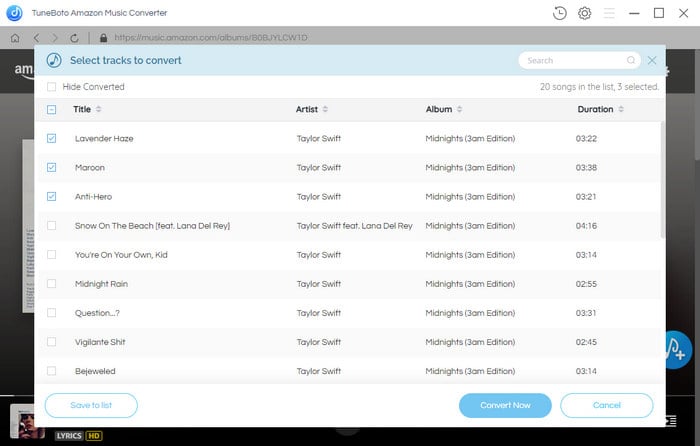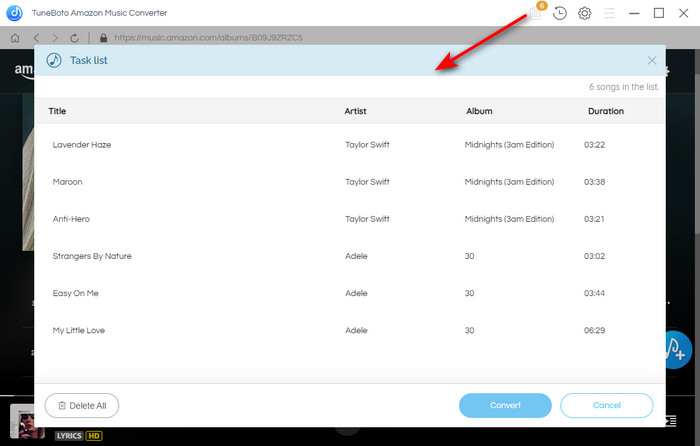 Step 4 Locate Downloaded Amazon Music on Computer
Once the conversion is complete, click on the "History" icon, then the folder icon on the track item, and you are navigated to the output folder. All the selected Amazon music is stored in this folder to plain audio files with the parameters you set. You can view their properties and play them to check.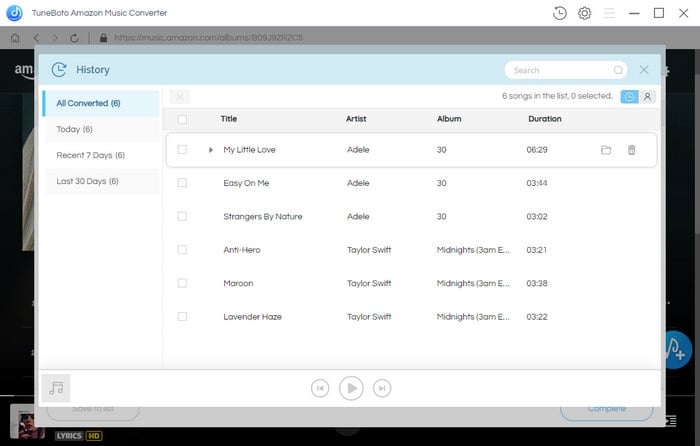 Part 2.2 Transfer Amazon Music to Sony Walkman
Having get Amazon music downloaded to your computer, you can transfer them to your Sony Walkman now. There are many ways you can do that. And we introduce several of them to you for reference here.
Part 2.2.1 Transfer Amazon Music to Sony Walkman via Folder/Finder
This is the easiest way to transfer downloaded Amazon music files to Sony Walkman. If you know how to copy files to a connected device with a computer, skip this part.
Step 1 Connect your Walkman to your computer with a data cable.
Step 2 Choose to use USB for "File Transfer" on your Walkman after connecting.

Step 3 Open the music folder on the MP3 player with your Windows or Mac computer.
Step 4 Copy the downloaded Amazon music files to the music folder.
Part 2.2.2 Transfer Amazon Music via Windows Media Player
If you use a Windows computer, you can try this method too.
Step 1 Connect your Walkman to your PC.
Step 2 Open Windows Media Player, select Music, and drag and drop the music files to the area.
Step 3 Choose Sync section on the right sidebar, select music items, and drag them to the sync list.
Step 4 Click "Start sync" to begin the transfer.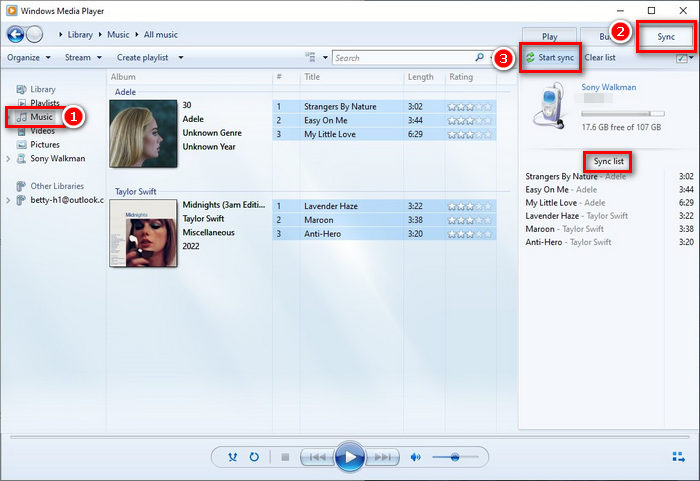 Part 2.2.3 Transfer Amazon Music via Music Center for PC
The app Music Center for PC is released by Sony for media transfer. You can move Amazon music to your Walkman via this tool if you have it on your computer. It has only a Windows version.
Step 1 Open the app and connect your Walkman to your Windows computer.
Step 2 Click the menu button on the app, and select Tools > Settings > Device Transfer.
Step 3 On the page, select bit rate, pick "Normal transfer:...", make other settings, and confirm.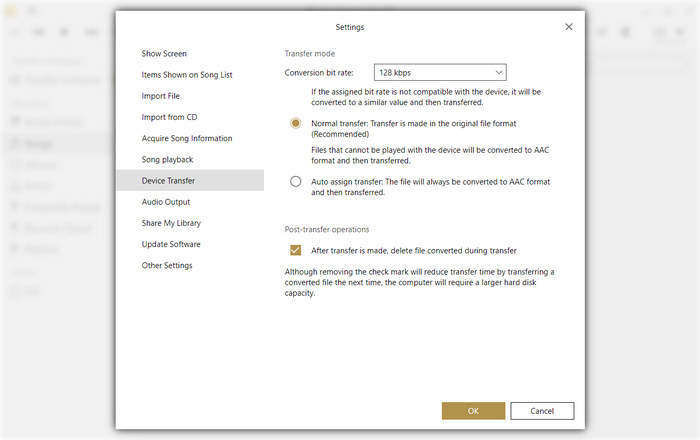 Step 4 Click "Transfer to Device", import Amazon music, choose items, and hit on the transfer arrow.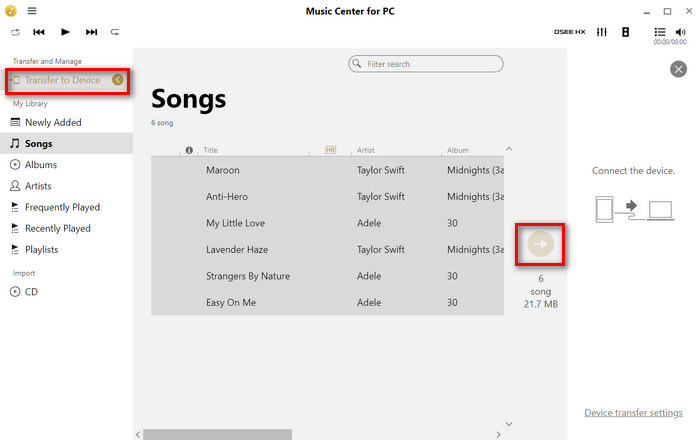 Part 2.2.4 Transfer Amazon Music via iTunes
You can also transfer Amazon music to your Sony Walkman via iTunes.
Step 1 Connect your Walkman to your computer with a data cable.
Step 2 Open iTunes and create a playlist for the music files to be uploaded.
Step 3 Upload the downloaded Amazon music files to the playlist on iTunes.
Step 4 Drag and drop the Amazon songs to the music folder of your Walkman.
---
Summary
From the two parts above, you get that there are two ways to download Amazon Music to Sony Walkman, one is to purchase Amazon music and transfer it to the MP3 player, while the other is to download Amazon music to your computer with TuneBoto Amazon Music Converter and transfer it to the device. But the second method should be highly recommended since it lowers your cost and saves Amazon music on your computer permanently. Download the TuneBoto program right now to enjoy music freely!