Amazon Music, formerly known as Amazon MP3, is a music streaming platform and online music store operated by Amazon.com Inc. It provides high-quality music that is up to Ultra HD and allows users to listen to and download the songs for offline listening. However, many people don't know exactly how to download Amazon Music. This article will provide several possible approaches.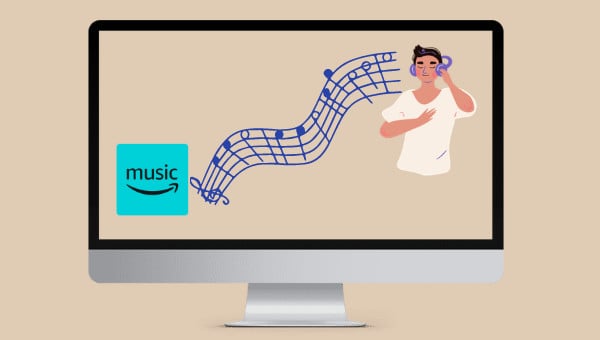 Part 1. Download Amazon Music to Android/iPhone
Most people like to download Amazon Music on their phones. Here's how to download Amazon songs on your phone.
Step 1 Download Amazon Music on your phone. Open the software and log into your account.
Step 2 Find the song you want to download. If it's in your library, click on "Library". If not, click on "Find".
Step 3 Once you've found the song, click on the three dots next to it and find "Download" from the drop-down list. Tap it to start downloading the Amazon Music you want.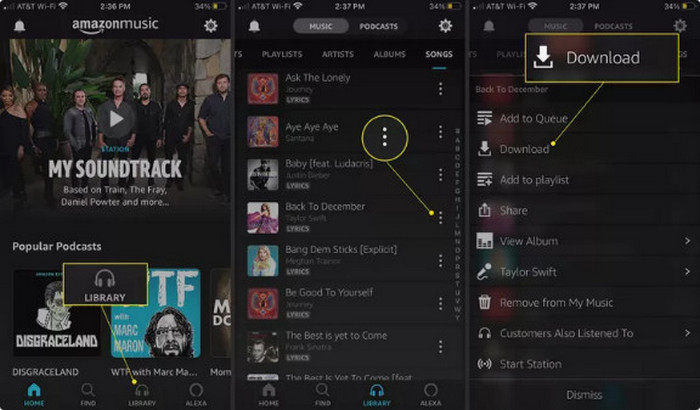 ---
Part 2. Download Amazon Music to Windows/Mac
There are two ways to download Amazon Music to your computer. The first is similar to the one mentioned above, while the other is quite different.
Method 1. Download Amazon Music via the Official Way
If you want to download Amazon Music songs to your computer through the official channels, one thing to note is that Amazon Music can only download songs through the app, the web player is not allowed. And Amazon Music Free users are prohibited from downloading songs for offline streaming. The download procedure is as follows:
Step 1 Open the Amazon Music app on your WIN or MAC and log in to your account.
Step 2 Browse and find out your preferred song and open it.
Step 3 Click on the three dots next to the song, and you will see the "Download" button. Click on it.
*Note: If you are an Unlimited user, you can choose any song you want to download. If you are a Prime member, you can only download songs from the All-Access playlist.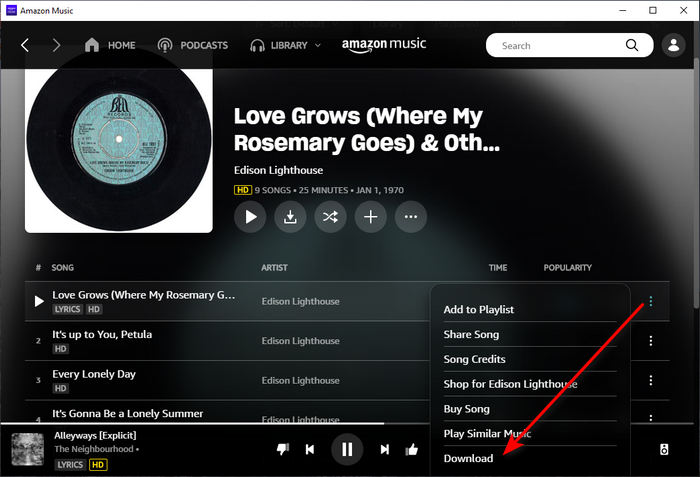 Method 2. Record Amazon Music via Voice Recorder/QuickTime Player
While downloading songs from the Amazon Music app can achieve the goal, it also has some drawbacks. Because of copyright protection, you can only listen to your downloaded songs on Amazon. Once the subscription expires, the downloaded songs will become invalid. Similarly, downloaded Amazon Music won't play on other players. Therefore, we will introduce the second approach next, which is to record the song you want through recording software.
Voice Recorder for Win and QuickTime Player for Mac are convenient ways to download songs. The steps to record Amazon music are as follows:
Step 1 Find the Voice Recorder or QuickTime Player on your computer, double click and run it.
Step 2 Find the song you want to record on Amazon. Click the Record button in the software to record and then play the song on Amazon Music web player/app.
Step 3 When the song is finished, stop recording and you can find your recorded Amazon song in the corresponding folder.
Although Amazon Music can be downloaded through Voice Recorder or QuickTime Player, it has several drawbacks. The most striking thing is that the song can only be recorded at 1X speed. You have to wait a long time for the recording to finish. Another problem is that the quality of the recorded music is much worse than what you hear on Amazon. And if the network is unstable, it will also affect the song playing, thus affecting the smooth recording.
We all know that according to the official download, these song files have a specific format that can not be transferred, then you need to rely on the help of third-party software. Is there a tool that can download Amazon Music with high quality and get rid of the restrictions from the official? The answer is YES! Here we will introduce the third way to download Amazon Music to any device.
---
Part 3. Download Amazon Music to Any Devices
TuneBoto Amazon Music Converter is a professional audio converter for Amazon users, capable of downloading songs & podcasts & playlists & albums from Amazon Unlimited & Prime Music. It can convert Amazon Music to a variety of popular formats, including MP3, AAC, WAV, AIFF, FLAC, and ALAC. At the same time, TuneBoto Amazon Music Converter can retain 100% of the HD quality of any Amazon audio, resulting in lossless sound quality in the output files saved on users' computers, achieving true offline listening anytime, anywhere.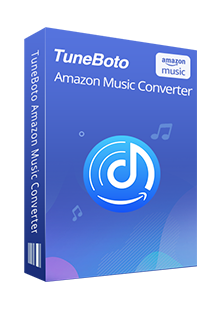 Amazon Music Converter
Download Amazon Music songs, albums, playlists & podcasts to local computer

Convert Amazon Music songs to MP3, AAC, WAV, FLAC, AIFF, ALAC

Keep ID3 tags; 100% of the HD quality

10X download speed & batch download playlists/albums

Archive downloaded songs by album/artist
Step 1 Launch TuneBoto on Your Computer
First, download the latest version of TuneBoto from the official website. Once the download is complete, double-click to run the program. Click the blue button "Open Amazon Music Web Player" on the initial page that appears when the run starts. You will then see the embedded Amazon Music web player. Please follow the instructions to log in to your Amazon Music account to load your music library.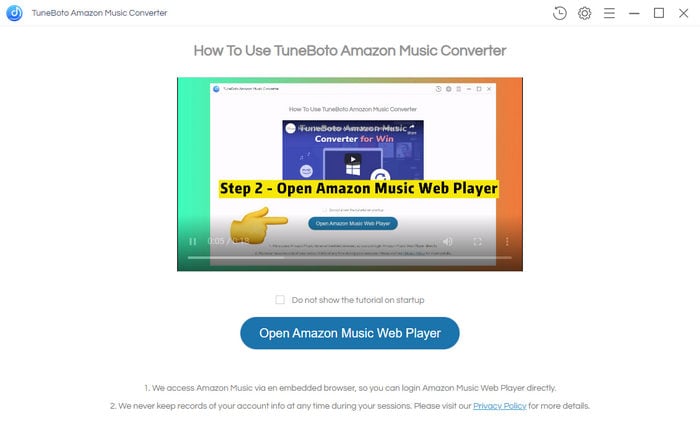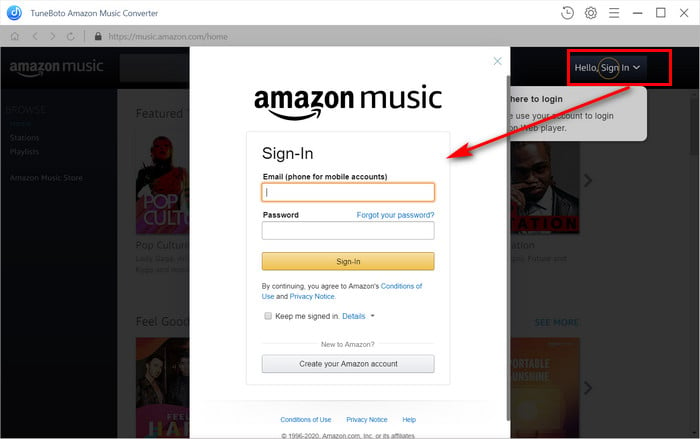 Step 2 Set Output Parameters as Required
Click the "Setting" button at the top right. You can see a pop-up window that there are many parameter settings to choose from. You can set the output format and folder of your downloaded Amazon Music according to your preferences, select the output file name according to the provided options and determine how to sort out the output Amazon Music through Output Organized.
In addition, the bit rate and sample rate can be set freely according to the individual's pursuit of sound quality. Among them, the highest supported sound quality can up to HD. After the setting is complete, just close the window and the system will automatically save the setting parameters.
*Note: If you select "AUTO" in output format, the system will automatically output the source format and original sound quality of Amazon Music.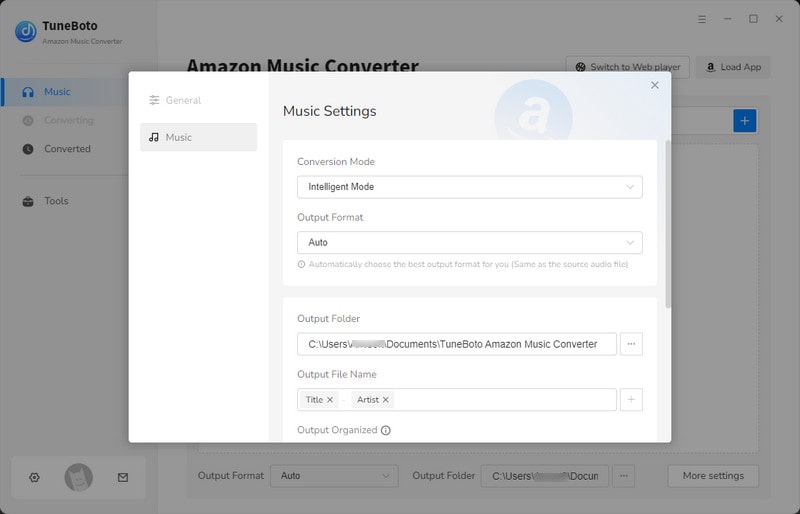 Step 3 Choose Amazon Songs/Playlists/Albums/Podcasts
Once you've set your parameters, you can search for the song you want to download on Amazon Music. Click to open the playlist or album you want to download, and you'll see an "Add to list" button at the bottom right that changes from gray to blue.
Click it to open a new dialog window. All available songs will be selected. If you don't want them all, click on the box in front of the title to deselect all songs, and then pick the song you want to download. If you want to avoid downloading songs repeatedly, click on the "Hide Converted" in the upper left.
Once you have selected the songs, you can click "Convert Now" and TuneBoto will begin conversion immediately. If there are other albums you want to download, you can also select "Save to list" so that the songs go to the list. Finally, click the "task list" icon to get a new window and click "Convert" to download Amazon Music.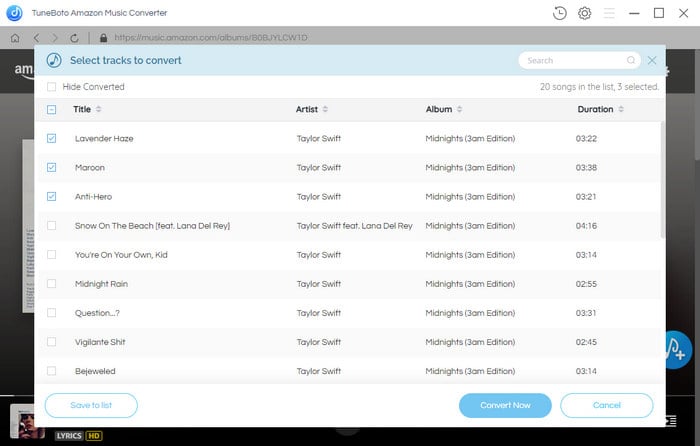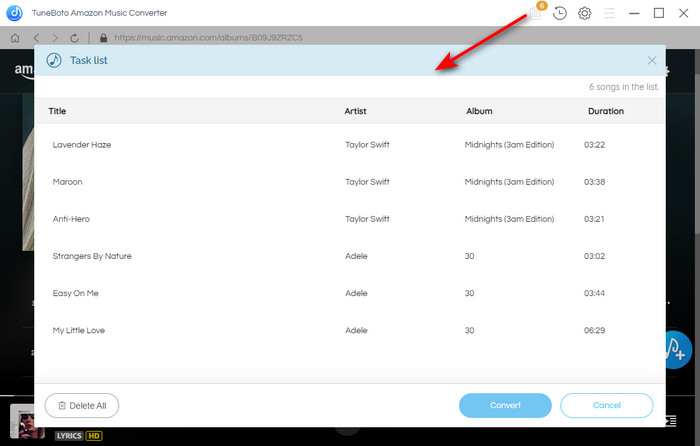 Step 4 Confirm Downloaded Amazon Music
When the download is complete, the output folder will pop up quickly. You can also click on "History" icon and find the folder icon inside to open the output folder. Then you can see the downloaded Amazon song. At this point a complete download process is complete, you can check the downloaded song format and information.
Once the download is complete, you're free to import the downloaded Amazon Music to any device you want, such as Amazon Echo, iPad and Apple TV. Music downloaded through TuneBoto will be DRM-free.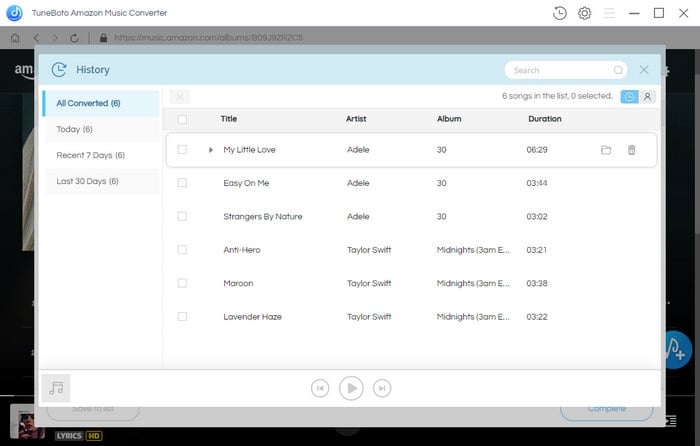 ---
Conclusion
After reading this article, you may already know how to download Amazon Music. You can also choose to record to save Amazon Music, but the recording speed is slow and the sound quality is reduced. What's more, recording will be affected by the Internet.
Therefore, TuneBoto Amazon Music Converter is recommended as the best way to download Amazon Music songs to any device. It can directly download Amazon Music at 10X speed into a universal format, convenient for users to play anytime and anywhere, but also can output high quality to meet the pursuit of sound quality users.