Do you want to save money while getting all the benefits of Amazon Prime? If so, then a Amazon Prime free trial might be just what you need. With an Amazon Prime trial, you can access millions of products at discounted prices, get two-day shipping on eligible items, and stream movies and music from their library without spending a dime! In this blog post, we'll give an overview of what comes with an Amazon Prime free trial membership and explain how to sign up for one in no time. Continue reading for more details about taking advantage of this great offer today!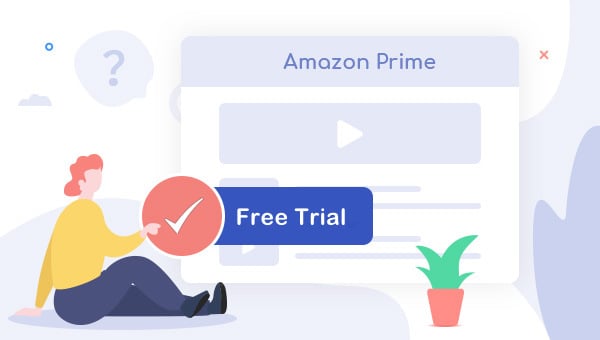 1. What Are Benefits of Amazon Prime Free Trial?
Amazon Prime free trial offers several benefits to its users. Some of these benefits include: Free and fast shipping: With Amazon Prime free trial, you get access to free two-day shipping on eligible items, which means you can receive your packages quickly without any additional cost.
Access to Prime Video: Amazon Prime free trial also includes access to Amazon Prime Video, which is a streaming service that allows you to watch movies, TV shows, and original content.
Exclusive deals and discounts: Amazon Prime members get exclusive access to deals and discounts on thousands of products on Amazon.com.
Unlimited photo storage: With Amazon Prime free trial, you get unlimited photo storage in the Amazon Cloud Drive, which means you can store all of your photos safely and securely.
Early access to lightning deals: Amazon Prime members get early access to lightning deals, which are limited-time, deeply discounted offers on popular products.
Access to Prime Music: Amazon Prime free trial also gives you access to Prime Music, which is a music streaming service that lets you listen to 100 million songs ad-free.
Overall, Amazon Prime free trial is a great way to test out the many benefits of a Prime membership before committing to a paid subscription. For more details, please go to: Amazon Prime Benefits
2. Who Can Get Amazon Prime Free Trial?
Amazon Prime offers a free trial to new customers and anyone who has not previously had an Amazon Prime membership in the last 12 months, which includes access to all of the benefits that come with a Prime membership for a limited period of time. Usually, the free trial lasts for 30 days.
3. Get Amazon Prime One-month Free Trial?
To get an Amazon Prime one-month free trial, follow these steps:
Go to the Amazon Prime free trial page.
Click on the "Start your 30-day free trial" button.

Sign in to your Amazon account or create a new one if you don't have one already.
Enter your payment information for when the free trial ends, but you won't be charged until after the trial period is over.
Once you have completed the signup process, start enjoying all the benefits of Amazon Prime.
Be sure to cancel your membership before the end of the free trial period if you don't want to continue with the service and avoid being charged. Otherwise, you will be charged $14.99 per month ($139/year).
4. Get Amazon Prime 6-month Free Trial (For Student)?
If you are a student, you can get a 6-month free trial of Amazon Prime:
Sign up for Amazon Prime Student: Students with a valid .edu email address can sign up for Amazon Prime Student, which offers a 6-month free trial. Just search "Amazon Prime Student Free Trial" and you can get the link to sign up.

Provide verification: Amazon may require verification of your student status before granting you access to the free trial. This usually involves providing a copy of your student ID or transcript.
Enjoy the benefits: Once you're approved for the free trial, you'll have access to all the benefits of Amazon Prime, including free two-day shipping, unlimited streaming of movies and TV shows, and access to exclusive deals and discounts.
It's worth noting that after the 6-month free trial period, you will be automatically enrolled in Amazon Prime at a discounted rate of $7.49/month or $69/year, unless you cancel your membership.
5. Cancel Amazon Prime Free Trial
To cancel your Amazon Prime free trial subscription, follow these steps:
1. Go to the Amazon website and log in to your account.
2. Hover over the "Account & Lists" drop-down menu and click on "Your Prime Membership."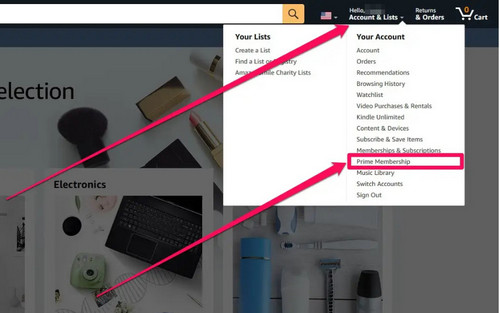 3. On the left-hand side of the screen, you'll see a button that says "Update, cancel and more" Click on it and then the "End Membership" button.
4. You'll be prompted to confirm your cancellation. If you're sure you want to cancel, click on the yellow "End My Benefits" button.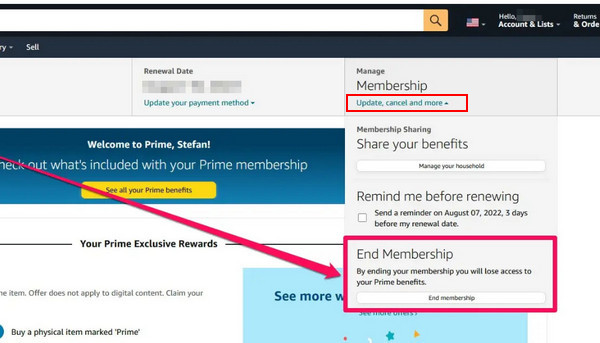 5. Your membership will end immediately, but you'll still have access to Amazon Prime benefits until the end of the current billing cycle.
It's important to note that if you don't cancel your Amazon Prime free trial before the end of the trial period, you'll automatically be charged for a full Prime membership. So if you're not interested in continuing with Prime after the free trial, make sure to cancel before it expires.
6. Keep Amazon Video After Free Trial?
Amazon Prime enables you to download video content for offline viewing. But once you cancel the service, you will lose access to all of them. If you want to keep them playable even after the free trial, you need to turn to TuneBoto Amazon Video Downloader. It is a professional video downloader from Prime Video, capable of downloading any Prime Video content in MP4 or MKV format with FHD quality kept. Plus, you can also choose your desired audio tracks and subtitles before downloading them and save them to the local files. Once downloaded, you can keep them forever unless you delete them manually.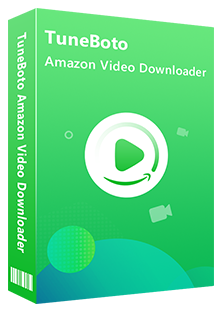 Amazon Video Downloader
Download Prime movies & TV shows to Mac/Windows

Support downloading Prime Video to MP4/MKV

Keep audio tracks and subtitles

Download videos in batch at a fast speed

Free upgrade and technical support
Next, we will show you how to use TuneBoto Amazon Video Downloader, all you need is to download the app and follow us.
Step 1 Install and Open TuneBoto Amazon Video Downloader
Run TuneBoto Amazon Video Downloader on your computer, then you need to select the region of your account.
For the United States, select "amazon.com"
For Germany, select "amazon.de"
For Japan, select "amazon.co.jp"
For United Kingdom, select "amazon.co.uk"
For France, India, Canada, and others, select "primevideo.com"
After that, please log in to your Prime Video account. The Amazon Video login page needs to be opened by clicking "Prime Video Member? Sign in".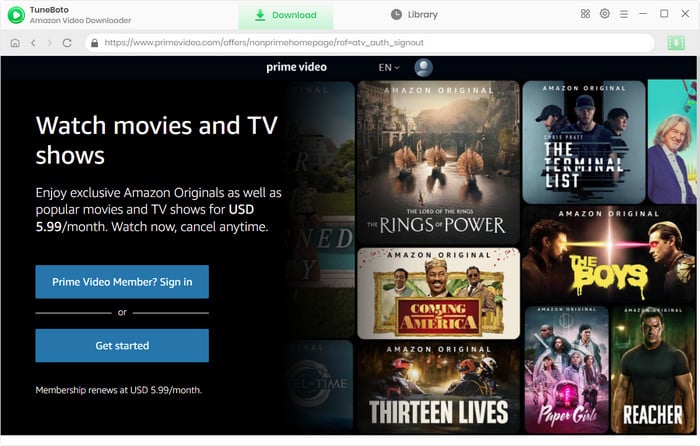 Step 2 Select Output Settings
Here, you can click the "Setting" button at the upper right to open the Setting window and adjust the output settings, including output format, subtitle, audio track, video codec, and so on.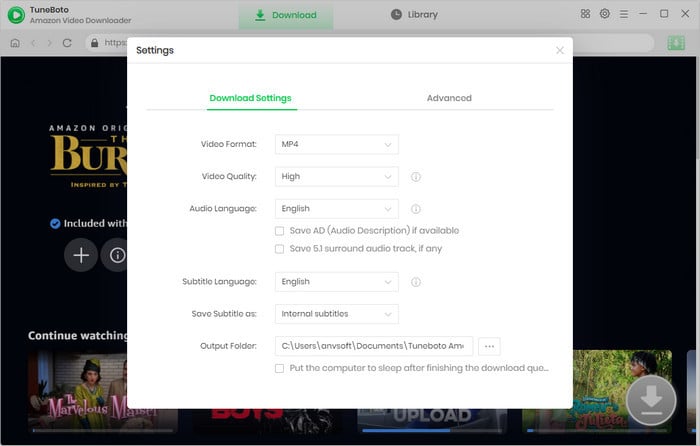 Step 3 Search Video
An built-in Amazon Prime browser within TuneBoto Amazon Video Downloader means that you can operate the software much like you would Amazon Prime. Simply select the magnifying glass symbol in the upper right corner, and a search bar will materialize. Enter the name of the video to the search bar, then press "Enter" on your keyboard. After seconds, you will find the related Prime videos listed.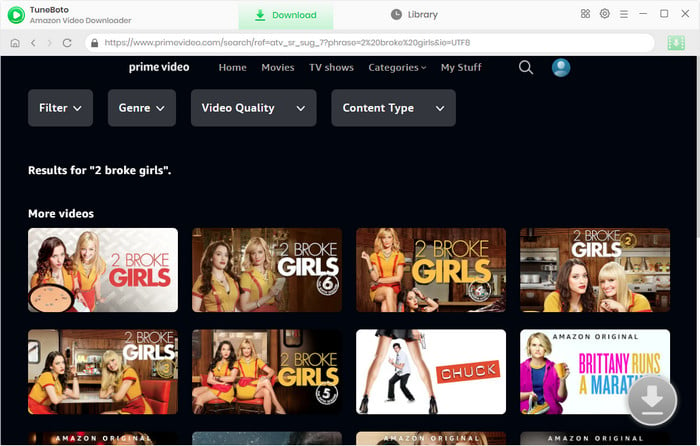 Step 4 Select Audio Track and Subtitle
When you click the video's thumbnail, you'll be taken to the details page of that video, and you'll notice the previously gray download button in the lower right corner becomes active, turning green.
Now, you can open the Advanced Download window and select specific audio tracks and subtitles. To download episodes, you can access it by clicking the download icon then the Advanced Download button at the bottom-left. If you are downloading movies, directly click the green download icon to open the window.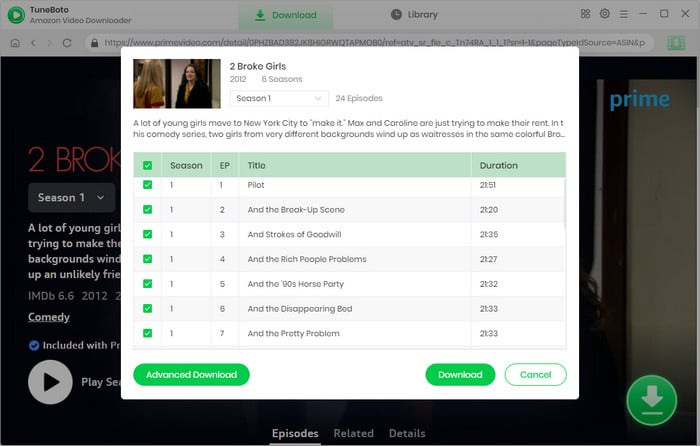 Step 5 Start to Download Amazon Video on Computer
Finally, please click the "Download" icon, the program will start downloading the Amazon videos as MP4 or MKV files.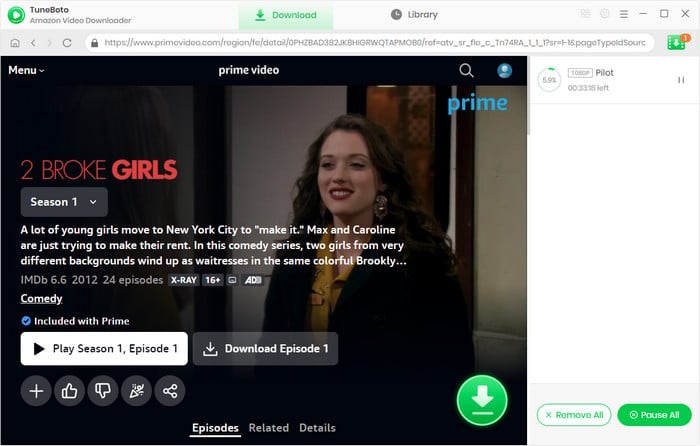 7. Download Amazon Prime Music to Play Offline?
Amazon expands its music offering, opening up its full catalog of 100 million songs in Amazon Music to Prime subscribers at no extra charge. All Prime members (including free trial users) are allowed to access the entire catalog, but only in shuffle mode. Plus, you cannot download most of them (only can download All-Access Playlists) to listen to offline, unless you upgrade to the Unlimited plan, or try some tools like TuneBoto Amazon Music Coverter.
It is a top-rated Amazon music converter, that can download and convert any songs from Amazon Music Prime and Unlimited to MP3, AAC, WAV, FLAC, ALAC format. The speed is lighting-fast, the audio is lossless. And TuneBoto requires no additional plugin or app. After downloading, you can play your songs anywhere anytime.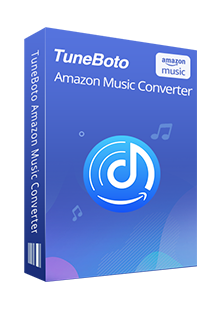 Amazon Music Converter
Convert Amazon Music songs & podcasts to MP3, AAC, WAV, FLAC, AIFF, ALAC

Works on Amazon Music Unlimited & Prime Music

Keep ID3 tags; No quality loss

No need to install the Amazon Music app or other apps

Free upgrade and technical support
Conclusion
Ultimately, taking advantage of Amazon Prime's free trial is a great way to save money and take advantage of its many benefits. By getting the 30-day trial, you can enjoy the full suite of services available and then cancel the subscription afterwards. Here is the ultimate guide about how to get Amazon Prime free trial. Hope to help you.
---