Do you have an Amazon Prime subscription but don't want to pay for another one just so your family or friends can watch with you? Luckily, there are ways to share Amazon Prime Video with them without having to buy multiple subscriptions. In this guide, we'll explore four options for sharing the wealth of great content available on Amazon Prime Video, including sharing account, creating shared library, setting up a separate account for your guest pass member via Household Profiles, and more. With these tips and tricks in hand, you'll be able to easily turn any get-together into a movie night that all of your loved ones can enjoy!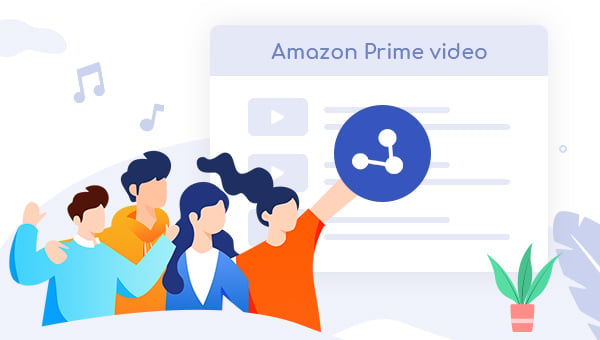 1. By Sharing Account
The easiest way to share account is to share your account. But this can have both advantages and disadvantages, which are:
Advantages:
Cost-effective: Sharing Amazon Prime account among family or friends can save money since the cost of the membership is being divided between multiple people.
Convenience: Prime offers free and fast shipping on millions of products, and access to streaming of movies, music, tv shows, and more. Having multiple people on one account allows each person to take advantage of these benefits without paying individually.
Disadvantages:
Privacy concerns: Sharing an Amazon Prime account means sharing personal information, like purchase history and shipping addresses, which may not be desirable for some users.
Limited simultaneous streams: Only three simultaneous video streams are allowed per account, which could be problematic if multiple people want to watch different shows at the same time.
Account security: Sharing an Amazon Prime account requires sharing login credentials, which may raise security concerns if a password is compromised or if one member has a poor track record of maintaining secure login credentials.
Dispute over purchases: If multiple people are using the same account, it can be difficult to determine who made specific purchases or who is responsible for paying for them.
Overall, sharing your Amazon Prime account can provide significant cost savings and convenience, but it also comes with potential problems like privacy and misuse issues as well as inconvenience due to conflicts that may arise while using the account.
2. Using Amazon Household
What's Amazon Household?
Amazon Household is a feature offered by Amazon that allows you to share your Amazon account with up to two adults and up to four children. With Amazon Household, you can share access to Prime benefits such as free shipping, unlimited streaming of movies, TV shows, and music, and early access to select Lightning Deals. Additionally, you can share purchased content such as Kindle books, apps, games, and more. Each adult in the household has their own personal Amazon account, which means they can shop for their own items, access their own wishlist, and set up their own payment methods. Children's accounts can be managed by adults and have parental controls put in place.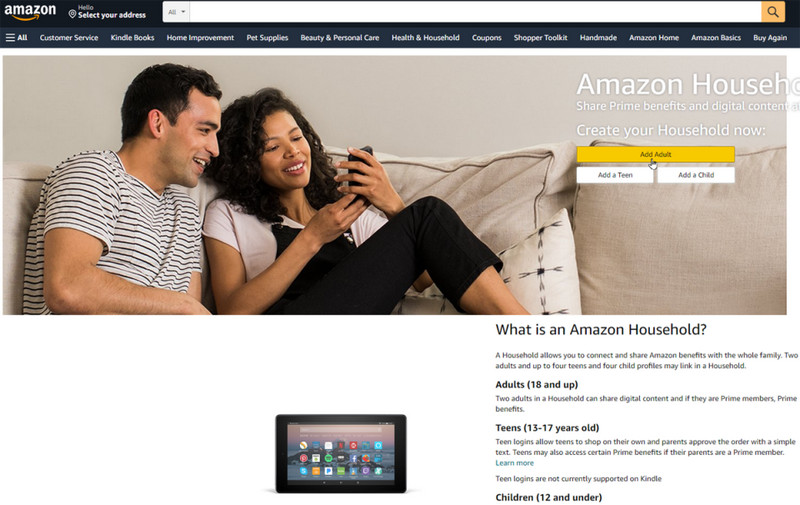 How to Share Content with Amazon Household?
To share content, follow these steps:
Go to the Amazon Household page on your desktop or mobile device.
Click the "Add Adult" or "Add Teen" button.
Enter the email address and password associated with the Amazon account of the person you want to add as an adult.

Click "Continue" and then it will ask you to confirm that you want to share your Prime benefits, just tap on "Agree and continue".
Next, you can select which content you'll share with your member on product detail pages for ebooks, audiobooks, and other digital content, just follow the prompts to finish your selection. Once the person has accepted the invitation to join your household, you can then share content with him.
To share specific content, such as a book or movie, go to "Manage Your Content and Devices" and find the item you want to share. Click on "Add to Library", choose the profile of the family member you want to share it with and click "Make Change."
3. Using Discord
Streaming Amazon Prime Video on Discord is also a great option to share content with friends. The process is pretty easy. All you need to do is follow the steps:
Open Amazon Prime Video on your device and start playing the video you want to share.
Open Discord and join a server or start a direct message with the person you want to share your screen with.

Click on the "Screen" icon located at the bottom of the screen in the call toolbar.
Select the window or application you want to share, in this case, the Amazon Prime Video player.

Click on "Go Live" to start sharing your screen with the other person or people on the call.
Please note that screen sharing on Discord may not be available on some devices or in some regions.
4. Using TuneBoto
Apart from those three methods above, you can also use TuneBoto Amazon Video Downloader to download your favorite content in MP4 or MKV format and share them. TuneBoto enables you to download and store MP4 Amazon videos locally with HD quality, multilingual audio tracks, and subtitles kept. Once downloaded, you can keep the downloads on your devices forever, move them to other devices, and share them with others with no need to worry about internet connection, subscription plan, device limits, and expiration time of titles.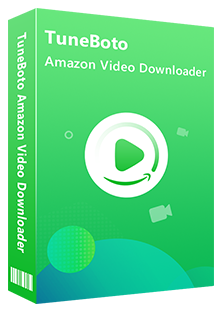 Amazon Video Downloader
Download Prime movies & TV shows to Mac/Windows

Support downloading Prime Video to MP4/MKV

Keep audio tracks and subtitles

Download videos in batch at a fast speed

Free upgrade and technical support
Next, we will show you how to use TuneBoto Amazon Video Downloader, all you need is to download the app and follow us.
Step 1 Install and Open TuneBoto Amazon Video Downloader
Run TuneBoto Amazon Video Downloader on your computer, then you need to select the region of your account.
For the United States, select "amazon.com"
For Germany, select "amazon.de"
For Japan, select "amazon.co.jp"
For United Kingdom, select "amazon.co.uk"
For France, India, Canada, and others, select "primevideo.com"
After that, please log in to your Prime Video account. The Amazon Video login window needs to be opened by entering any keywords in the search box and clicking "Enter".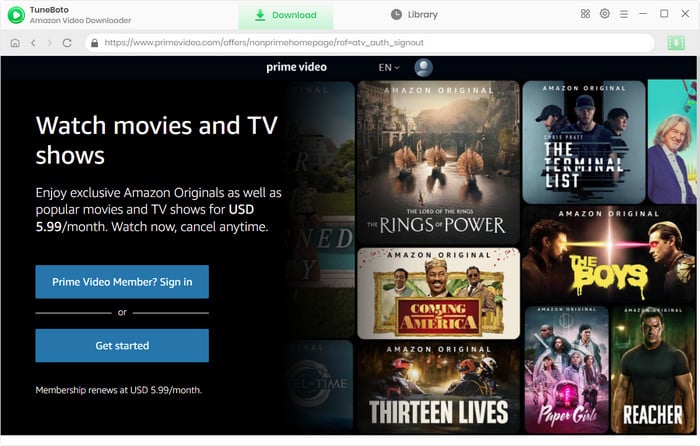 Step 2 Select Output Settings
Here, you can click the "Setting" button at the upper right to open the Setting window and adjust the output settings, including output format, subtitle, audio track, video codec, and so on. You can also log out of your account in this window.
Step 3 Search Video
Enter the name of Prime video or directly copy & paste the video links from the web browser to TuneBoto, then press "Enter" on your keyboard. After seconds, you will find the related Prime videos listed.
Step 4 Select Audio Track and Subtitle
Now, you can open the Advanced Download window and select specific audio tracks and subtitles. To download episodes, you can access it by clicking the download icon then the Advanced Download button at the bottom-left. If you are downloading movies, directly click the icon next the download icon to open the window.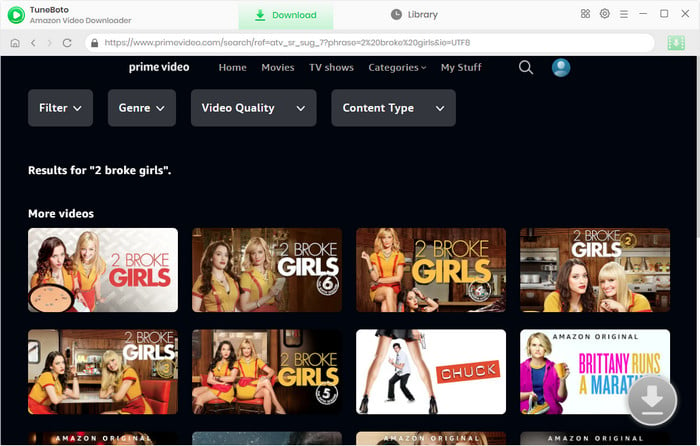 Step 5 Start to Download Amazon Video on Computer
Finally, please click the "Download" icon, the program will start downloading the Amazon videos as MP4 or MKV files. After downloading, you can feel free to share or keep them.
Conclusion
No matter how you decide to share your Amazon Prime Video with family and friends, there is always an easy and cost-effective solution for you. Sharing videos on this platform helps create a connection with your loved ones by making those special moments even more memorable. With the help of these four methods, you can quickly get the best content out there and give the gift of enjoyment far beyond what they'd expect.
---