With the rise of streaming services such as Amazon Video, it can be tough to keep up with all the TV shows and movies that you want to watch. While streaming is convenient, it has its drawbacks – namely, when you don't have access to an internet connection, or want to watch something without incurring data charges. This is where an Amazon Video Downloader comes in handy – it allows users to download their favorite TV shows and movies so they can watch them offline whenever they want. Not only that, but they will also save quite a bit of money on data charges; making Amazon Video Downloaders ideal for any viewer who is looking for a way to get more out of their streaming experience.
If you are looking for a professional Amazon video downloading tool to get more out of your streaming experience, StreamFab Amazon Downloader is an ideal option, which is a powerful software that allows users to download and store digital content from the Amazon Prime store. While the program allows for convenience by storing digital purchases on computers, it does lack some important features. We will take a look at this popular program and then introduce an alternative StreamFab option with even more robust capabilities.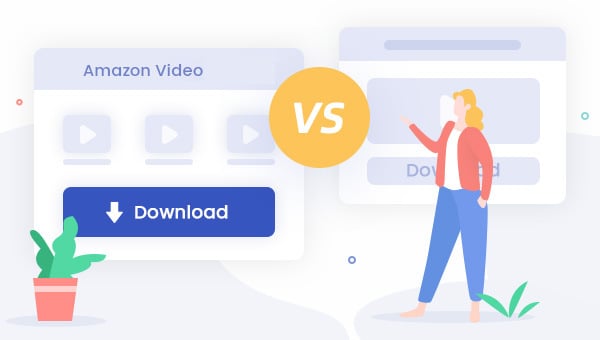 1. What is StreamFab Amazon Downloader
Developed by DVDFab Inc., StreamFab Amazon Downloader is an easy-to-use multimedia downloader that allows users to quickly and effortlessly download movies, shows, and other media content found on Amazon Prime Video. It offers an intuitive interface with a sleek design and provides access to a huge library of streaming content. With StreamFab Amazon Downloader, you can easily download your favorite content to your computer without ads and transfer them across devices. StreamFab makes it effortless to access streaming media from the comfort of your home.
2. The Main Features of StreamFab Amazon Downloader
>> Save any videos from Amazon and keep forever
No matter which country or region you are from, simply using StreamFab, you can download your favorite content from Amazon Prime Video and play them even after they leave the service. Just note that if you want to download videos that are available outside of your country, you can try VPN.
>> Flexible options on video and audio quality to choose
This app offers flexible options on video and audio to choose from. For example, MP4 and MKV are two types of supported video formats and customers can pick from H.264 or H.265 video codecs accordingly. Furthermore, choosing between 480P to 1080P resolution is available to fit everyone's needs, while the audio quality can be tailored between EAC3 5.1 and AAC 2.0 depending on the specific preferences of each user.
>> Save multilingual audio tracks and subtitles
The app presents a great way to make the most of some of your favorite streaming services. With support for keeping audio tracks and subtitles in many languages, you can truly customize your viewing experience regardless of where you're located. Choose from a wide range of supported languages, so that you can explore content from all over the world without having to worry about language barriers.
>> Save subtitles as SRT files
Downloading subtitles as srt files gives users added convenience and flexibility. Pair this with user-friendly navigation and you have an unbeatable streaming experience that is uniquely entertaining.
>> Auto-download newly released episodes at scheduled time
With this incredible app, you no longer have to worry about staying up-to-date with your favorite shows. Instead, you can simply set a specific time each day or week when new episodes will automatically download to your device. No more waiting eagerly each week for the next episode; with this app, it will always be ready and waiting for you!
3. The Price of StreamFab Amazon Downloader
StreamFab offers a free trial for your testing its features, which will enable you to download three videos within the first month. Once it is expired or run out, you need to purchase a license to keep using it. There are three subscription plans: one month of use ($39.99), one year of use ($69.99), and lifetime use ($89.99). Undoubtedly, the lifetime subscription is the best-valued.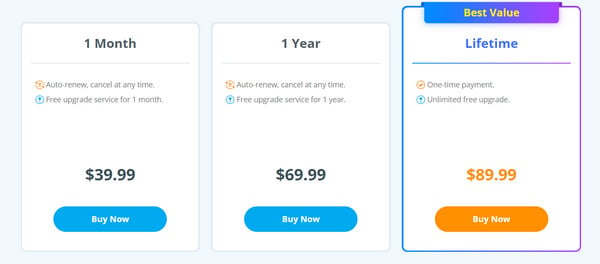 4. How to Use StreamFab Amazon Downloader
Step 1 Open StreamFab and then you need to log into your Amazon account. It is embedded with the Amazon web browser, and the process of login is the same as on Amazon's official site.
Step 2 Search and play the video you want to download. The program will analyze the video immediately, the process will take minutes depending on your network and the original videos.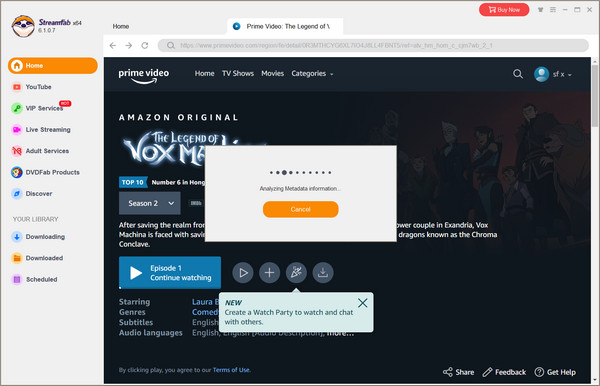 Step 3 After analyzing, a window will pop up to allow you to select video quality, audio track, subtitle, season, episode, and so on.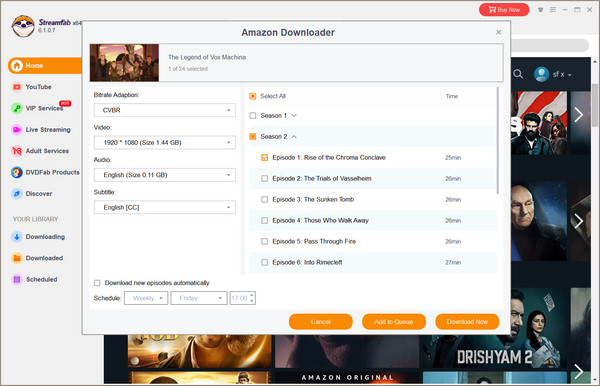 Step 4 Once everything is ready, you can click the download button to download the target video to your computer.
5. Its Disadvantages and the Best Alternative - TuneBoto Amazon Video Downloader
StreamFab is a great tool for users to download content from Amazon Prime. But there are also some disadvantages to it. For example, the analyzing process is too long to wait, and the price is relatively expensive, especially for those who only want to test for one month. And there is sometimes no subtitle on the downloaded files, as the srt subtitle is not enough for some media players. The download fails sometimes.
If you have already encountered those problems, then it's time to seek an alternative to StreamFab. TuneBoto Amazon Video Downloader is definitely the go-to option whether you are looking for an alternative or just a professional Prime Video downloader. Here are its features.
Download any content from Amazon Prime in MP4 or MKV format: As long as it is playable on your Amazon web browser, you can use TuneBoto to download it as an MP4 or MKV file to your computer and watch them offline.
Preserve FHD quality, 5.1 audio, multilingual audio tracks, and subtitles: It offers different options on video and audio to cater to your needs.
Offer three subtitle encoding modes: There are three subtitle modes (Internal, External, and Hardcode) to ensure that you can play the downloaded videos on any media player you want.
Smart search engine and batch download mode: It supports adding videos by the video link and keyword. And it enables you to add and download a whole season, which greatly saves you time.
Different price options: the monthly plan is as low as $14.95, you can just order a month and download all videos you want and then unsubscribe.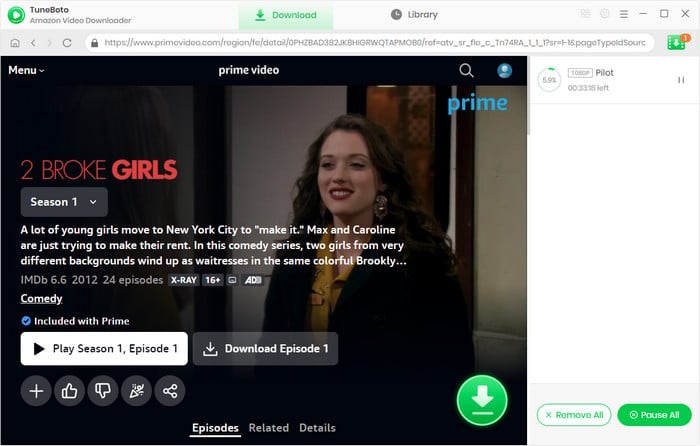 Note: Only the first 5 minutes of each video can be downloaded with the trial version, please purchase a license to enjoy the full video. It is suggested that to download the trial version and have a test before purchasing it.