Are you an avid horror movie fan looking for something to watch on Amazon Prime Video? Then you've come to the right place! In this blog post, we will be taking a look at some of the best horror films that are currently available to stream on Amazon Prime. From eerie thrillers and mind-bending mysteries, to supernatural slashers and uniquely disturbing cult classics, get ready for a list of spine-tingling terror that will keep you up late into the night. With plenty of bone-chilling surprises in store, let's jump right in to our top 10 picks for horror movies currently available on Amazon Prime Video!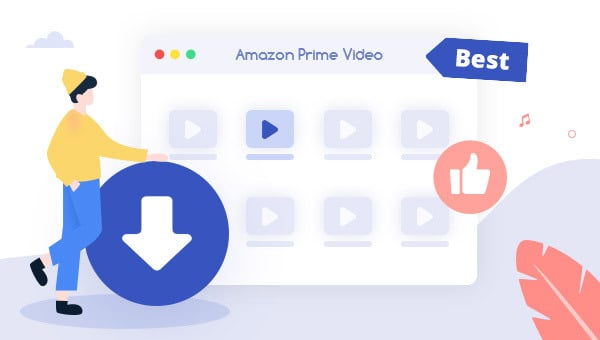 1. Top 10 Horror Movie on Amazon Prime
1. Hereditary (2018)
Hereditary revolves around Annie Graham (played by Toni Collette), an artist who struggles with a difficult relationship with her mother, who has just passed away. Following her mother's funeral, Annie begins to unravel dark secrets about her family's past, including her own mother's involvement in a sinister cult. As the family is haunted by supernatural occurrences linked to these secrets, they are forced to confront their darkest fears and fight for their survival.
Hereditary is known for its intense and disturbing imagery, as well as its exploration of themes such as grief, trauma, and mental illness.
Enjoy on Amazon Prime: Hereditary
2. Midsommar (2019)
"Midsommar" tells the story of a group of friends who travel to a remote Swedish village to participate in a festival that only occurs once every 90 years. The main character, Dani, is a young woman who has recently experienced a family tragedy and is struggling with grief and anxiety. She is accompanied by her boyfriend, Christian, and his friends.
The festival they attend is called "Midsommar," which is a celebration of the summer solstice in Scandinavian countries. However, as the group becomes more involved in the festival's rituals, they begin to realize that the villagers' customs are much darker and more sinister than they first appear.
Enjoy on Amazon Prime: Midsommar
3. A Quiet Place (2018)
The movie "A Quiet Place" tells the story of a family that is struggling to survive in a post-apocalyptic world where alien creatures have invaded Earth. These creatures are blind, but have an acute sense of hearing and will attack and kill anything that makes noise.
The family is forced to live in complete silence in order to avoid detection by the creatures. They communicate through sign language and have adapted their daily routines to minimize noise. However, when the mother becomes pregnant, they face new challenges as a crying baby could attract the creatures.
Enjoy on Amazon Prime: A Quiet Place
4. The Witch (2015)
"The Witch" (stylized as "The VVitch") tells the story of a Puritan family living in 17th century New England who are banished from their community and forced to live in a secluded farmhouse near a dark forest.
As the family struggles to survive in their new home, they begin to experience strange and terrifying occurrences. The crops fail, the animals act strangely, and their infant son disappears. The family begins to suspect that a witch is responsible for their misfortunes, and their paranoia and superstition lead to terrible consequences.
Enjoy on Amazon Prime: The Witch
5. Train to Busan (2016)
"Train to Busan" is a 2016 South Korean horror movie directed by Yeon Sang-ho. The movie tells the story of a group of passengers on a train from Seoul to Busan, who find themselves fighting for survival during a sudden zombie outbreak.
The main character, Seok-woo, is a workaholic who is taking his young daughter, Soo-an, to visit her mother in Busan. As the train departs, a zombie outbreak spreads rapidly throughout the country, and the train becomes overrun with infected passengers. Seok-woo and the other survivors must fight their way through the infected cars to reach safety and avoid being bitten.
Enjoy on Amazon Prime: Train to Busan
6. The Babadook (2014)
"The Babadook" is a 2014 Australian horror movie directed by Jennifer Kent. The movie tells the story of a single mother, Amelia, and her young son, Samuel, who are haunted by a mysterious creature called the Babadook.
The movie explores themes of grief, trauma, and the challenges of single parenthood. Amelia is still grieving the loss of her husband, who died in a car accident on the way to the hospital to give birth to Samuel. Samuel is a difficult child who is obsessed with monsters and has trouble fitting in at school.
One night, Samuel finds a mysterious book called "Mister Babadook" on his bookshelf, which he insists his mother read to him. As she reads the book, Amelia begins to experience strange and terrifying occurrences, and she becomes convinced that the Babadook is real and is after her and her son.
Enjoy on Amazon Prime: The Babadook
7. The Conjuring (2013)
"The Conjuring" tells the story of paranormal investigators Ed and Lorraine Warren, who are called to help a family living in a secluded farmhouse in Rhode Island.
The family, the Perrons, are experiencing terrifying supernatural occurrences in their new home, including unexplained noises, objects moving on their own, and the appearance of a malevolent spirit. The Warrens discover that the house was once owned by a witch who practiced dark magic, and that the family is being haunted by the spirit of a woman named Bathsheba, who was accused of sacrificing her child to the devil.
As the Warrens investigate the haunting, they become increasingly convinced that the Perrons are in grave danger, and that they must perform an exorcism to rid the house of the evil spirit.
Enjoy on Amazon Prime: The Conjuring
8. It Follows (2014)
"It Follows" tells the story of a teenage girl named Jay, who becomes the target of a supernatural entity that follows her after she has sex with her boyfriend.
The entity, which takes on the form of different people, always walks towards Jay at a slow but steady pace, and cannot be stopped or killed. If it catches her, it will kill her, and then move on to the previous person who passed it on to her.
As Jay and her friends try to find a way to escape the entity, they are forced to confront their own mortality and the consequences of their actions. They realize that they must pass on the entity to someone else in order to survive, but they also know that doing so will condemn another person to the same fate.
Enjoy on Amazon Prime: It Follows
9. The Texas Chainsaw Massacre (1974)
Enjoy on Amazon Prime:
The Texas Chainsaw Massacre is a 1974 horror movie directed by Tobe Hooper. The story follows a group of young friends who are traveling through rural Texas to visit their grandfather's grave when they encounter a family of cannibals who are led by a chainsaw-wielding maniac named Leatherface.
The group becomes stranded in the middle of nowhere and as night falls, they begin to realize that they are not alone. They soon find themselves being hunted down one by one by Leatherface and his deranged family. The movie is known for its intense gore and violence, as well as its iconic villain, Leatherface, who wears a mask made of human skin and wields a chainsaw as his weapon of choice.
Despite its controversial content, The Texas Chainsaw Massacre has become a classic in the horror genre and has spawned numerous sequels, remakes, and spin-offs over the years.
Enjoy on Amazon Prime: The Texas Chainsaw Massacre
10. Rosemary's Baby (1968)
Rosemary's Baby is a 1968 psychological horror film directed by Roman Polanski. The movie tells the story of a young woman named Rosemary Woodhouse (played by Mia Farrow) who moves into an old apartment building in New York City with her husband Guy (played by John Cassavetes). After becoming pregnant, Rosemary begins to experience strange occurrences and nightmares, leading her to suspect that something is not right with her baby and the people around her.
As the story unfolds, Rosemary discovers that her neighbors are members of a Satanic cult and that they have sinister plans for her unborn child. The movie explores themes of paranoia, gaslighting, and the loss of control over one's own body and mind. It is a chilling tale that builds tension through its slow-burn pacing and unsettling atmosphere, culminating in a shocking climax that has become one of the most iconic moments in horror cinema.
Enjoy on Amazon Prime: Rosemary's Baby
---
2. Download Horror Movies to Watch Offline?
Amazon Prime enables you to download video content for offline viewing. But once you cancel the service, you will lose access to all of them. If you want to keep those classic horror movies playable even after the free trial, you need to turn to TuneBoto Amazon Video Downloader. It is a wonderful movie downloader for Prime Video, capable of saving content in MP4 or MKV format with HD quality kept. With its help, you can store your favorite title forever.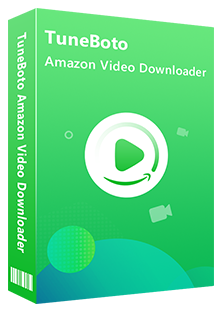 Amazon Video Downloader
Download Prime movies & TV shows to Mac/Windows

Support downloading Prime Video to MP4/MKV

Keep audio tracks and subtitles

Download videos in batch at a fast speed

Free upgrade and technical support
The steps to use TuneBoto is also pretty easy.
Step 1 Run TuneBoto Amazon Video Downloader on your computer, then you need to select the region of your account.
For the United States, select "amazon.com"
For Germany, select "amazon.de"
For Japan, select "amazon.co.jp"
For United Kingdom, select "amazon.co.uk"
For France, India, Canada, and others, select "primevideo.com"
After that, please click "Sign in" and log in to your Prime Video account in the popup login page.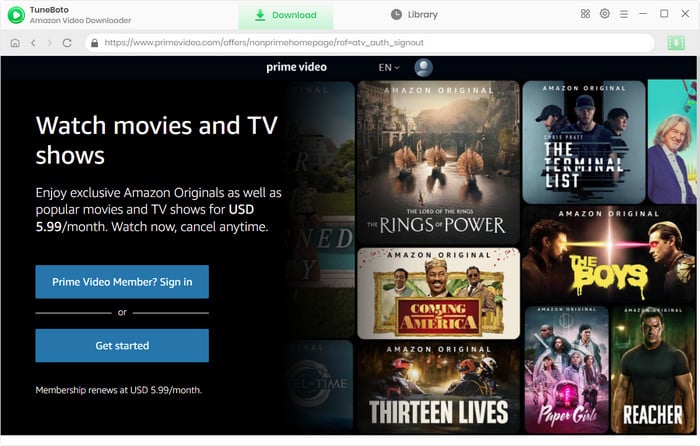 Step 2 Click the "Setting" button at the upper right to open the Setting window and adjust the output settings.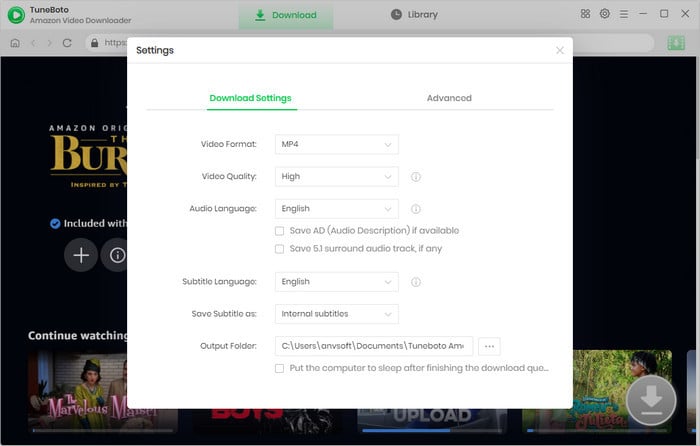 Step 3 TuneBoto Amazon Video Downloader has a built-in Amazon Prime browser, so just operate TuneBoto like Amazon Prime. Simply click on the magnifying glass symbol in the upper right corner and a search bar will pop up. Enter the name of the video to TuneBoto to search for videos.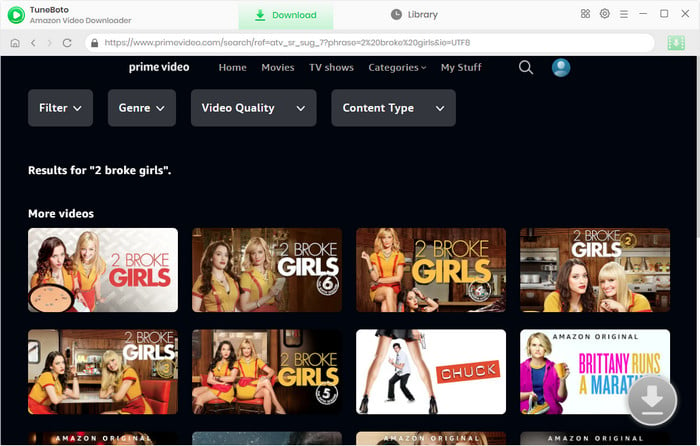 Step 4 Choose the video by clicking on its thumbnail, and you'll find yourself on the video's details page. Meanwhile, the download button at the lower right, which was initially gray, will become green.
For downloading a TV show, directly click on the green download icon to select episodes of series or seasons. To open the Advanced Download window and select specific audio tracks and subtitles, please select Advanced Download. For downloading a movie, just click the download button to customize audio tracks and subtitles.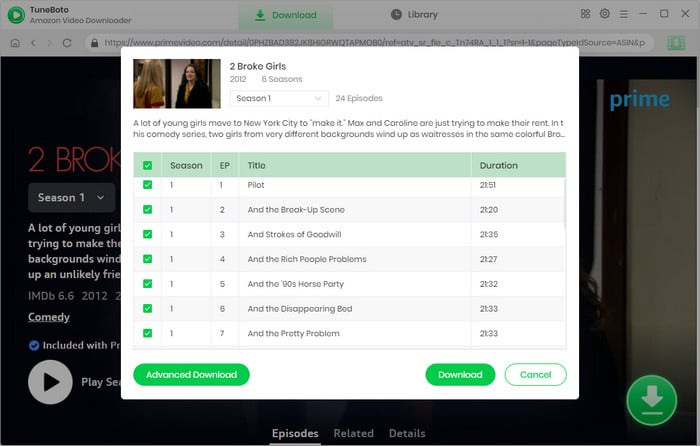 Step 5 Click the "Download" icon, the program will start downloading the Amazon videos as MP4 or MKV files.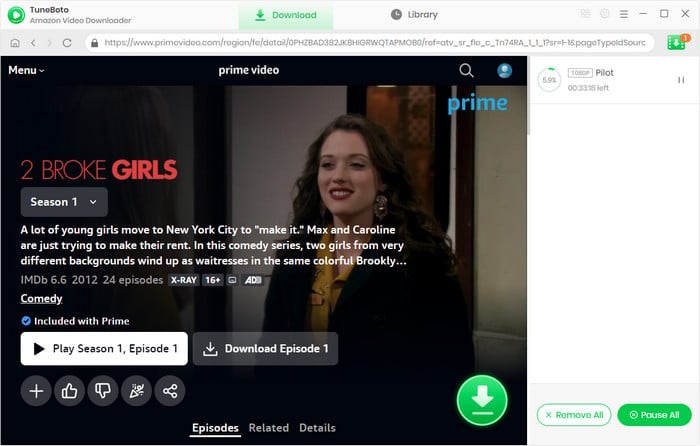 Just pick up one from the list and watch them now! If you want to watch them offline, Prime Video app and TuneBoto both can help you out.
---