Are you an Amazon Prime member who loves to watch movies and TV shows? If so, you're probably familiar with the download limits that are placed on Prime Video members. In this post, we'll show you how to remove those download limits and enjoy your favorite content without restrictions. Keep reading for more information.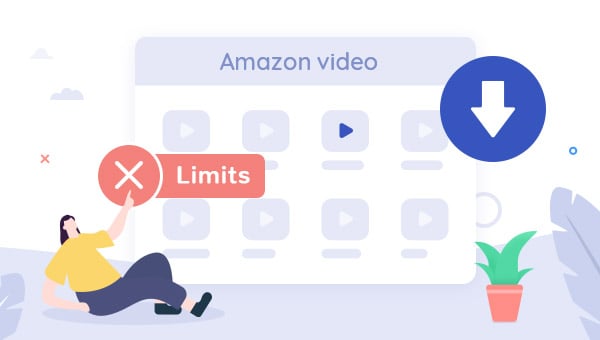 1. Amazon Prime Video Download Limits
There is no limit on the number of videos that can be streamed from Amazon Prime Video, but customers are limited to downloading a maximum of 25 titles at a time. Once the customer has reached their download limit, they will need to wait for the downloads to expire before they can download any more videos. Downloaded videos are only available for 30 days or 48 hours, after which they will expire and need to be re-downloaded. Additionally, you will no longer be able to watch your downloads once your Amazon Prime subscription is over. For these reasons, it's important to be aware of the download limits before using this feature. Otherwise, you could end up with an unexpected bill or a movie that you can't watch.
While Amazon's download feature is a great way to watch your favorite shows offline, the company's decision to impose limits on downloads is a major disappointment for subscribers. With the rise of device storage space, most tend to store a whole season or many videos on devices so as to watch them offline on their long trip or somewhere with a bad network. You may hope Amazon will reconsider this situation. Until then, you can look for another way to remove those limits.
2. How to Remove Amazon Download Limits
TuneBoto Amazon Video Downloader is a great tool to help you out. This incredible software allows you to download any movie or show from Prime Video and save it in either MP4 or MKV format. Plus, you can keep all of the multilingual audio tracks and subtitles intact. And if you're a fan of 5.1 surround sound, don't worry - TuneBoto keeps that too! Whether you're at home or on the go, TuneBoto Amazon Video Downloader makes it easy to take your favorite shows and movies with you wherever you go.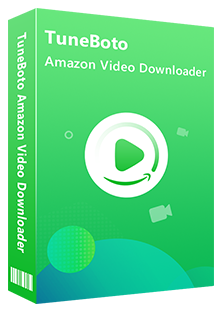 Amazon Video Downloader
Download Prime movies & TV shows to Mac/Windows

Support downloading Prime Video to MP4/MKV

Keep audio tracks and subtitles

Download videos in batch at a fast speed

Free upgrade and technical support
Next, we will show you how to use TuneBoto Amazon Video Downloader step by step. Before getting started, please make sure you've installed TuneBoto on your computer.
Step 1 Install and Open TuneBoto Amazon Video Downloader
Run TuneBoto Amazon Video Downloader on Windows or Mac computer, then you need to select the region of your account.
For the United States, select "amazon.com"
For Germany, select "amazon.de"
For Japan, select "amazon.co.jp"
For United Kingdom, select "amazon.co.uk"
For France, India, Canada, and others, select "primevideo.com"
After that, please log in to your Prime Video account. The Amazon Video login page needs to be opened by clicking "Sign In".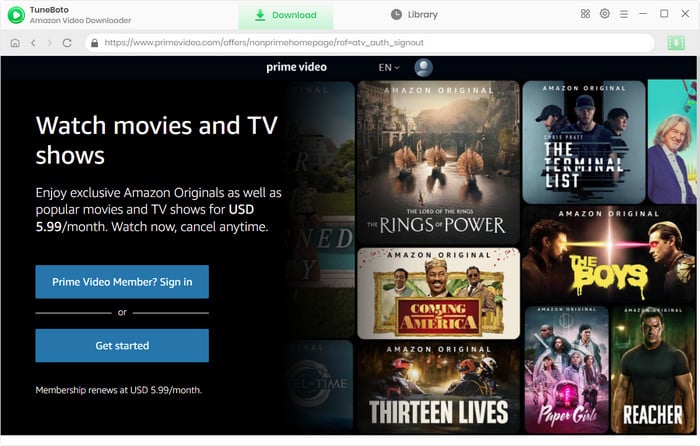 Step 2 Select Output Settings
Click the "Setting" button at the upper right to open the Setting window and adjust the output settings.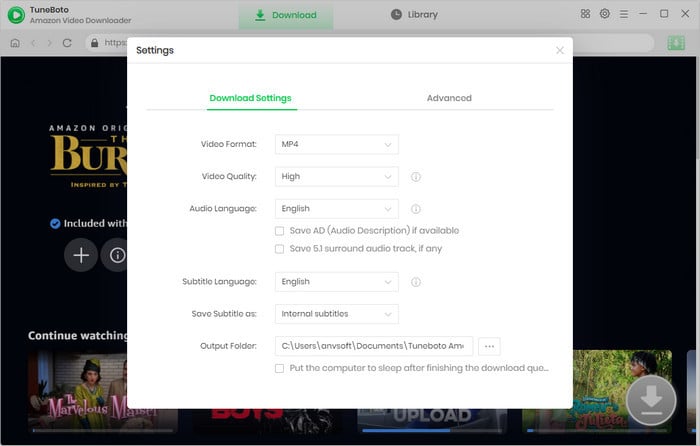 Step 3 Find Downloaded Video
TuneBoto Amazon Video Downloader is designed for ease of use with its Amazon Prime browser integration. To search, just select the magnifying glass symbol in the top right corner. Enter the name of Prime video in the search box, then press "Enter" on your keyboard. After seconds, you will find the related Prime videos listed.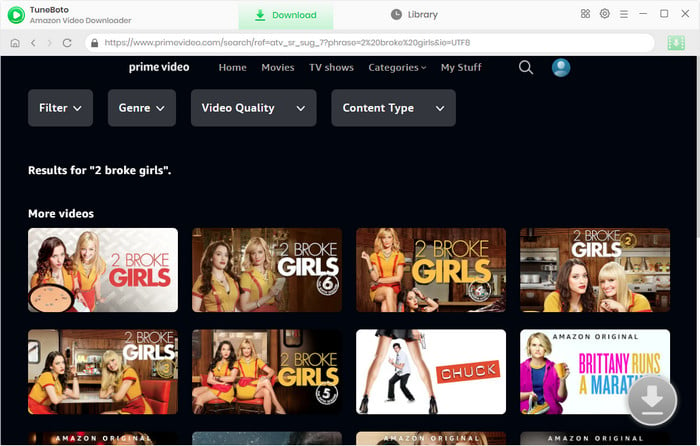 Step 4 Select Audio Track and Subtitle
Click the video thumbnail to open the video's details page, while the download button in the lower right corner will become active and change color to green.
There is an Advanced Download window for you to select specific audio tracks and subtitles. To download episodes, you can access it by clicking the download icon then the Advanced Download button at the bottom-left. If you are downloading movies, directly click the download icon to open the according window.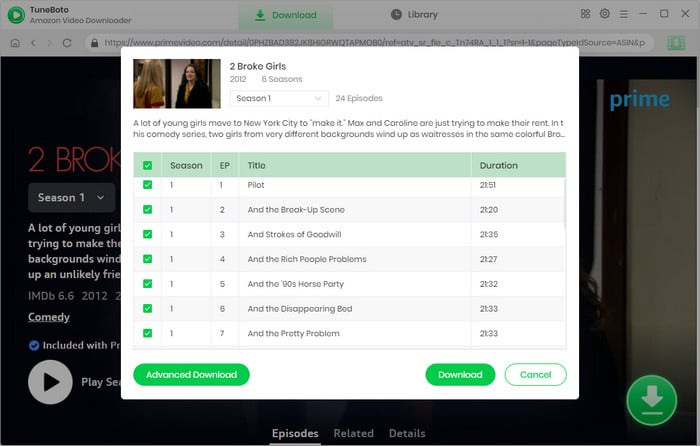 Step 5 Start to Download Amazon Video on Computer
Finally, please click the "Download" icon, the program will start downloading the Amazon videos as MP4 or MKV files.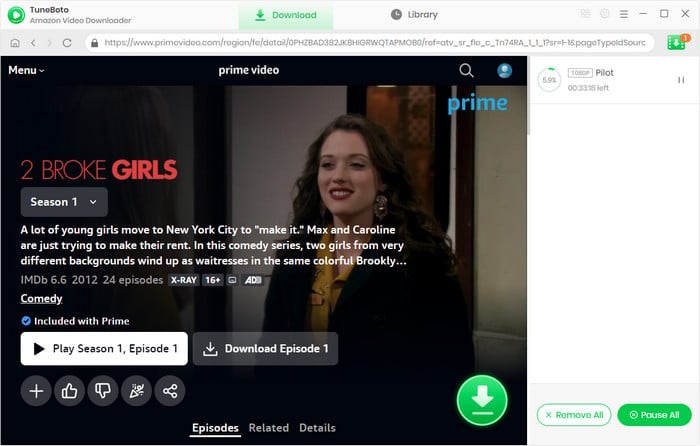 Once the download is finished, click the "Library" tab on the top and you'll see all downloaded Prime videos listed. Click the "Folder" icon next to each title and you'll be directed to the output folder on your local computer right away.
Conclusion
Amazon video download limits are pretty clear. Fortunately, there are ways to bypass those limits. With TuneBoto Amazon Video Downloader, you can store your favorite titles on your devices forever, which greatly increases the amount of videos you can download from Amazon and the freedom of watching your favorite. And with more videos to watch, you'll never get bored again! So what are you waiting for? Start downloading today!
Note: Only the first 5 minutes of each video can be downloaded with the trial version, please purchase a license to enjoy the full video. It is suggested that to download the trial version and have a test before purchasing it.
---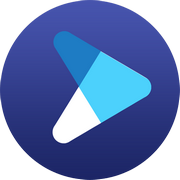 Video Enhancer AI is an AI-based video enhancement software that uses the neural network-based deep learning model to study and analyze each frame and missing coefficients from the low-resolution videos, then the high-resolution video can be produced from the degraded footage by super-resolution, denoising, sharpening, color enhancement, and correction, interpolation, scratch removal, etc.