Music has now become a part of people's daily life. Among many music streaming platforms, Deezer has attracted the attention of more and more users with its rich music library, unique music recommendations, and simple design. For various reasons, users want to be able to listen to Deezer music offline anytime and anywhere. The best way is to permanently save your favorite Deezer music locally. So in this article, we will review an excellent Deezer music converter-DeeKeep Deezer Music Converter. By reviewing its features and usage methods, we will provide you with a new idea for enjoying Deezer music offline.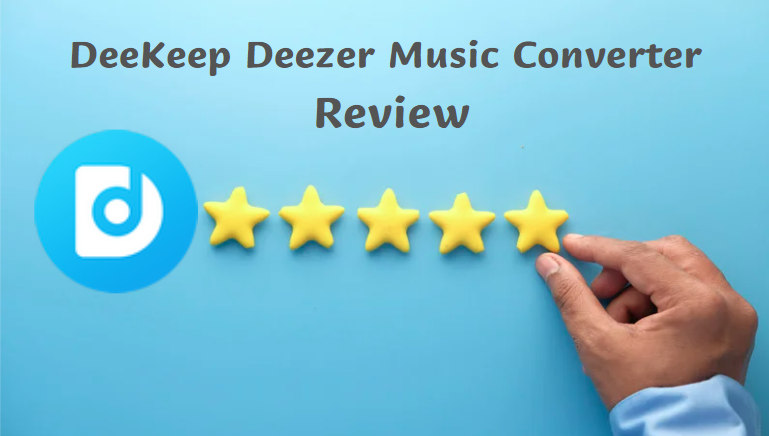 ✅ Part 1. What's DeeKeep Deezer Music Converter
DeeKeep Deezer Music Converter is a third-party tool to download music from Deezer Premium and convert them to multiple audio formats for offline listening. This converter helps you to enjoy Deezer tracks everywhere without subscriptions. It accesses Deezer through the built-in Deezer web player and extracts music for download without requiring you to download an additional app. In addition to being a converter, DeeKeep can also serve as an online or offline music player. You can enjoy music directly on the program with just a tap. Deezer supports Windows and Mac systems and provides a multilingual interface with support for more than 26 languages, which greatly caters to the needs of different users.
---
✅ Part 2. Key Features of DeeKeep
Next, in this section, we will list the important features of DeeKeep for you in detail, so that you can have a deeper understanding of DeeKeep's excellence.
🏅 Download Deezer Songs/Albums/Playlists/Podcasts
As a music converter, DeeKeep's most outstanding feature is naturally its ability to convert Deezer music without restrictions. Whether it's songs, albums, playlists, podcasts, or other content, DeeKeep can convert it as long as you can play it normally on Deezer Premium. And the file converted by DeeKeep will not have any encrypted format, it will only be saved in the output format you selected. This way you don't have to worry about your Deezer subscription expiring and the downloaded content becoming invalid. In addition, it can also support downloading multiple playlists at the same time, reaching 10X the download speed in the case of batch conversion, which greatly saves you time and energy.
🏅 Allow Multiple Output Settings
An intensive feature of DeeKeep is that it has a wide range of output settings. On the one hand, it can convert Deezer Music to multiple formats, including MP3, AAC, AIFF, WAV, FLAC, and ALAC. Thus, the outputted Deezer music can be compatible with most devices. On the other hand, DeeKeep provides the function of intelligent song classification. You can classify the output songs according to Artist/Playlist/Album and other options, and you can also keep your output songs in the same order as the original playlist by choosing to retain the Playlist Index. These categories can help you organize your playlist information efficiently for different purposes. Besides, you can also change output folder, output file name, bit rate, sample rate, and so on.
🏅 Preserve ID3 Tags and Lyrics
Preserving various metadata is also an important reference for testing the quality of a music converter. DeeKeep supports retaining a variety of ID3 tags, including title, album, artist, artwork, track number, disc number, and year. At the same time, another feature that makes DeeKeep far ahead among many Deezer converters is keeping lyrics. Simply check the Save lyrics option and DeeKeep will save the lyrics in LRC format in the folder while outputting the song. With DeeKeep, you no longer need to spend time searching for lyrics on the browser.
🏅 Retain Losslessly Hi-Fi Audio Quality
Sound quality is an important factor for users to choose a music converter. DeeKeep supports retaining the original sound quality of songs. You can easily save songs with lossless sound quality by selecting FLAC/ALAC as the output format, and the highest sound quality can reach Hi-Fi. In addition, by selecting Auto as the output format, DeeKeep can automatically output the original format and sound quality of the Deezer song.
🏅 Enjoy Deezer Music in Different Scenes Without Restriction
Nowadays, Deezer music has attracted more and more users, and many people also hope to combine Deezer music with the programs or devices they use daily. DeeKeep provides users with a perfect solution, making Deezer music suitable for most scenarios. Songs downloaded through DeeKeep are not restricted by Deezer app or web player. The converted format is suitable for most programs or devices, such as smart TVs, Kodi, wearable devices, etc. Therefore, you can transfer them to any devices you want. At the same time, the converted Deezer music can also be used for video editing, ringtone production, DJ mixing, etc.
🏅 Provide Handy Tools
In addition to the functions and features mentioned above, DeeKeep also designed several useful tools, including Format Converter, Tag Edit, and Burn CD. Format Converter is a tool that helps users convert audio files to other formats, including MP3, M4A, FLAC, WAV, OGG, and AIFF. Tag Edit is a tool that can alter or add ID3 tags of the converted songs as they like. The function of Burn CD helps music enthusiasts to make their favorite Deezer music into a CD for storage. In addition, you can directly transfer the downloaded Deezer music to iTunes library through the Export to iTunes function without any other programs.
---
✅ Part 3. How to Convert Deezer to MP3 Via DeeKeep
In this part, we will guide you specifically on how to use DeeKeep to download Deezer music.
Step 1 Log in to Your Deezer Account
Run DeeKeep on your computer and the Deezer web player will pop up at the same time. Follow the instructions to log in to your Deezer account.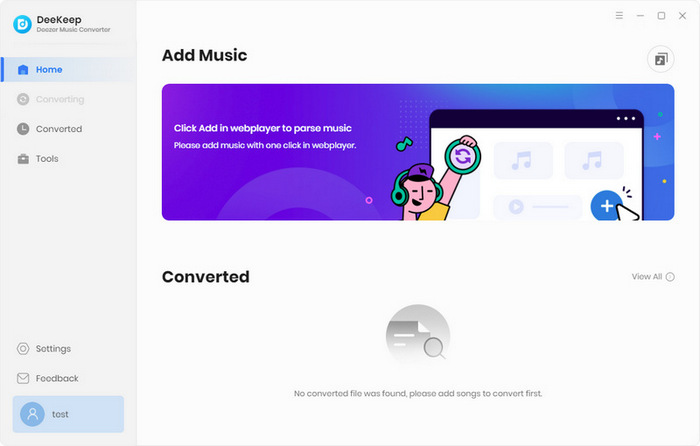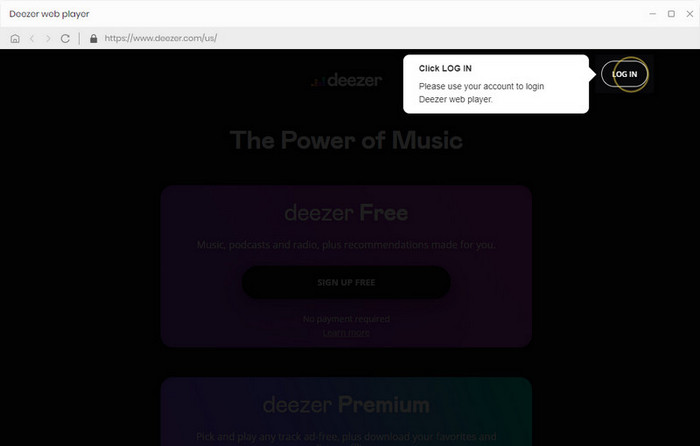 Step 2 Alter Output Settings As Needed
In the Settings tab, you can change the output setting as you like. If you want to retain the original format and sound quality of Deezer songs, choose Auto as the output format. If you want to save lyrics at the same time, just check the Save lyrics(if provided) option. Here we choose MP3 as the output format.
Conversion Mode: Intelligent Mode, Web Download, YouTube Download
Output Format: Auto, MP3, AAC, FLAC, WAV, AIFF, ALAC
Bit Rate: 128kbps, 192kbps, 256kbps, 320kbps
Sample Rate: 44.1kHz, 48kHz, 96kHz, 192 kHz
Output Folder: Can be modified
Output File Name: Track Number, Title, Artist, Album, Playlist Index, Year
Output Organized: None, Playlist, Artist, Album, Artist/Album, Album/Artist, Playlist/Artist, Playlist/Album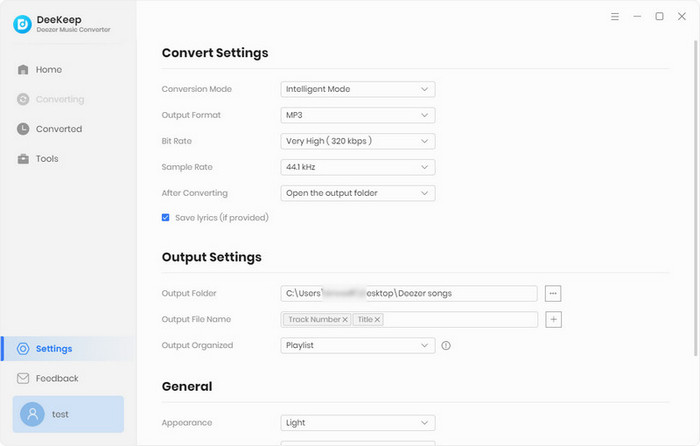 Step 3 Pick Up Deezer Music You Want
Go to Deezer web player and browse to find the playlist or album you want to convert. Click to open the playlist and tap on the blue Click to add button in the lower right corner. DeeKeep will read it automatically and you can select the songs you want in a new window. Then click Add.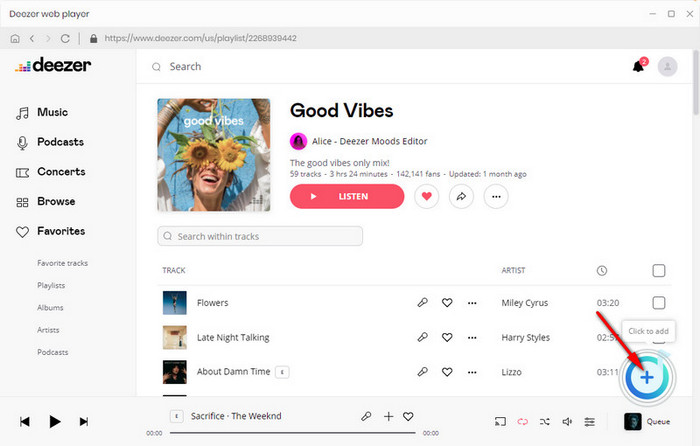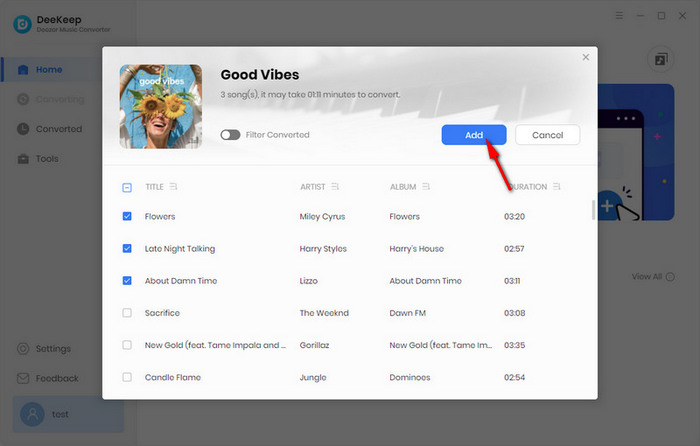 Step 4 Convert Deezer Music
If you want to convert multiple playlists at once, you can select Add More before conversion and go back to the previous step. When you select all the songs you want, click Convert to start conversion. Then wait patiently for a while.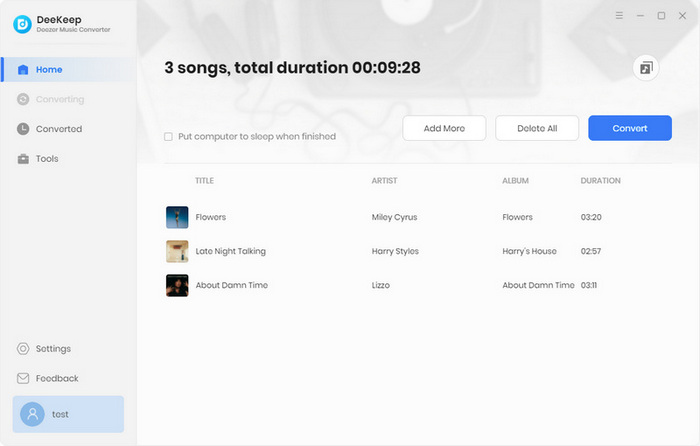 Step 5 Check Converted Songs
In this step, you can go to the Converted section to check the downloaded songs. Click the folder icon behind the song and the output folder will pop up. If you check the Save lyrics option before, then you can see the converted Deezer music and lyrics files will be saved in the folder.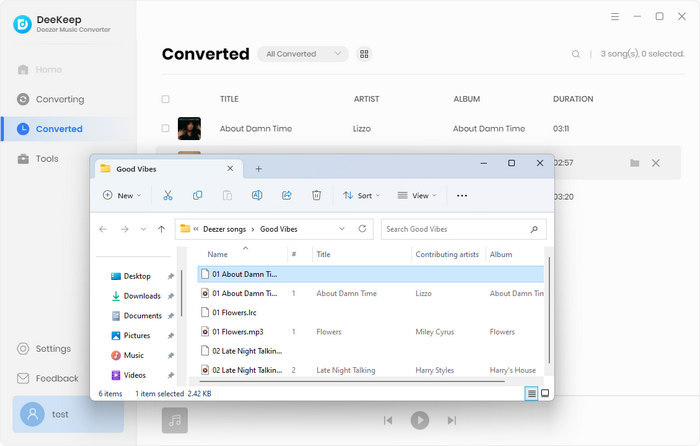 ---
Summary
If you want to enjoy Deezer music anytime and anywhere without subscription restrictions, then downloading Deezer songs is the best solution. As a converter specially designed to convert Deezer music, DeeKeep Deezer Music Converter not only has excellent conversion functions but also retains multiple ID3 tags and original sound quality. It also has practical tools that most converters do not have. If you are looking for a suitable Deezer converter, you may wish to consider DeeKeep.