TIDAL Music is a digital music streaming service that allows users to access millions of tracks from their favorite artists. TIDAL is known for its high-quality audio, offering listeners immersive sound that rivals the live performance experience. TIDAL has revolutionized the music streaming industry and become a go-to source for creators and fans thanks to its comprehensive library, top-notch audio quality, and authentic content experiences. With TIDAL's ever-growing catalog of music, videos, podcasts, and more, it's no wonder so many users require offline playback feature so that they can enjoy TIDAL songs anywhere and any time. And today we are going to review an awesome Tidal music converter tool that can help you convert and download Tidal songs for offline listening.
Say hello to Tidabie Tidal Music Converter. Tidabie is one of the most reliable tools for converting music from the popular streaming platform -- TIDAL. It works seamlessly with Mac and Windows operating systems and has a user-friendly interface making it easy to use even for rookie users. One of its best features is that it doesn't require the installation of TIDAL app. Moreover, it allows you to select the bit rate/sample rate of your downloaded content with which you can customize audio files according to your taste. It gives you complete control over how the converted files are titled and organized into individual folders based on artist, album or playlist. Whether you're looking to enjoy Tidal songs offline without advertisements or take your favorite music with you wherever you go, Tidal Music Converter will help make downloading music from Tidal easier than ever before. Definitely worth checking out if you use Tidal as your streaming service!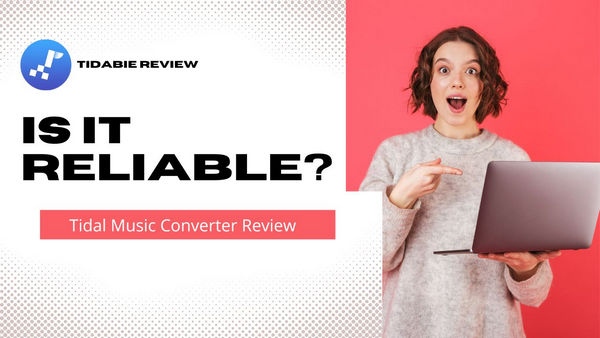 Part 1. What are the Key Features of Tidabie Tidabie Music Converter?
1. Download Tidal Music: Designed with the most up-to-date audio recording core, Tidabie Tidabie Music Converter smartly helps users download any tracks, albums, and playlists from TIDAL. Unlike TIDAL which allows users to play downloaded songs within Tidal app only, Tidabie helps you download all the Tidal content to your local computer for offline playing without using the Tidal app for sure.
2. Multiple Output Format: Tidabie Tidal Downloader allows all Tidal subscribers to save their favorite audio in one of the plain audio formats (MP3, AAC, WAV, FLAC, AIFF, ALAC) easily without any issue. You can output files in AAC and MP3 to reduce disc space, although FLAC, WAV, or ALAC are best for Hi-Fi audio quality.
3. Keep ID3 Tags Meta Information: Tidabie is a program that saves all of your ID3 tags, such as title, artist, album, track number, disc number, year, and so on. You don't have to worry about losing the metadata from Tidal songs because each downloaded track maintains original ID3 tags. Using this software isn't just easy; it also helps DJs become better at their craft by making sorting easier than ever before - automatically organizing entire collections according to album or artist without human intervention needed whatsoever.
4. Preserve Zero Quality Loss Output: To make sure a better listening experience, Tidabie Tidabie Music Converter allows you to download songs with 100% original HiFi audio quality kept. That means you'll get the Tidal Music files with CD-quality output. (HiFi not enough, need Master quality? Check here)
5. Fast Conversion Speed & Batch Conversion: When considering a Tidal Music Recorder, the conversion speed is a critical factor for many users. Fortunately, Tidabie offers lightning-fast speeds when downloading and converting music from Tidal. With the ability to queue up hundreds of audios and convert in the background, Tidabie has emerged as the fastest recorder available. Moreover, the software provides batch converting, enabling users to quickly switch their entire library into another format in no time at all. Not only does this save time for avid listeners, but it also ensures that their favorite songs remain accessible no matter what device they use.
6. Listen to Your Songs on Any Devices: Tidabie is an invaluable tool if you want to gain access to your downloaded Tidal music and play them back on any device. Android, iOS, mp3 player - the music converter can be used with virtually any type of operating system or device. Not only that, but once your music has been converted, you can use it in other ways too. Want to add some tunes as background audio for a video? Check. How about creating a custom ringtone for your cell phone? You got it! Moreover, you don't have to worry about running low on storage space - you can transfer files off of your computer and onto an external drive, burn them onto CDs or export them to the cloud. With this perfect music converter for Tidal, your options are endless.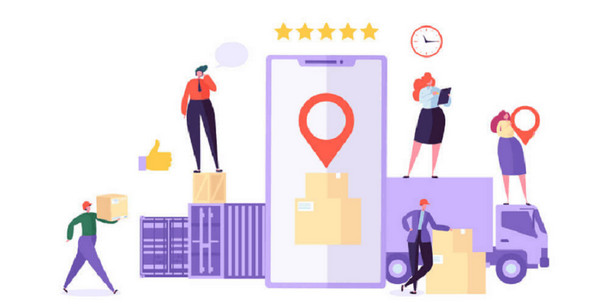 ---
Part 2. How to Use Tidabie Tidabie Music Converter?
2.1 System Requirement
Tidabie Tidal music converter fully supports the latest Windows and Mac operating systems. For Windows computers, Tidabie requires Windows 7/8/10/11 or above version, 512 MB RAM or more, and at least 1GHz processor; For macOS computers, Tidabie requires Mac 10.15 or later, 256 MB RAM or more, and at least 1 GHz processor.
2.2 How to Download Tidal Music via Tidabie Music Converter
Tidabie Tidal Music Converter software is a simple and easy-to-use piece of program that does all the conversion work for you. The developers have included many articles on their website with extensive step by steps guides, as well as screenshots showing how to convert files from one format into another without any hassle! Let's check the detailed steps:
Step 1 Install and launch Tidabie Tidabie Music Converter on your PC or Mac computer. Click "Open Tidal Web Player" to visit the official TIDAL website, then log in to your Tidal Music account.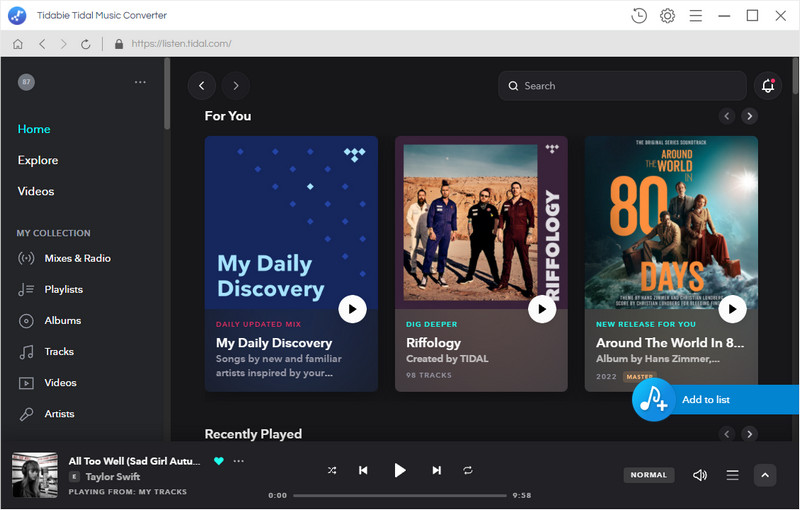 Step 2 Click the "Setting" button in the upper-right corner, here you can customize the Output Format (Auto, MP3, AAC, WAV, FLAC, AIFF, ALAC), Bit Rate (320kbps, 256kbps, 192kbps, 128kbps), Sample Rate and more.
Tips: To download the origial HiFi audio quality, you need to choose "Auto" or a lossless audio format such as FLAC.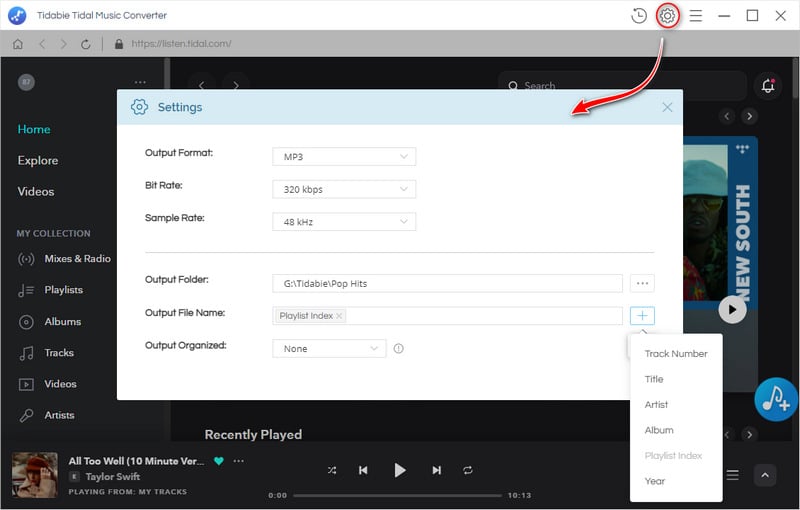 Step 3 Open a Tidal album or playlist, then tap on the blue "Add to list" button. In the convert list window, select the Tidal Music songs you want to download. With this program, you can convert multiple songs and playlists at once. Just click "Save to list", then you can browse and add more songs from other albums or playlists.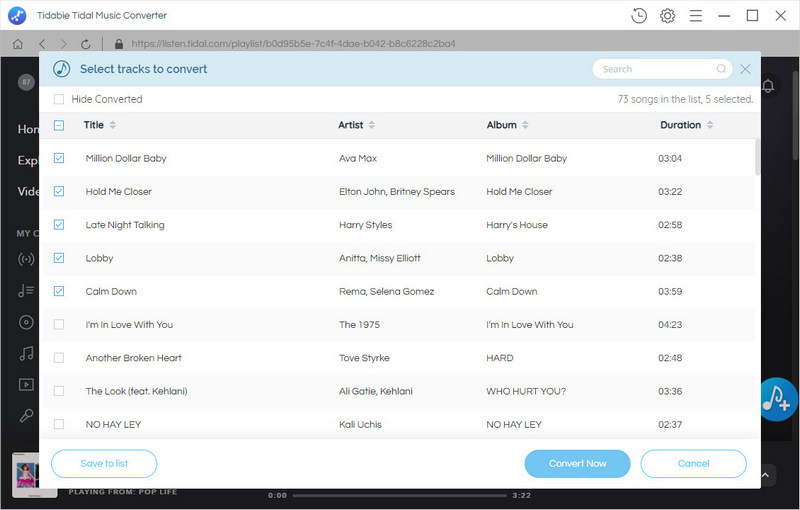 Step 4 Click the "Convert Now" button so that you can start downloading Tidal Music in open-source music format. Tidabie downloads and converts audio tracks at a 10X faster speed. During the conversion, the program does not reduce the original quality of the music, so you can listen to your favorite songs with perfect sound.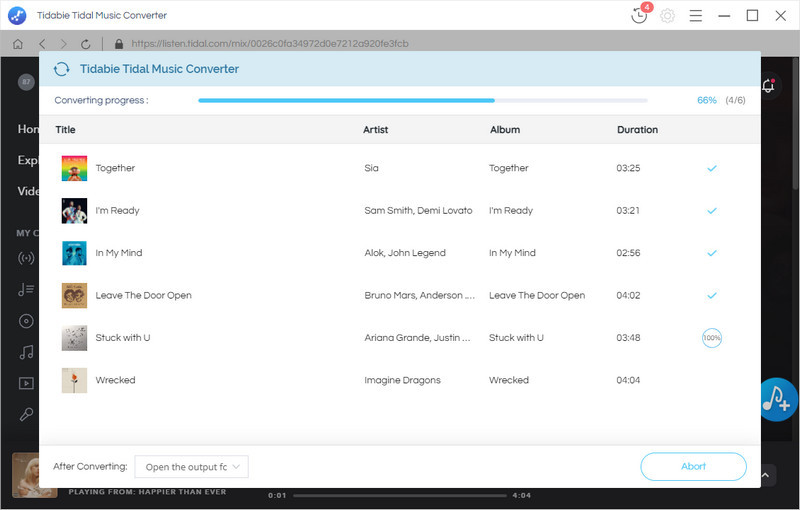 Step 5 After the conversion is finished, the download folder will pop up automatically. You can also click the "History" button to find out the well-downloaded Tidal songs.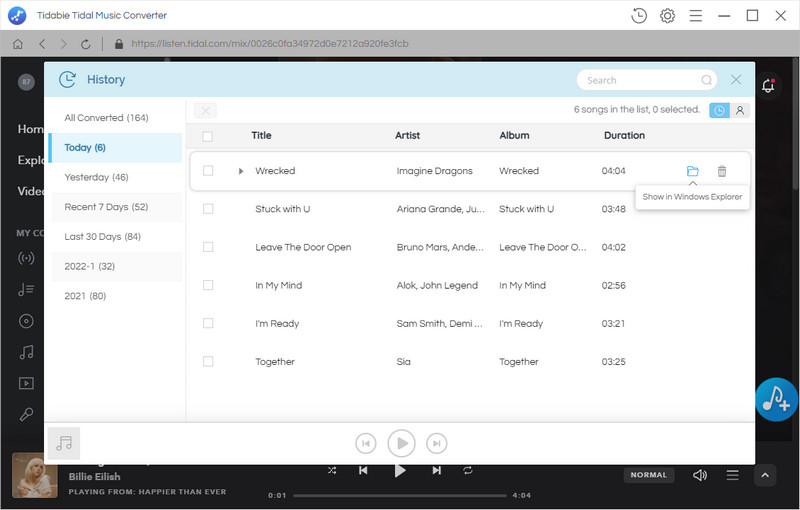 ---
Conclusion: Tidabie Tidal Music Converter is an invaluable asset to any music loather. With its intuitive interfaces and simple controls, it's easy to use even for the most technologically challenged users. It converts files quickly while retaining the highest quality possible, making it ideal for storing high-resolution audio on personal devices or external drives. What's more, the program offers advanced sorting options so users can easily organize their files into playlists without becoming overwhelmed. Finally, for those who may get stuck along their journey, Tidal Music Converter offers highly professional tech support by email, available seven days a week with solutions delivered within 24 hours - free of charge! All things considered, we are confident in our conclusion that this is a powerful and reliable converter well worth exploring.