When talking about a music platform with high-quality music, many people will think of Amazon Music and TIDAL. Amazon Music has HD or even Ultra HD sound quality, while TIDAL has High and Max sound quality. Making a choice leaves many people in a dilemma. Today we will conduct a detailed comparison between Amazon Music HD and TIDAL HiFi to provide some useful references for your choice.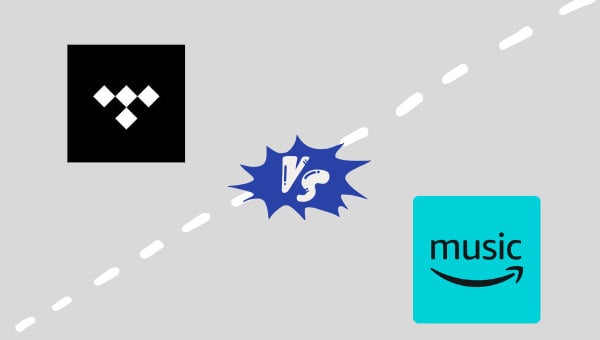 Part 1. What are Amazon Music HD and TIDAL HiFi
Amazon Music HD offers Amazon's new high-resolution music service. It allows listeners to stream high-quality music (up to 850 kbps in HD) on desktops, Echo devices, Sono speakers, Amazon Fire TV, and more. With a subscription, you can stream over 100 million songs in lossless HD quality. Plus, the high-definition sound quality Amazon Music HD delivers is unparalleled. The overall experience is further enhanced when paired with high-end speakers like the Echo Studio.
Tidal HiFi is a music streaming service that offers high-quality sound for audiophiles who are passionate about experiencing music of premium quality. With its lossless, CD-quality audio quality, Tidal HiFi provides an unparalleled listening experience that immerses you in every note and nuance of your favorite tracks. In addition to its exceptional sound quality, Tidal HiFi boasts a vast library of over 100 million tracks, including exclusive content and curated playlists from some of the industry's top artists and experts.
---
Part 2. Amazon Music VS Tidal: Side-by-Side Comparison
🗨️ Subscription Plan
Amazon Music offers users a Free Plan and two paid plans, Amazon Music Prime and Amazon Music Unlimited. Now Amazon Music has canceled the Amazon Music HD subscription plan. HD now represents a sound quality in Amazon Music Unlimited. If you want to unlock all limitations, then it is recommended to subscribe to Amazon Music Unlimited. In addition, Amazon Music also provides a special plan that is linked with other Amazon products-Single Device Plan. This plan allows you to enjoy Amazon Music Unlimited on a single device, such as Echo Dot, Echo Look, Echo Show, Amazon Tap, or Fire TV. Its advantage lies in its cheap price, which only costs $4.99.
TIDAL also provides users with three plans, namely Free Plan, HiFi, and HiFi Plus. Among them, HiFi Plus is better than HiFi in that it provides higher music quality, including HiRes FLAC, Dolby Atmos, Sony 360 Reality Audio, FLAC, and Master Quality Authenticated (MQA). In addition to these ordinary subscription plans, TIDAL also offers special discount plans for special groups such as military and first responders, but these two plans are limited to the United States.
For the specific charges of the two platforms, you can see the table below:
Free Plan

Individual

Family

Student

Others

Amazon Music
✔️
Unlimited: $10.99/month
Prime: $14.99/month
$15.99/month
$5.99/month
Single-Device Plan: $4.99/month
TIDAL
✔️
HiFi: $10.99/month
HiFi Plus: $19.99/month
HiFi: $16.99/month
HiFi Plus: $29.99/month
HiFi: $4.99/month
HiFi Plus: $9.99/month
Military and First Responder: 40% Off
🗨️ Sound Quality
Sound quality is also a key factor that affects people's choice of a music platform. If you are interested in the highest sound quality a music platform can provide, then you need to carefully compare the sound quality of the two platforms.
Amazon Music supports up to HD or Ultra HD, and the specific sound quality will vary depending on the song. As introduced in Part 1, the high-definition sound quality of Amazon Music can reach 16-bit/44.1kHz, and the ultra-high definition can reach 24-bit/192kHz. Both are stored in FLAC format. In addition, if you are not so pursuing quality but want to occupy as little memory as possible, you can choose some ordinary audio quality (low/medium/high), which varies from 48 Kbps to 320 Kbps. Another thing worth noting is that Amazon Music's HD and Ultra HD are connected together as sound quality options, which means you can't choose HD or Ultra HD by yourself. The system will automatically switch to the highest sound quality for you based on the song.
According to the latest recent update, TIDAL's sound quality can reach up to CD quality (up to 1411 kbps) and HiRes (up to 9216 kbps). If you subscribe to the HiFi Plus plan, you can enjoy the highest Max sound quality. TIDAL's free plan has sound quality up to 160 kbps, which can meet the needs of most people. In addition, these normal sound quality are stored in AAC format, while High and Max sound quality are stored in lossless FLAC format. Unlike Amazon Music, TIDAL's sound quality can be selected individually.
From this, you can find that if you are not overly concerned with quality but prefer to occupy minimal storage space, you can opt for ordinary audio quality (low/medium/high), which ranges from 48 Kbps to 320 Kbps. And TIDAL's selection is more flexible and can meet the different needs of users.
🗨️ Music Library
Amazon Music provides users with a wide variety of rich tracks. Open the Home page and you can see a variety of recommended playlists provided by Amazon Music that are tailored to your music tastes. In terms of content, Amazon Music also has carefully collected non-music content for users, the most well-known of which is its rich podcast resources. On Amazon Music, you can find almost any type of podcast you can think of, from news to horror stories, from adults to bedtime stories for children. If you are a podcast lover, then Amazon Music will be your best choice.
Similarly, TIDAL also has a rich library of more than 100 million songs and numerous music videos. Here you can easily find your favorite songs. Because TIDAL is artist-led, it also contains a lot of exclusive content and playlists from artists. However, TIDAL's podcast resources are not as good as Amazon Music, but what is special is that it collects many behind-the-scenes stories about the music industry, such as some documentaries. If you are interested in this, you can also check it out on TIDAL.
🗨️ Music Discovery
The music discovery function is a key capability of an evaluation platform. An excellent music platform should be able to continuously provide users with fresh music recommendations by virtue of its powerful algorithm capabilities.
Amazon Music's Home page provides numerous recommended playlists, tracks, and podcasts based on your tastes. In addition, you can also find lists classified by various genres and the latest released songs at the bottom of the Search interface. However, one limitation of Amazon Music is that its recommended playlists are pushed based on existing lists and cannot be automatically generated according to your taste. You need to add your favorite songs manually.

TIDAL also has similar discovery capabilities. On the Explore page, you can see keywords for different genres, moods, activities, and events. Click on these keywords and you can see some song recommendations related to them. In addition, TIDAL has two special discovery tags, namely Tidal Rising and Staff Picks. The former will recommend some emerging new artists, while the latter will feature hundreds of playlists, albums, and tracks carefully selected for you by TIDAL staff. These unique search capabilities can greatly expand your musical horizons and bring you a different music experience.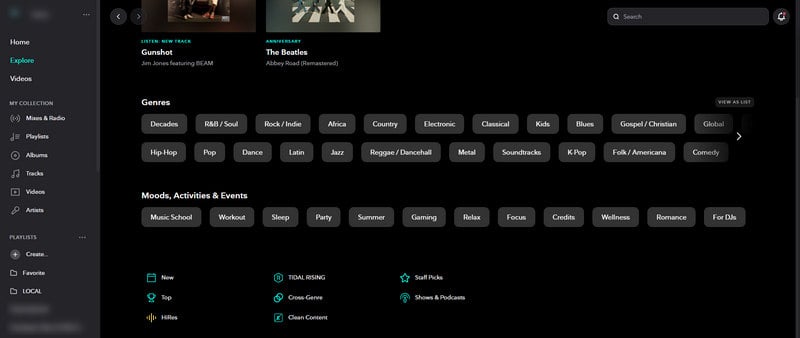 🗨️ User Interface
The user pages of Amazon Music and TIDAL are mainly black. Amazon Music places all navigation buttons at the top. You can see navigation page buttons such as Home, Podcasts, Library, and Search. Your collection of songs, albums, playlists, etc. can be found in the Library drop-down menu. The simple and clear design allows you to quickly become familiar with the different functions of the platform.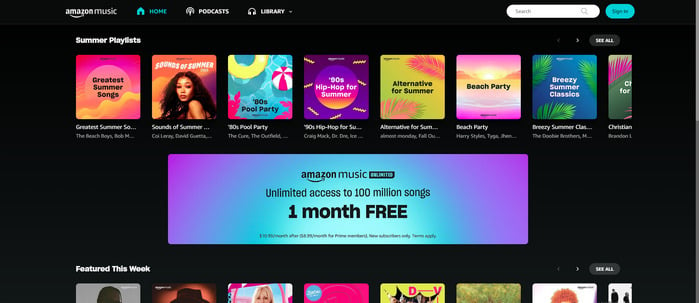 Compared with Amazon Music, TIDAL's user page layout is different. It sets all navigation bars on the left side of the page. After logging in to TIDAL, you can see the fixed navigation bar on the left, including Home, Explore, Video, MY COLLECTION, and PLAYLISTS. Here you can see it directly and clearly You can access the playlists and albums you have collected and created, and you can also create new playlists directly. This design enables users to query their account contents more conveniently and quickly. In addition, if you need to search for specified content, you can also enter it in the Search box in the upper right corner like Amazon Music.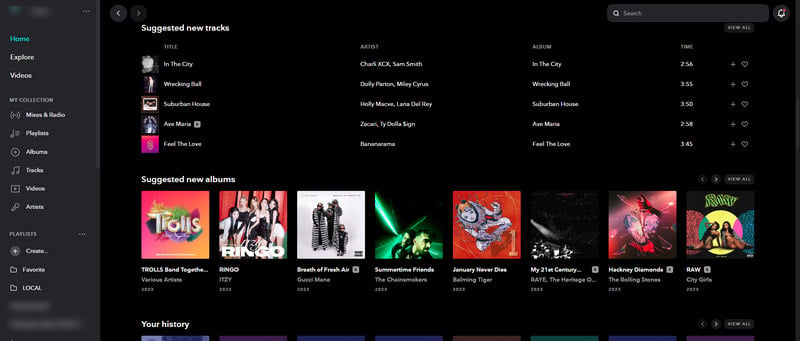 ---
Part 3. Amazon Music HD VS Tidal HiFi: Which is Better
Through the above-detailed comparison of Amazon Music and TIDAL, we believe you already have a certain understanding of the characteristics of the two platforms. Through comparison, we can find that they all have their own advantages. In terms of content, Amazon Music has an absolute advantage in the richness of podcasts, while TIDAL has more novel and exclusive recommendations. In terms of sound quality, Amazon Music can reach up to UltraHD/HD, while TIDAL can reach HiRes. Although it has higher sound quality, the subscription price will be higher accordingly. Therefore, when choosing a platform, you must clarify your priorities. Choosing a platform that is more suitable for you is more important than choosing a better platform.
---
Part 4. Extra Tips: How to Download Amazon Music HD
In addition to listening to your favorite music online, many people also want to know how to download Amazon Music HD for offline listening. Downloading high-quality Amazon music without subscription restrictions has always been a problem for many people. Today we will introduce you to a powerful tool-TuneBoto Amazon Music Converter. With it, you can easily convert Amazon music to common formats, such as MP3, WAV, FLAC, ALAC, etc., and also preserve the original sound quality of the songs, namely Ultra HD/HD. Of course, if you also want to know how to download TIDAL HiFi songs, you can refer to this article: How to Download Music from Tidal for Offline Listening.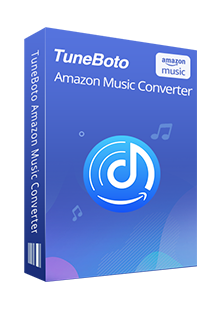 Amazon Music Converter
Download Amazon Music songs, albums, playlists & podcasts to local computer

Convert Amazon Music songs to MP3, AAC, WAV, FLAC, AIFF, ALAC

Keep ID3 tags and lyrics; 100% original audio quality up to HD & Ultra HD

10X download speed & batch download playlists/albums

Archive downloaded songs by album/artist/playlist
How to Download Amazon Music HD to Computer
Step 1 Start TuneBoto on Your Computer
Open TuneBoto on your computer and there are two options for you to choose from: Amazon Music App and Amazon Music Web player. The former supports extracting and downloading Amazon Music from the app up to Ultra HD at 5X speed. The latter supports downloading Amazon Music from the built-in web player up to HD at 10X speed. Select one of them as you like and log into your Amazon Music account later.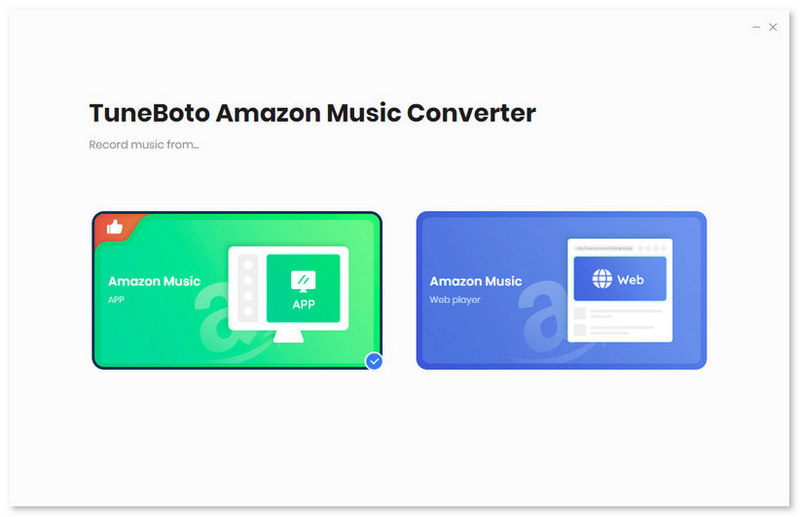 Step 2 Select Output Settings As You Like
Go to TuneBoto's main interface and click the "Settings" tab in the lower left corner. You can modify the output settings freely, including output format, bit rate, output path, output file name, and so on. If you want to retain the HD quality, choose FLAC or Auto as the Output Format.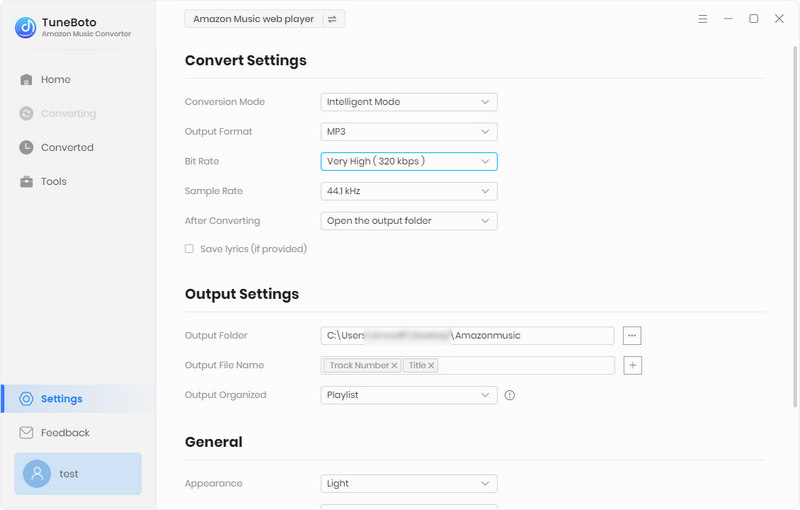 Step 3 Choose Amazon Music You Want
For Amazon Music App: Head to Amazon Music app and choose one playlist or ablum you want to download. Drag it to TuneBoto's home page or copy its link into the parse box. Then TuneBoto will read it automatically and list all the songs in a pop-up. Select what you need and click "Add".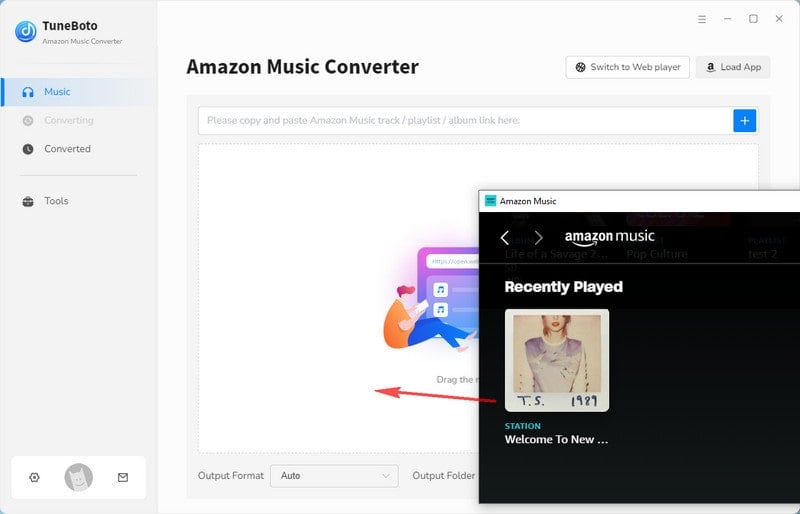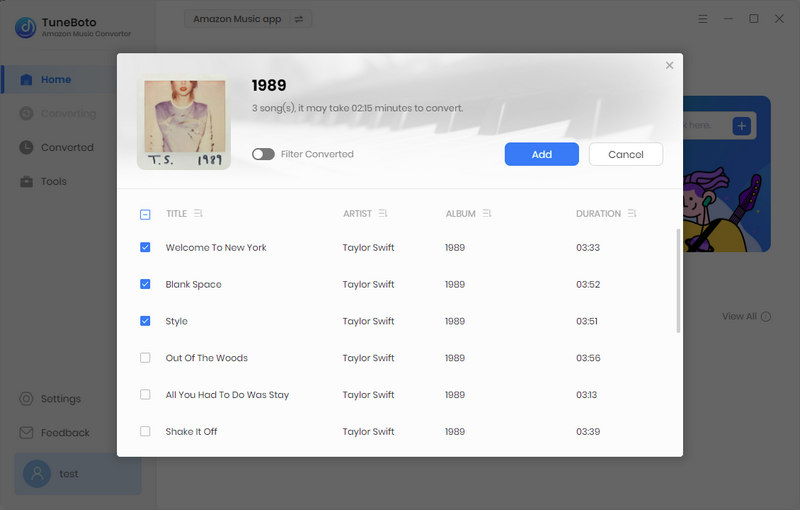 For Amazon Music Web player: Go to the Amazon Music web player and browse to find the playlist or album you want to download. Click to open it and then you'll see a blue "Click to add" button in the lower right corner. Then select the songs you need and click "Add" in a new window.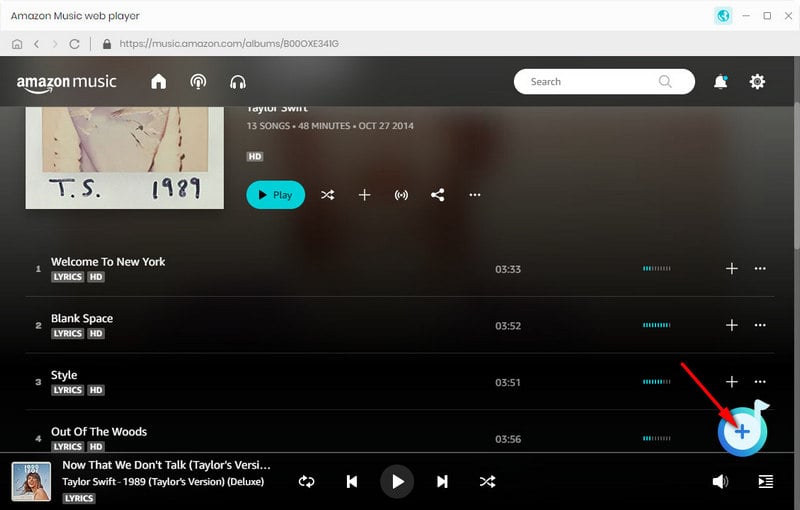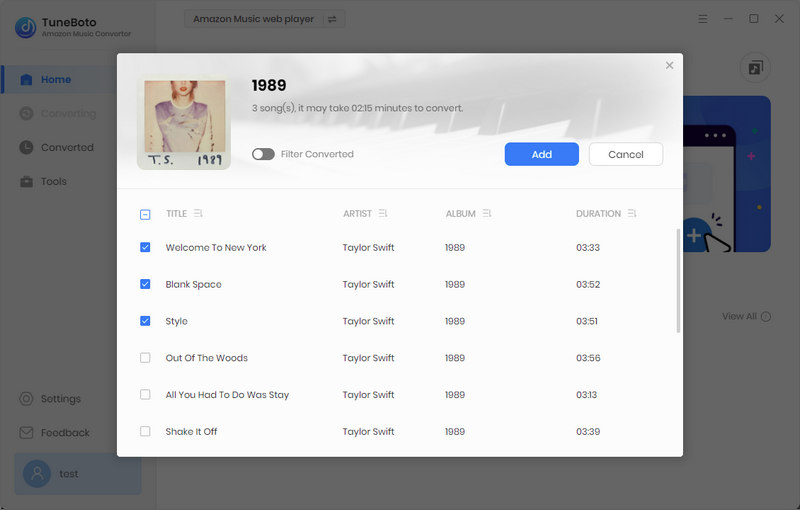 Step 4 Convert Amazon Music
After the selection is finished, you just need to click "Convert" to start conversion. Then once the conversion is complete, go to the Converted section to check your downloaded songs. Now you can get the downloaded Amazon Music which is up to HD quality.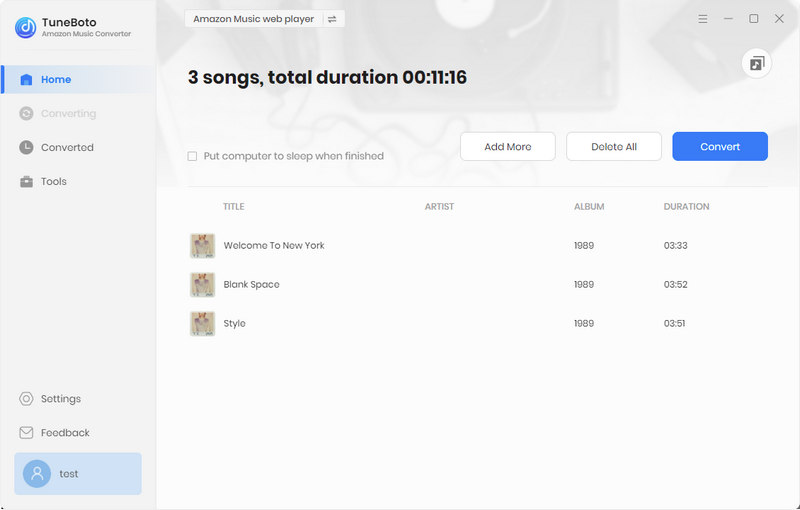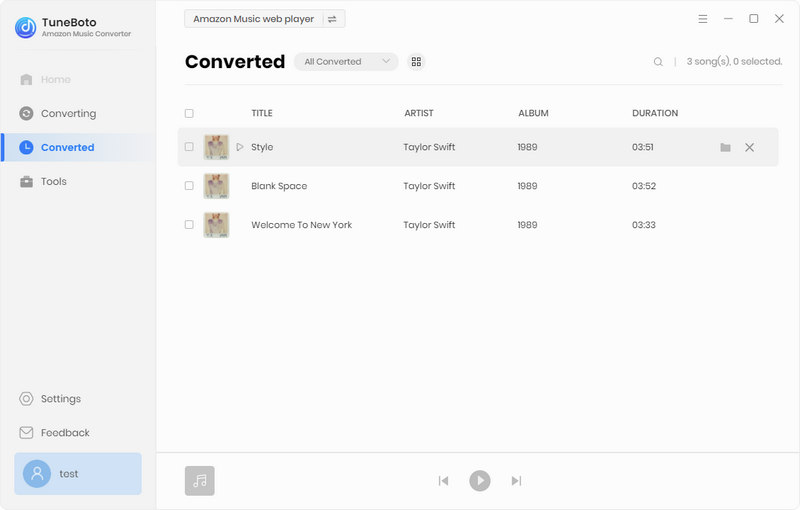 ---
Summary
If you are still confused about choosing between the two platforms, you can try their free plans separately, both of which have a one-month trial period to help you better experience the differences between the two platforms. In addition, if you need to download Amazon Music songs locally, you can use TuneBoto Amazon Music Converter in conjunction with the above tutorial.