Speaking of music platforms, you may think of many. One of the most popular platforms among users is Amazon Music. It has been widely praised for its huge music library, user-friendly user interface, and intelligent recommendation design. People can freely listen to their favorite songs or podcasts by subscribing, and can also download them for offline listening. However, this offline listening is inseparable from Amazon Music.
Like other music platforms, Amazon Music has a special encrypted format for downloaded songs. Users can only listen to it through the Amazon Music app or web player, and once the subscription expires, the previously downloaded songs will also become invalid. Therefore, how to get rid of this encrypted format has become a headache for many users. Sidify Amazon Music Converter is a powerful tool specially designed to convert Amazon Music. In this article, we will introduce to you the functions and how to use this product to help you understand it better.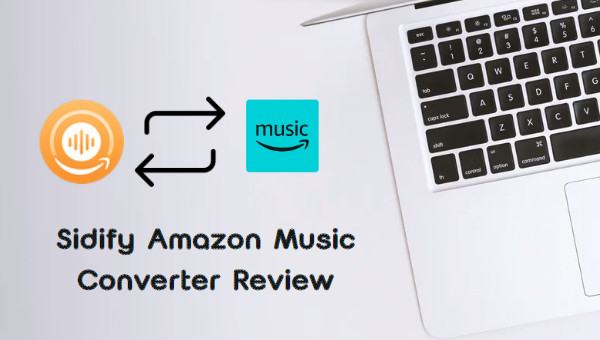 There are many Amazon Music converters in the market nowadays. And Sidify is one of the big brands in these products. It helps Amazon Music users to convert Amazon Music to different formats and enable people to listen to music offline without a subscription. Next, we'll introduce this useful tool in detail.
✅ Part 1. What's Sidify Amazon Music Converter?
Sidify Amazon Music Converter is a third-party tool to download music from Amazon Prime and Amazon Music Unlimited and converts them to multiple audio formats such as MP3, M4A, WAV, and FLAC for offline listening. Sidify Amazon Music Converter is fully compatible with Windows 7, 8, 10, 11, and macOS 10.15-13 Ventura. It can retain the source sound quality, and users can select the bit rates and sample rates in the Settings of Sidify. This converter helps you to enjoy Amazon Music tracks everywhere without subscriptions.
---
✅ Part 2. What're the Key Features of Sidify Amazon Music Converter?
📌 Download Music to Multiple Formats
The main function of Sidify Amazon Music Converter is to download music from Amazon Prime & Amazon Music Unlimited. Users can customize the output format through settings in Sidify and convert the tracks without any encryption. The program supports several common formats such as MP3, WAV, ALAC, FLAC, and so on. These formats are compatible with most players, that is to say, the songs downloaded through Sidify can be played freely on any player without restriction.
📌 Retain Ultra HD Audio Quality
The download sound quality of songs is also a point that many people value very much. If you also value sound quality very much, then Sidify will definitely live up to your expectations. Sidify supports outputing original sound quality up to Ultra HD. If you are using an Unlimited account, the bit rate can be up to 3730 kbps, which is a high audio quality for most of the songs.
📌 Keep ID3 Tags after Conversion
Another popular function Sidify Amazon Music Converter offers is that it keeps ID3 tags after conversion, and you can also edit the ID3 tags if needed. Sidify can preserve a variety of tag information, including but not limited to title, album, artist, track number, disc number, and year. With these information, you can manage output songs very simply and easily. Moreover, it enables users to customize the titles of the output files, including the track number, artist, and album in the title if needed.
📌 High Conversion Speed
The conversion speed is also a major factor for most users to choose a converter. After the latest upgrade, the maximum conversion speed of Sidify can reach 10X. If there are a large number of songs to download, you can import them into the conversion list and convert them to the target format in batches to save effort.
📌 Various Output Settings
In addition to the download function like most converters, Sidify Amazon Music Converter also provides a variety of output settings to meet different needs of users. You can freely choose to set the output format, bit rate, sample rate, output folder and output file name on the Settings page. Through these settings, you can organize and classify files according to your preferences, so as to better manage your local music library.
📌 Free Trial and Reasonable Fees
Faced with such a practical and efficient tool, we believe many people will be curious about its charges. First, Sidify provides trial versions for free downloading and testing. The features are the same as the full version except that users are limited to converting the first 1 minute of each song with the trial version. If you want to fully experience all the functions of Sidify, you need to pay. Sidify provides users with three different subscription plans, as follows, you can choose according to your needs.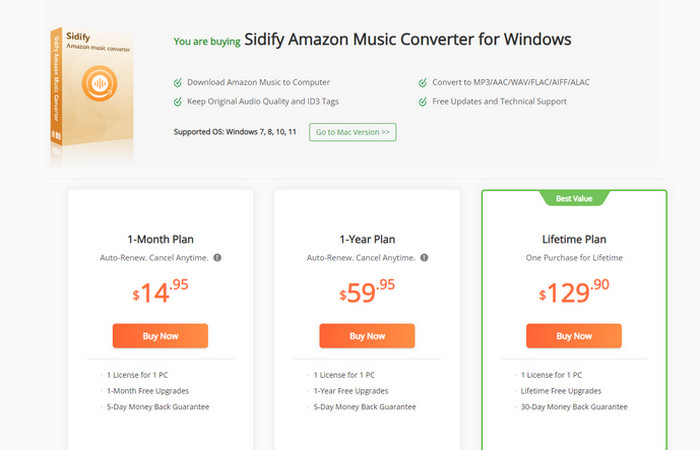 ---
✅ Part 3. How to Use Sidify Amazon Music Converter?
Next, we will introduce you to how to use Sidify Amazon Music Converter to download Amazon music.
Step 1 Select A Working Mode
Run the Sidify Amazon Music Converter program and select the working mode that best suits your needs: using the Amazon Music App or Amazon Music Web player. If you select the Amazon Music App mode, the app will launch accordingly. If you choose the Amazon Music Web player mode, the web player will pop up automatically. Please follow the instructions to log in to your Amazon Music account.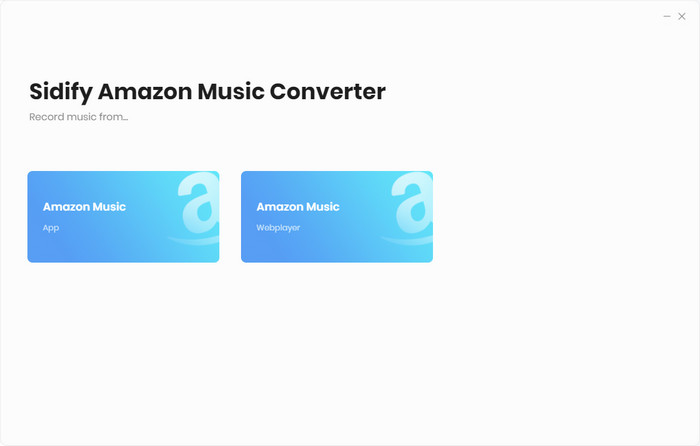 Step 2 Customize Output Settings as needed
Click the Settings tab on the sidebar navigation. Here you can choose the Amazon Music output format (MP3/AAC/WAV/FLAC/AIFF/ALAC) and the output quality. Besides, you can customize Output Folder, Output File Name, and Output Organized.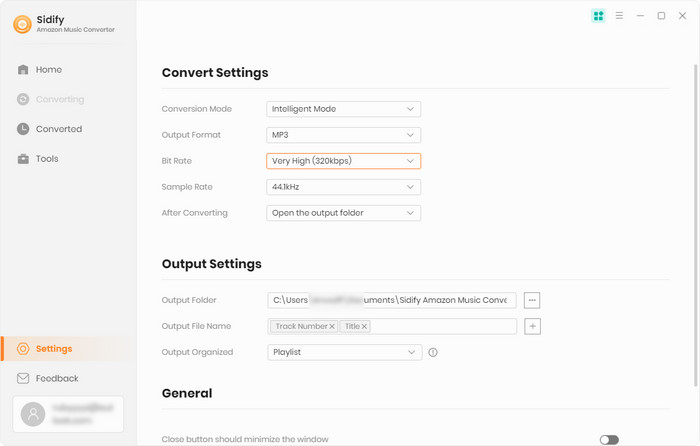 Step 3 Select Amazon Music to Download
After finishing the previous step, you can browse to find the songs you want to download.
Amazon Music App: Head over to the Amazon Music app, directly drag the songs from the Amazon Music app and drop them into the conversion panel. Sidify would read Amazon Music automatically.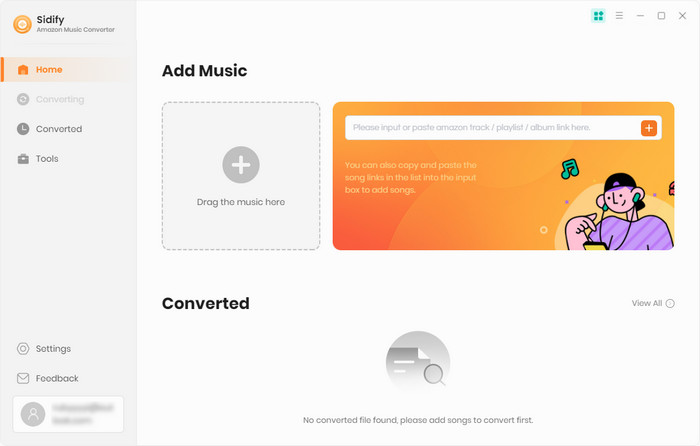 Amazon Music Web player: Open the album and click the "Click to add" button to put the songs on the conversion panel.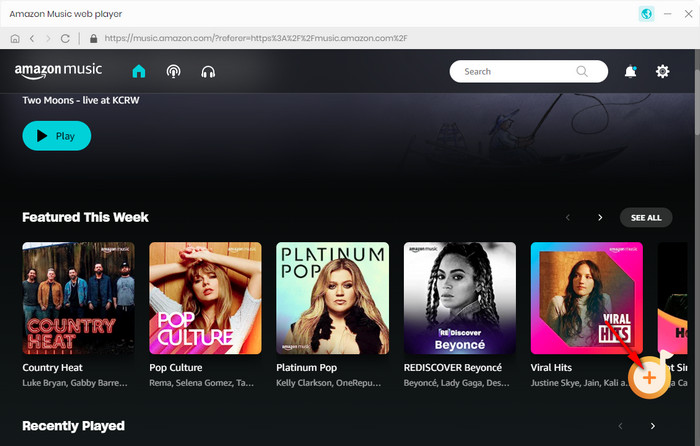 After selecting all the songs, click "Add" to add them to the conversion list.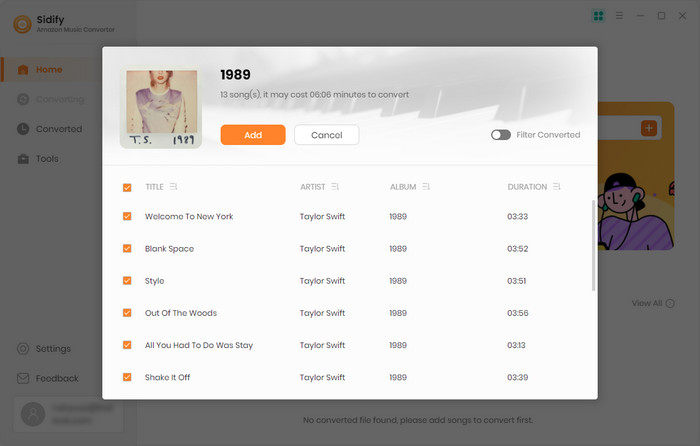 Step 4 Start Conversion
If you need to convert multiple playlists at once, click the "Add" button. Then browse other songs or playlists you want to add. After choosing all the songs, you just need to click "Convert" to start the conversion and then wait patiently.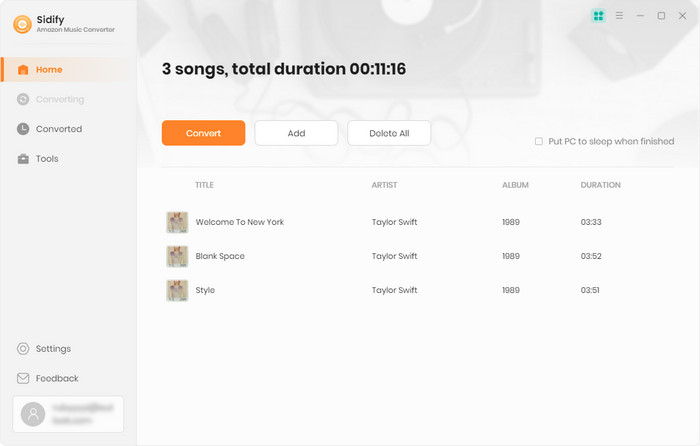 Step 5 Check Downloaded Songs
Once the conversion is done, click the Converted tab on the left panel and you can find all the Amazon Music that have been converted successfully. Or you can click the folder icon behind the song to open the previously set output folder to find the song.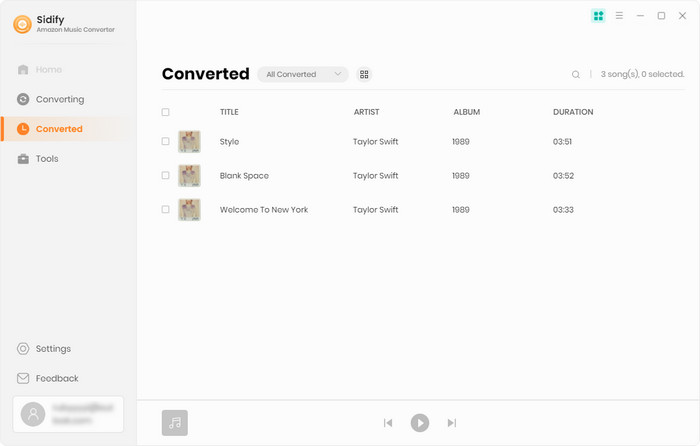 ---
Summary
Through this article, we introduce the features and usage of Sidify Amazon Music Converter, a big brand in Amazon Music Converter. This provides a viable method for people who want to be able to download Amazon Music without limitations. If you think this article is helpful to you, remember to share it with your friends.
If you already use Sidify Amazon Music and are not happy with some aspects of it, look for an alternative. Then you can take a look at TuneBoto Amazon Music Converter. It is an efficient tool that helps you stream Amazon Music anytime, anywhere, and on any device.