Discover the top-rated music streaming service, Amazon Music, for an unparalleled listening experience. Whether you possess a Prime or Unlimited subscription, you have the incredible convenience of downloading your cherished songs for offline enjoyment. Nonetheless, a handful of users have encountered difficulties when attempting to download music from Amazon Music. If you find yourself grappling with these errors, fret not! Implement the tried-and-true methods outlined below to swiftly resolve the issue of Amazon Music not downloading music. These effective fixes also come in handy for troubleshooting any issues with your Amazon Music functionality.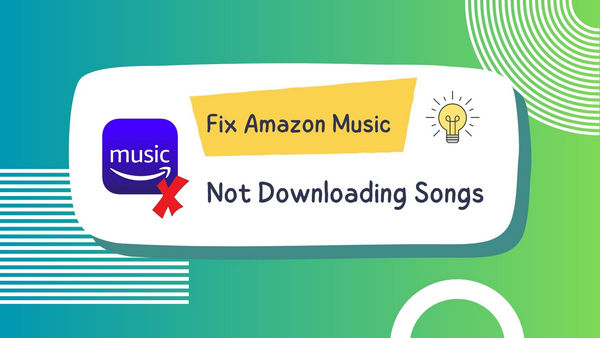 Part 1. Why Won't Amazon Music Download
There can be more than one reason why Amazon music would suddenly not download. Below you can see a few examples of what could be the case.
Unstable Network Connection.
Your Amazon Prime/Unlimited subscription is expired.
The songs are no longer available on Amazon Music.
Your device space is insufficient for downloading Amazon Music songs.
Unknown bugs of Amazon Music.
---
Part 2. How to Fix Amazon Music Not Downloading
▶ 1. Make sure good Internet connection.
To ensure a seamless music downloading experience on Amazon Music, a reliable Internet connection is vital. If you encounter difficulties in downloading songs, start by troubleshooting your Internet connection. Ensure that your device is connected to either Wi-Fi or a mobile network. If connected to Wi-Fi, try disconnecting and reconnecting or utilizing an alternate Wi-Fi network. For mobile network users, disable and enable the network again. You may also employ a VPN to alleviate network congestion. After taking these steps, open your Amazon Music app to check if music tracks can be successfully downloaded.
▶ 2. Check Your Amazon Music Subscription.
Please noticed that Amazon Music only allows its Prime or Unlimited users to download Amazon Music songs for offline listening. Once your subscription is expired, Amazon Music won't download songs. So you can check your Amazon Music account, and make sure your subscription is still active.
▶ 3. Check the Storage Permission on Your Device.
To ensure your song is downloaded on Amazon Music, please ensure that the app has access to your device's storage. If it is not granted permission, the music cannot be downloaded. Open the Settings app on your device to verify and adjust the storage permission accordingly.
▶ 4. Clear the cache of the Amazon Music app.
When using the Amazon Music app, temporary cache files are loaded onto our local drive to ensure immediate availability. However, these files are not essential and can hinder the downloading process of Amazon Music. Additionally, they occupy significant storage space and can slow down the app's performance. Please follow the steps below to clear the cache files of the Amazon Music app.
On Windows computer: open the Amazon Music app, tap the Settings icon, select Settings, scroll down to Storage, and click Clear Cache.: Launch the File Explorer and go to %userprofile% > AppData > Local > Amazon Music > Data. Then delete the caches from the App cache.
On Mac: In Finder, type shift-command-g to open the "go to folder" window and type: ~/Library/Application Support/Amazon Music/Data.
On Android: open the Amazon Music app, tap the Settings icon, select Settings, scroll down to Storage, and click Clear Cache.
On iOS: there is no option to clear the cache on iOS devices. But you can go to Settings > General > iPhone Storage > Amazon Music. Then, click Offload App.
▶ 5. Update the Amazon Music to the Latest Version.
Upgrade your Amazon Music app for a smooth and bug-free Experience. If you're experiencing download issues with an older version of the Amazon Music app, a clean uninstall and update might be the solution you're looking for. Bugs and glitches are common with outdated applications, but fear not - updates can resolve these problems. To get started, head to the App Store for iOS or Google Play Store for Android and search for the Amazon Music app. Once you've found it, check if there's an available update. If there is, simply tap on 'Update' to download and install the latest version of the app. Don't let technical hiccups spoil your music experience. Upgrade to the newest Amazon Music app and enjoy hassle-free offline listening.
▶ 6. Sign out and Sign in to Your Amazon Music Account.
If Amazon Music still fails to download your song, you can also log out and log into your Amazon Music account once again to fix the glitches.
▶ 7. Restart Your Device.
Is your Amazon Music running slow? It could be due to an excess of background apps. Restarting your device can help eliminate minor glitches and improve performance.
---
Part 3. Avoid Amazon Music Issue - Download Songs for Offline Listening
Still not working on your device? Don't worry, let me show you the best way to download Amazon Music without a premium account. TuneBoto Amazon Music Converter is a professional audio converter for Amazon users, capable of downloading songs, podcasts, playlists, and albums from Amazon Unlimited and Prime Music. It can convert Amazon Music to many popular formats, including MP3, AAC, WAV, AIFF, FLAC, and ALAC. At the same time, TuneBoto Amazon Music Converter can 100% preserve the original quality of Amazon audio, so that the output files saved on the user's computer have no loss in sound quality.
Experience stable and hassle-free Amazon music listening with TuneBoto. TuneBoto software includes an embedded Amazon music web player, eliminating the need for an additional app download. Browse and enjoy Amazon music online directly within TuneBoto. Plus, the Amazon Music Converter allows you to save downloaded music locally, ensuring uninterrupted access even if Amazon Music encounters issues. Unlock the freedom to download Amazon music without limitations with TuneBoto.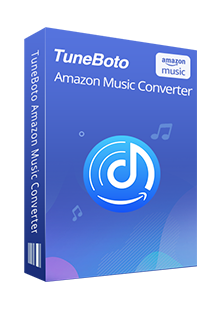 Amazon Music Converter
Download Amazon Music songs, albums, playlists & podcasts to local computer

Convert Amazon Music songs to MP3, AAC, WAV, FLAC, AIFF, ALAC

Keep ID3 tags; 100% original audio quality

10X download speed & batch download playlists/albums

Archive downloaded songs by album/artist/playlist

Handy Tools: Burn CD, Format Converter, ID3 Tag Editor
Step 1 Launch TuneBoto on the Computer
Download TuneBoto Amazon Music Converter on your computer, it works perfectly on both Windows and Mac computers. Double-click to open TuneBoto on the computer. Then you will see the interface below. Select one download mode and follow the instructions to log in to your Amazon Music account, then your Amazon Music library is ready for downloading.
Amazon Music App Mode: This mode supports downloading Amazon Music up to Ultra HD sound quality at 5X speed(1X for Mac).
Amazon Music Webplayer Mode: This mode supports downloading Amazon Music up to HD sound quality at 10X speed.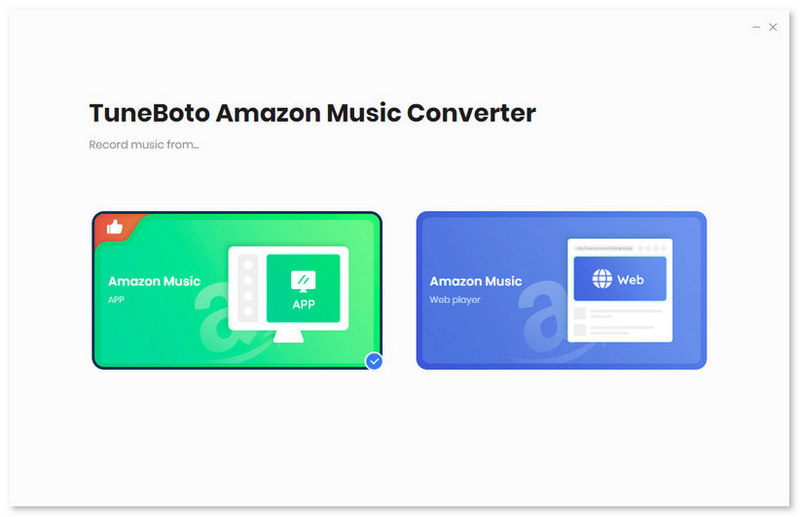 Step 2 Customize Output Settings
Go back to the main interface of TuneBoto Amazon Downloader. You can see the "Settings" section in the lower left corner, then tap the Settings button. Here you can customize the output parameters as you like.
(1) Conversion Mode: Intelligent Mode, Webplayer Download/Amazon Music Record, YouTube Download.
TuneBoto takes Intelligent mode as the default mode, it switches according to your Internet condition. Web download/Amazon Music Record mode provides the best output quality, and YouTube download mode applies when you have a bad internet connection or the music source is no longer available on Amazon Music.
(2) Output Format: Auto, MP3, AAC, WAV, AIFF, FLAC, ALAC.
*Tips: If you choose "Auto" as the output format, TuneBoto Amazon Music Converter will keep the original audio quality (up to Ultra HD or HD quality) and original format of the Amazon Music songs.
(3) Bit Rate: 128kbps, 192kbps, 256kbps, 320kbps.
*Tips: If you choose "FLAC/WAV/AIFF/ALAC" as the output format, the Bit Rate option will be unavailable because TuneBoto will download the best quality as default.
(4) Sample Rate: 44.1kHz, 48kHz, 96kHz, 192kHz.
(5) Output File Name: Track number, title, album, artist, playlist index, year.
This option allows you to customize the name of the downloaded songs. For example, if you choose "Track number + Title", the downloaded song will show like "02 Always Love You.mp3". If you want to sort the downloaded songs as playlist order, your can also choose "Playlist index" instead of "Track number".
(6) Output Organized: None, Playlist, Artist, Album, Artist/Album, Album/Artist, Playlist/Artist, Playlist/Album.
This option will help you sort the downloaded songs into different folders. It's an awesome feature for building personal music library.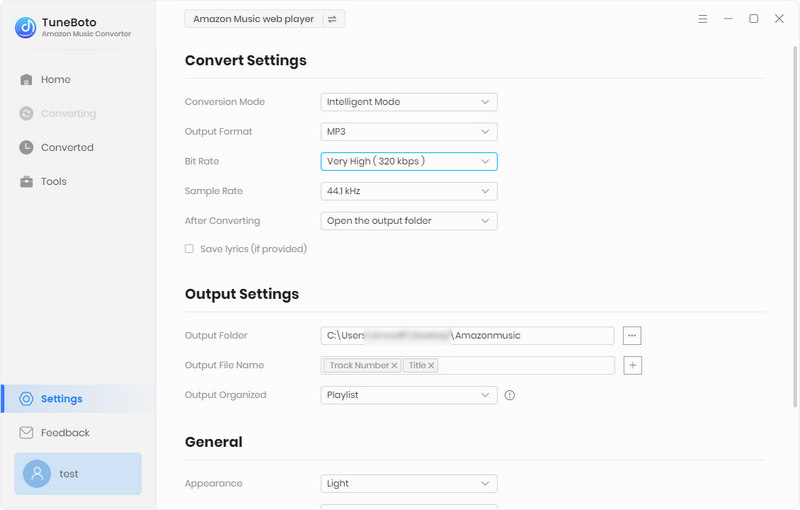 Step 3 Select Amazon Songs/Playlists/Albums/Podcasts
For App mode: Head to the Amazon Music app and choose one playlist you want to download. Drag it to TuneBoto's page or copy its link into the parse box. Then TuneBoto will show all the songs in a new window. Pick up the specific songs and then click "Add".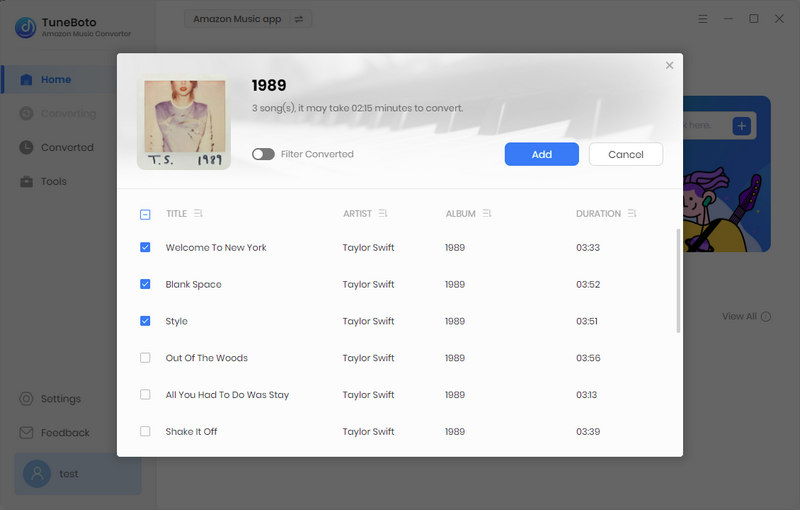 For Webplayer mode: Once setup is complete, you can go back to the Amazon Music web player and select the songs or albums you want to download. Open an album, artist, or playlist, and tap the blue "Click to add" button suspended on the right side. Then TuneBoto will load and list all songs into a list. Now you can pick the songs you want to download and then click "Add" button to add them to the convert window. If you want to avoid duplicated downloads, you can turn on the "Filter Converted" button.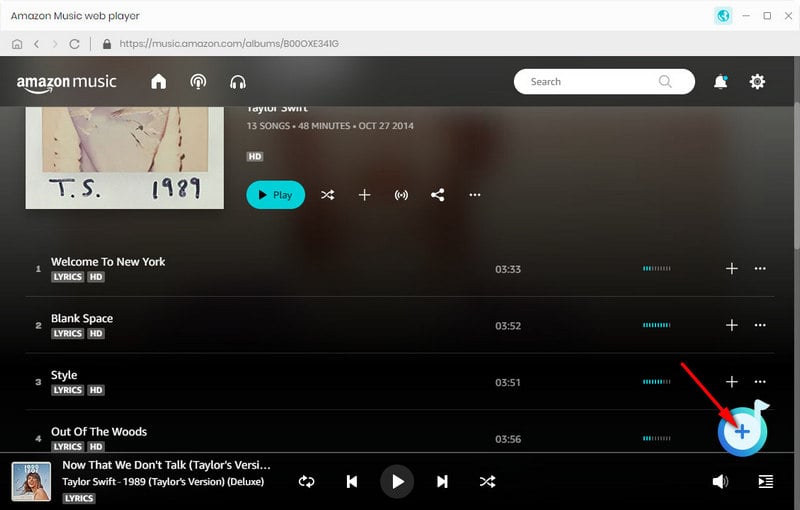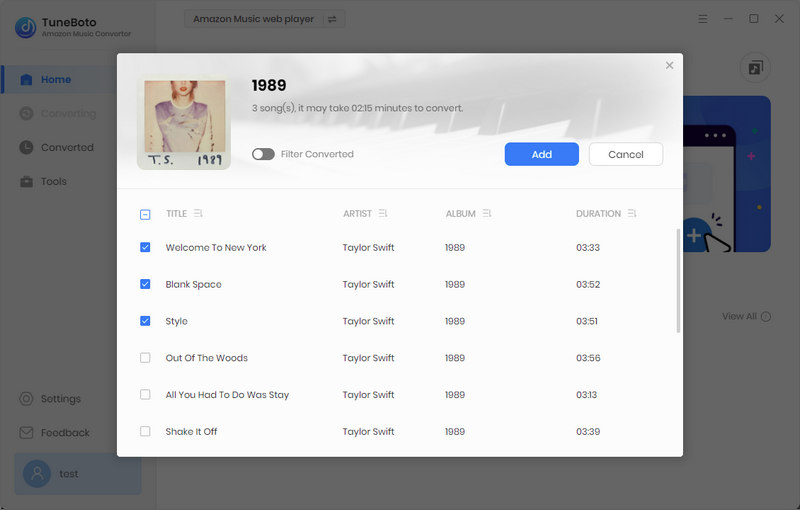 Step 4 Download Amazon Music
If you need to convert multiple playlists at once, click the "Add More" button of the convert interface, or directly go back to the Amazon Music web player. Then you can browse and add more songs or playlists you want. After adding all your target songs, click the "Convert" button to start downloading Amazon Music songs. You can see the progress bar on the interface, wait patiently until it is finished.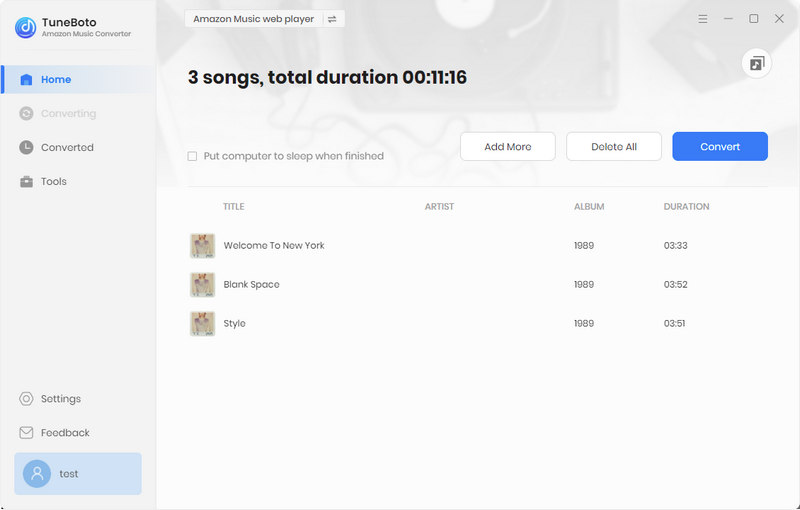 Step 5 Check Downloaded Songs
After the download is complete, you can check all the downloaded Amazon Music songs in the "Converted" section. You can open the output folder by clicking the Folder icon behind the song. TuneBoto also works as Amazon Music offline player, just double-click the downloaded songs to play them within the TuneBoto program.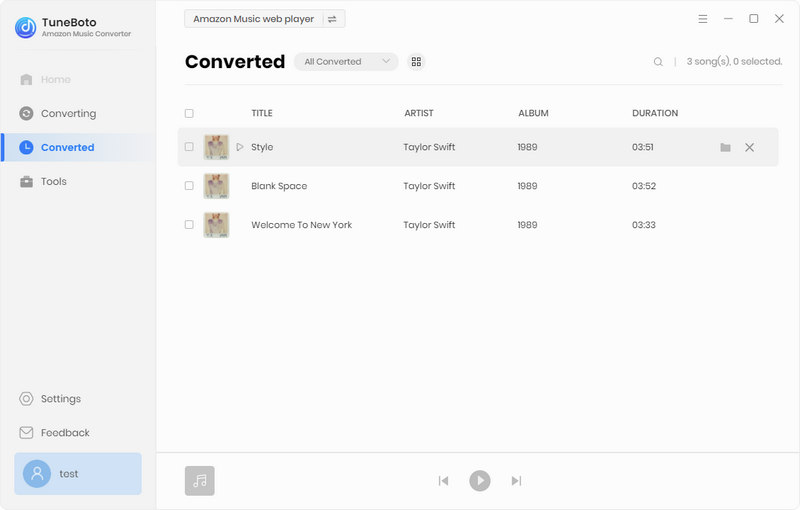 After downloading Amazon Music songs via TuneBoto, the songs have removed all limitations. So you can copy the songs to USB Drive, mobile phone, or any other compatible device. You can even import Amazon music to DJ software or Video editor for more music features.
---
Summary
This discussion provides the reasons behind the issue of Amazon Music not downloading and presents 7 effective solutions to help you resolve it. Have you successfully resolved your problem? If not, consider trying TuneBoto Amazon Music Converter, a professional tool that enables you to download Amazon Music without requiring a premium account or network connection. Additionally, you can enjoy Amazon Music on multiple devices. We hope this post proves valuable to you.