To download HD videos, please make sure your computer supports playing HDCP-enabled content, otherwise, you can only download videos with "Low" or "Medium" quality.
How to check if your computer supports HDCP or not? We have two methods as below:
Method One: Check if Your Computer Could Play HD Prime Videos on a Web Browser
Step 1: Open the official website of Amazon Prime Video on your computer's browser, search for the video you want to download, and play it.
Step 2: When the video is started, click on the "Settings" icon at the upper-right corner and select "Best" or "HD" quality. If your computer cannot access the HD definition of Prime videos, you'll receive a notice of "This video requires a copy protection (HDCP)-compliant display for HD/4K UHD viewing...", which also means your computer doesn't support HDCP.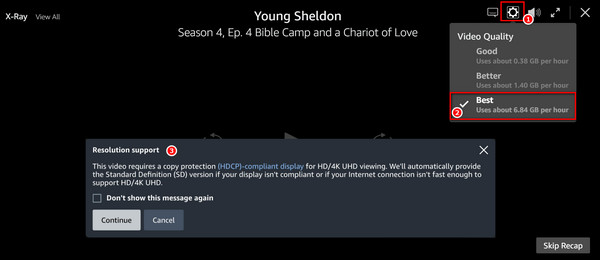 Method Two: Check HDCP Policy on EME Extension
Please directly click this link, select "1.2" and click "Get HDCP Status" on the page. If your checking result is "HDCP is available for XX", your computer is HDCP supported.